What Is a Good Homemade Salsa Recipe?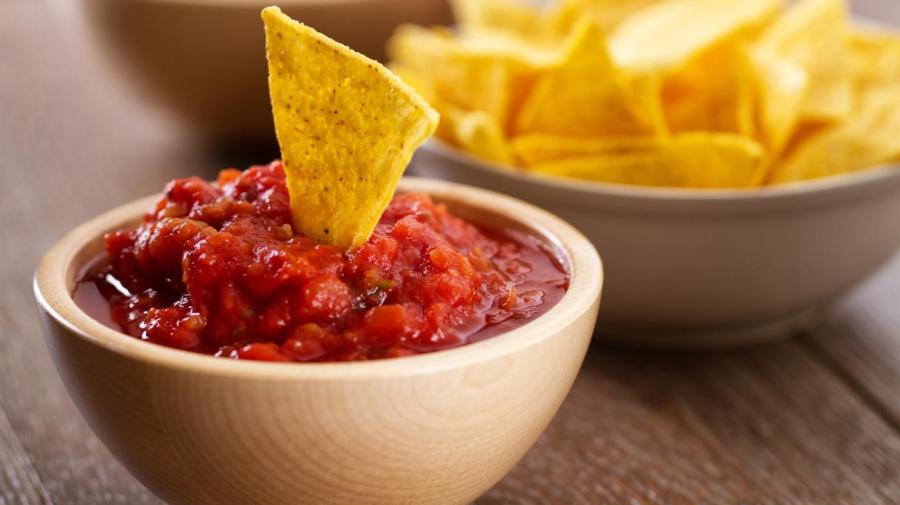 For delicious homemade salsa, gather 28 ounces of diced tomatoes, 1/4 cup chopped onion, 1/2 cup fresh cilantro, 1 clove of garlic and 1 whole jalapeño. Also retrieve salt, pepper, dried cumin powder and 1/2 a lime's worth of juice. Mix all ingredients together thoroughly, and serve with tortilla chips.
For the freshest salsa, buy 28 ounces of plum tomatoes and dice them yourself. However, a 28-ounce can of pre-prepared tomatoes stored in juice is also acceptable for the recipe. For an extra kick, add two 10-ounce cans of diced tomatoes mixed with green chiles. When preparing jalapeños, cut into quarters, retaining seeds and membranes only if you want to amplify the spice.
Place tomatoes, minced garlic, lime juice, onion and cilantro into the food processor, and pulse until you achieve the desired consistency, usually about 10 to 15 pulses. Add 1/4 teaspoon of the ground cumin, along with salt and pepper to taste. For a hint of sweetness, add 1/4 teaspoon sugar as well. Taste mixture with a tortilla chip, adjust seasoning if necessary, and then blend contents again for several more pulses. If the consistency doesn't permit more pulses, transfer the contents to mixing bowl, and stir in additional seasoning by hand. Be sure to refrigerate at least one hour before serving so flavors can marry. This recipe serves approximately 12 people.