Fact Check: Is the COVID-19 Vaccine Safe?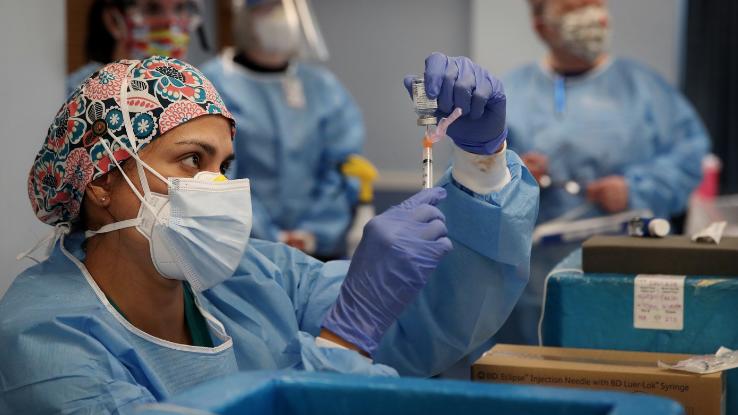 Over the course of 2020, the world's leading scientists and researchers worked tirelessly to engineer COVID-19 vaccines. And, heading into 2021, the U.S. Food and Drug Administration (FDA) provided many Americans with much-needed hope after issuing Emergency Use Authorization for both the Pfizer and Moderna vaccines. A third vaccine developed by Janssen — a Johnson & Johnson company — earned emergency use authorization from the FDA in late February 2021. Without a doubt, the rapid development of these vaccines was an unprecedented achievement. But this sense of triumph (and relief) is often marred by conversations surrounding the vaccines' safety.
As reported in U.S. News & World Report, a 2020 Gallup survey found that 11% of adults in the U.S. believe vaccines are "more dangerous than the diseases they prevent." While this survey was conducted before the novel coronavirus pandemic made headlines in the U.S., it's undeniable that the vaccine rollout is happening amid a climate of mistrust and misinformation. Even though the FDA has deemed the three vaccines "safe and effective," and has fully approved the Pfizer vaccine as of August 2021, many Americans are still hesitant when it comes to vaccination. With this in mind, we're taking a look at some of the most common concerns when it comes to the COVID-19 vaccine in our latest Fact Check.
Editor's Note: Our research pertains to the Pfizer, Moderna, and Janssen (colloquially called Johnson & Johnson) COVID-19 vaccines only. We will update this information as others are approved for use.
Does Getting Vaccinated Mean Life Can Return to "Normal"?
For over a year, many of us have dreamed of a time when going maskless at the grocery store feels safe again. Unfortunately, what once seemed like a possibility — and what was deemed okay by the CDC in June 2021 — has changed yet again in light of the surges in cases connected to the Delta variant. 
Now, the CDC's guidelines are more closely aligned with those the World Health Organization (WHO) put forth toward the end of June 2021; leading experts at the WHO strongly urged fully vaccinated individuals to continue wearing masks in public — in part because of the increased concern over the Delta variant. 
So, what has the CDC said? As of late July 2021, the CDC believes that "To maximize protection from the Delta variant and prevent possibly spreading it to others, wear a mask indoors in public if you are in an area of substantial or high transmission." The U.S. federal government — and many state and local officials across the country — seem to be following this new guidance from the CDC, especially in places that have been impacted by the Delta variant surges.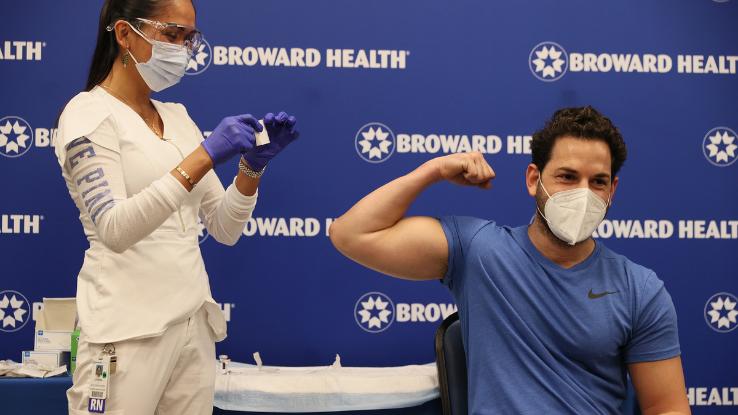 It's important to note that this CDC guidance does not override state, local or tribal laws. Moreover, business owners and offices can still require mask usage, not just suggest it. Of course, for many Americans, this mask-wearing guidance reversal from the CDC — which had previously said fully vaccinated individuals could go mask-less in public spaces — seemed inevitable. In a survey conducted by The New York Times in May 2021, hundreds of epidemiologists had anticipated that mask-wearing would remain the norm for at least another year. 
So, what can fully vaccinated individuals do? According to the CDC, the following is advised:
You can resume activities that you did prior to the pandemic.
If you travel in the United States, you do not need to get tested before or after travel or self-quarantine after travel. It's worth noting that vaccine passports may affect this statement if they're mandated in the near future.
If you've been around someone who has COVID-19, you do not need to stay away from others or get tested unless you have symptoms — unless you live or work in a correctional or detention facility or a shelter for unhoused folks.
Editor's Note: To be clear, individuals are considered fully vaccinated two weeks after their last shot. 
How Do the Vaccines Work?
Although there are quite a few different methods for developing vaccines, both the Pfizer and Moderna variations are made using the same technology — a new technology, in fact, that utilizes mRNA. Think back to high school biology for a moment: You might remember that DNA is the carrier of genetic information and that the similarly named mRNA (or messenger RNA) is essentially a set of instructions that tells the body how to make certain proteins to fight and prevent disease.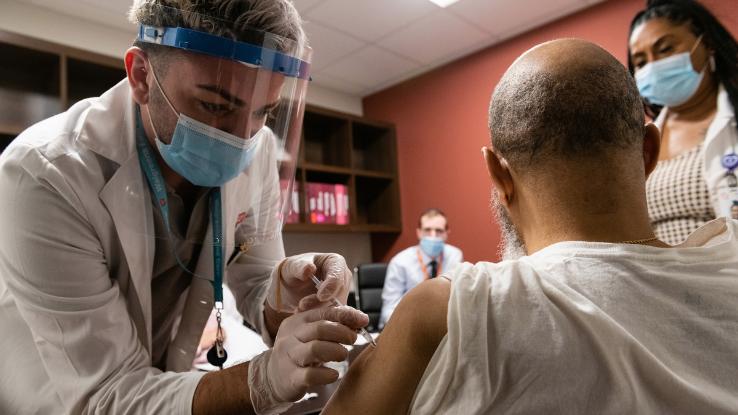 Once a recipient receives an mRNA vaccine, it tells their cells to create a viral protein that triggers an immune response. Unlike other vaccines, which use weakened or similar forms of a virus to trigger these responses, there is no live virus involved here, which means the vaccine can't cause COVID-19 because it simply doesn't contain the novel coronavirus. Instead, the vaccine teaches our immune systems to recognize and fight the virus to protect us from future exposure.
Instead of using the mRNA method, the Johnson & Johnson formulation modifies an existing adenovirus — something that normally causes colds — by inserting the novel coronavirus spike protein into it. While this modified adenovirus can't reproduce in the human body or cause COVID-19, it does help your body prepare antibodies in advance, which means your immune system will be ready should you actually contract the novel coronavirus.
Are the COVID-19 Vaccines Safe?
Before a vaccine is deemed safe, it goes through what the Centers for Disease Control and Prevention (CDC) calls "rigorous" testing. Initially, safety trials start in the lab, where experts run tests on (and research) cells and animals — and that's all before human studies are given the green light.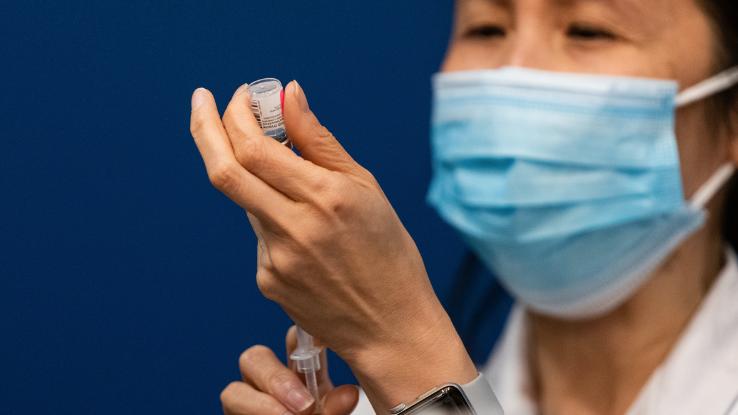 Additionally, CDC guidelines require that "vaccines pass through six general stages of development: exploratory, pre-clinical, clinical, regulatory review and approval, manufacturing, and quality control. …It's not unusual for a vaccine to take 10 to 15 years to complete all the phases under normal circumstances." Obviously, these are not normal circumstances. Although speeding up the development process was necessary, leading experts, including Dr. Anthony Fauci, stated that attempts to fast-track a vaccine should not supersede the fact that a vaccine must be both safe and effective before distribution.
For example, Pfizer ran its own tests and clinical trials that included more than 44,000 adult participants, while Moderna ran a 30,000-person efficacy trial. After these trials and the FDA's own analysis, which found "no specific safety concerns," the vaccines were authorized for emergency use. Dr. Fauci has gone on record stating that he has "extreme confidence" in the safety of the approved vaccines and even received the Moderna vaccine on camera in late December 2020. The Pfizer vaccine specifically received full support from the FDA after satisfying the agency's strenuous testing and review processes in August 2021.
Is It Safe for Children to Receive the Vaccine?
When the vaccines initially rolled out, Pfizer's vaccine had been approved for folks age 16 and up, while Moderna's had been approved for folks age 18 and up. For a while, that meant anyone younger was unable to seek vaccination — but that all changed in May 2021.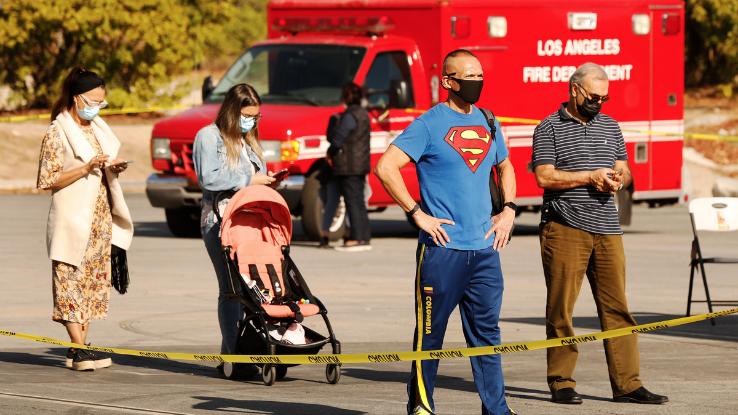 On May 10th, the FDA expanded the emergency use authorization of the Pfizer vaccine, so that adolescents 12-15 years of age can receive their shots. Two days later, the CDC endorsed the FDA's statement. Before these expanded approvals, pediatric specialists, such as Connecticut Children's, reiterated that "young adults and kids aren't typically at high risk for severe illness from COVID-19." Nonetheless, the CDC and FDA believed approving the Pfizer vaccine for younger individuals was an important milestone.
"For vaccination to do its job, we must do our critical part. That means vaccinating as many people as possible who are eligible. This official CDC action opens vaccination to approximately 17 million adolescents in the United States and strengthens our nation's efforts to protect even more people from the effects of COVID-19," the CDC statement noted. "Getting adolescents vaccinated means their faster return to social activities and can provide parents and caregivers peace of mind knowing their family is protected."
Should Pregnant or Lactating Individuals Seek Vaccination?
The CDC strongly encourages pregnant and lactating individuals to become inoculated. Through rigorous testing and research, the CDC has discovered that the benefits of COVID-19 vaccines "outweigh any known or potential risks of vaccination during pregnancy". 
Furthermore, the CDC has found no evidence that COVID vaccines negatively affect fertility rates. Anyone who is 12 years of age or older can receive a vaccination shot – whether an individual is pregnant, breastfeeding, or expecting to become pregnant in the future.
Should Immunocompromised Individuals Seek Vaccination?
Immunocompromised persons are also encouraged to become vaccinated as soon as possible. In August 2021, Dr. Director Rochelle P. Walensky signed a recommendation that urges moderately to severely Immunocompromised individuals to become inoculated. Additionally, Dr. Walensky and the CDC encourage Immunocompromised people to receive booster shots to prevent serious COVID-19 cases.
In April, There Was a Pause on the Johnson & Johnson Vaccine — But Why?
As for Johnson & Johnson vaccine, the CDC initially stated that it "has been shown to meet all requirements for Emergency Use Authorization," thus making it another key player in helping to prevent severe COVID-19 illness, hospitalization, and death. But on April 13, 2021, the CDC and the FDA released a joint statement that recommended the U.S. pause its distribution of Johnson & Johnson vaccines.
The now-revoked recommendation came in the wake of six reports of a "rare and severe" type of blood clot that occurred in women between the ages of 18 and 48. These six patients reported symptoms 6 to 13 days after receiving the Johnson & Johnson vaccine. The joint statement also noted that the adverse side effects were "extremely rare" — after all, 6.8 million doses of the Johnson & Johnson vaccine had been administered in the U.S. when the pause occurred.
By April 23, 2021, the CDC and FDA lifted the recommended pause following "a thorough safety review." Moreover, while the risk of developing a blood clot due to the vaccine remains incredibly low, the two agencies have vowed to remain vigilant.
"Safety is our top priority. This pause was an example of our extensive safety monitoring working as they were designed to work—identifying even these small number of cases," said Janet Woodcock, M.D., Acting FDA Commissioner. "We are confident that this vaccine continues to meet our standards for safety, effectiveness, and quality."
In the rare case you develop a "severe headache, abdominal pain, leg pain, or shortness of breath within three weeks after vaccination," or if you have any additional questions, the CDC and FDA recommend reaching out to your healthcare provider.
Does the Vaccine Have Any Side Effects?
No matter the vaccine — and no matter what a vaccine is fighting against — injection is often accompanied by mild side effects, including fatigue, swelling, pain, and redness at the injection site, all of which usually clear up within 24 hours. In fact, these types of side effects "show that the vaccine is working, because it stimulates the immune system and the body forms antibodies against the infection that is only 'feigned' by the vaccination."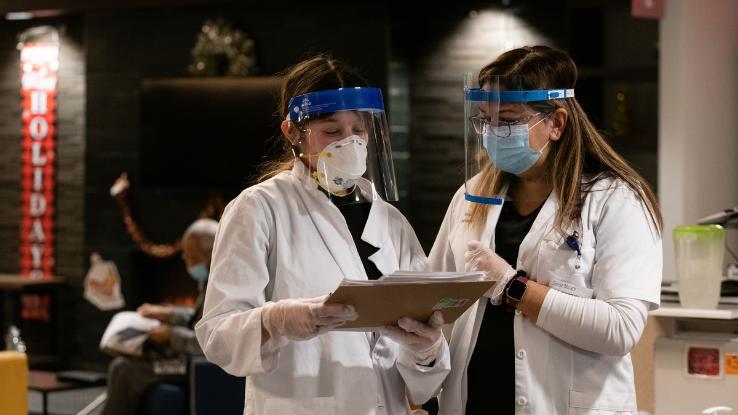 Recently, the Finnish Medicines Agency (FIMEA) found that headaches, mild fever, and joint pain can accompany the COVID-19 vaccines; in particular, incidences of fever have been found to be higher after the second dose of the Pfizer vaccine. Additionally, organizations like the CDC and FDA will continue to monitor vaccine safety to catch and address emerging trends in adverse effects. As of now, however, there's no evidence to indicate that the Pfizer and Moderna vaccines cause any long-term or harmful side effects, and less than 1% of Pfizer vaccine recipients had severe allergic reactions.
Is One Vaccine "Better" Than the Other?
People may have to choose a vaccine based on availability, prompting folks to wonder if one is better than the others. First, let's compare the mRNA vaccines. While the Pfizer vaccine is authorized for individuals age 16 and older, the Moderna vaccine is authorized for individuals age 18 and older; Pfizer boasts a 96% efficacy rate across different racial, ethnic, gender, and age groups. Moderna also boasts a 96% efficacy rate as of August 2021.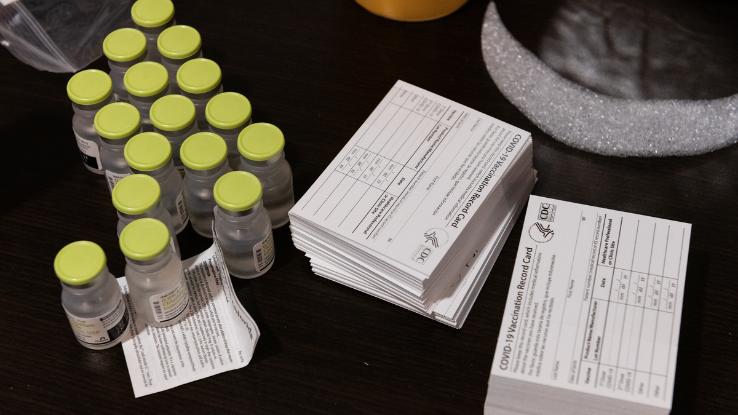 In terms of administering the vaccine, both require two rounds of doses: Pfizer vaccines require a 21-day interval between shots, whereas Moderna's require a 28-day interval. Although the Pfizer version contains 30 micrograms of the vaccine — compared to Moderna's 100 micrograms — it provides similar efficacy results at a cost.
That is, according to Stat, the Pfizer vaccine must be stored at -94 degrees Fahrenheit and, after thawing, it must be administered within five days. In this regard, Moderna's variation seems to have a slight edge: It should be shipped at a more manageable -4 degrees Fahrenheit but can be stable at fridge temperature for 30 days. All things considered, the two vaccines are quite comparable, and receiving immunization from either is a great step toward ending the devastation of the COVID-19 pandemic.
What About the Janssen (Johnson & Johnson) Vaccine?
While this third vaccine, which is authorized for individuals 18 and older, doesn't boast the same efficacy rates as the Pfizer and Moderna formulations, it's still extremely effective. In the first 14 days after vaccination, the Janssen vaccine is roughly 74.4% effective in preventing severe or critical forms of COVID-19; after 28 days, that effectiveness jumps to about 84%. Does this sound low? Well, it's worth noting that the flu shot is often around 60% effective.
With this in mind, the CDC has called the Janssen vaccine "another important tool in our toolbox to equitably vaccinate as many people as possible" — and for good reason. First and foremost, the Janssen vaccine is just one dose, which means patients don't need to make follow-up appointments to receive the vaccine's full benefits. Additionally, the one-dose formulation doesn't need to be kept in a freezer, which makes storing and transporting it less of a logistical nightmare.
The CDC states that the comparative ease of moving this vaccine "allows for expanded availability in most community settings and mobile sites, as supply scales up." Moreover, the Janssen vaccine possesses an 85% effectiveness rate against the Delta variant of COVID-19.
Can You Still Contract or Spread COVID-19 After Getting Vaccinated?
Both the Pfizer and Moderna vaccine formulations are remarkably effective, with a 95-96% efficacy rate. Additionally, the single-dose Janssen vaccine boasts an impressive 85% efficacy in regards to preventing severe cases of COVID-19. That is, while it may not boast the same numbers as the other vaccines, Janssen's formulation will curb hospitalizations and fatalities, which is the main goal behind mass vaccination.
Additionally, the vaccines are rolled out in phases in most states: If you have been fully vaccinated but come into contact with someone who isn't, that could be dangerous for the unvaccinated person. Long story short, getting a vaccine doesn't mean you're completely immune to contracting (or spreading) COVID-19. However, widespread vaccination will help build herd immunity — a state at which enough people are immune to the virus that spreading the pathogen from person to person becomes less common. 
Despite the great strides that are being made in areas that are excelling in vaccination rates, experts have expressed concerns over the Delta variant; while vaccines seem to provide protection from it, the variant has also been linked to new outbreaks. Currently, there seems to be a divide over how to approach concerns surrounding the Delta variant. 
Should People Who Have Had COVID-19 Still Get Vaccinated?
A resounding "Yes" from the CDC and other healthcare experts on this one. Re-infection is possible, so if the vaccine is offered to you, regardless of whether you've already had COVID-19, you should get vaccinated. It's still unclear how long immunity lasts and, in general, the length of a person's natural immunity can vary greatly.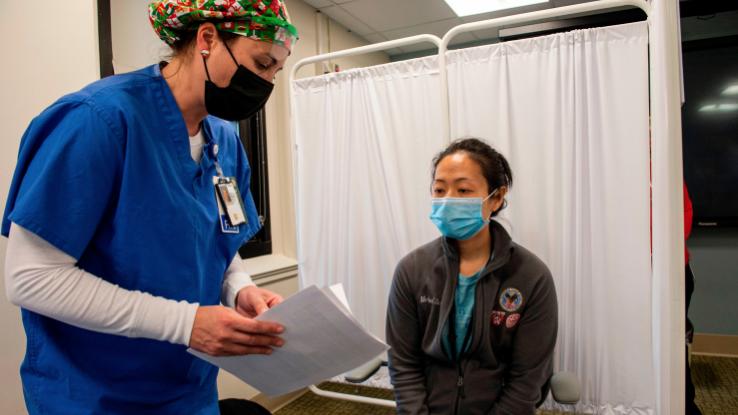 Currently, the CDC is providing recommendations to federal, state and local governments as to which groups of people should be vaccinated first. If you're part of one of those early-stage groups, vaccination is important regardless of your history with COVID-19, and health officials recommend the extra safety precaution. "Both natural immunity and vaccine-induced immunity are important aspects of COVID-19 that experts are trying to learn more about," the CDC has stated. "And [we] will keep the public informed as new evidence becomes available."