Why Is America's Wildfire Season Getting Longer?
Americans living on the West Coast of the United States have become used to the so-called "wildfire season." Like earthquakes, wildfires are, it seems, just part of life in the American West now. Over the past few years, however, the annual devastation has intensified. "Unlike hurricane seasons or monsoons, there is no single prescribed date for the start of the North American wildfire season," the Center for Disaster Philanthropy points out.
While 2020 marked a record-breaking wildfire season, 2021 is poised to be even worse. Already fires have behaved in unprecedented ways. For example, the ongoing Caldor Fire, which hit the Golden State's Lake Tahoe, and the Dixie Fire, which is burning near Chico, California, became the first wildfires to cross the Sierra Nevada mountain range. Often, firefighters can count on terrain to help them contain the burns — but the fires this season have proven otherwise.
For comparison, 4.3 million acres burned in California in 2020; this year, AccuWeather estimates 9.5 million acres across the western U.S. could burn, which is "130% of the five-year average and 140% of the 10-year average." As of September 2021, "77 large fires and complexes have burned more than 2.9 million acres," according to the National Interagency Fire Center. So, what exactly is contributing to these increasingly devastating wildfires and longer seasons? What's being done to mitigate the damage and displacement? And, most importantly, how are we preparing to tackle this arm of the climate crisis?
Why Is Wildfire Season Getting Longer — and Worse?
As you may know, wildfires are naturally occurring events in certain environments. "They are nature's way of clearing out the dead litter on forest floors," the American Association for the Advancement of Science explains in its journal Science. "This allows important nutrients to return to the soil, enabling a new healthy beginning for plants and animals." Moreover, fires aid some plants when it comes to reproduction; for example, fire melts the resin that seals some pine cones' seeds.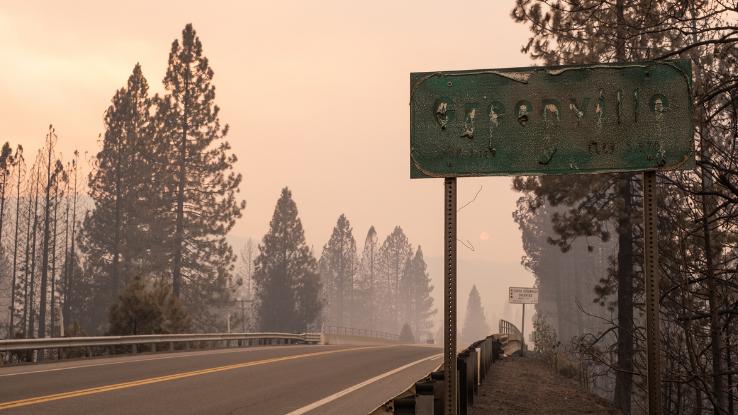 However, ecologists have discovered that forests aren't as resilient as they once were in the face of unprecedented fires, intensifying heat and climate change. In studying post-fire tree regeneration, these same researchers found that, after 2000, the sites with no regrowth jumped from 19% to 32%. You can probably already see the catch-22-type cycle that's forming here. That is, fires cause more carbon to enter the atmosphere, but those same fires are permanently damaging forests, which means that there are fewer trees to absorb that carbon (dioxide) during photosynthesis.
To make matters worse, the West's ongoing drought conditions, alongside extreme heat and intense, unpredictable winds, have turned many states into tinderboxes. Currently, 75% of the Western U.S. — from the Midwest to the Pacific Ocean — Mexico, and Canada are all suffering from what experts call a megadrought (or, at the very least, the harbinger of one). At the start of this wildfire season, the Pacific Northwest endured record-setting temperatures; the deadly heat wave saw Seattle, Washington, hitting 108 degrees, while Portland, Oregon, spiked at 116 degrees. The extreme weather melted critical infrastructure, from power cables to asphalt.
How Drought in Western States Exacerbates Wildfire Risk
In California, the current extreme drought conditions were triggered by a combination of intense heat in the summer months of last year, (2020 was the hottest year on record for the state), followed by an unusually short rainy season due to a La Niña weather pattern. Over the past year, these factors have tipped the state, which is already historically vulnerable to the damaging effects of drought and high heat, into a more severe drought.
According to the National Integrated Drought Information System, which monitors the severity of drought conditions in each U.S. state and county and ranks them on a scale from Abnormally Dry (D0) to Exceptional Drought (D4), 87.9% of California's land is under Extreme Drought (D3) conditions as of mid-September 2021. Additionally, 45.7% of the state is currently under the most severe category, Exceptional Drought (D4).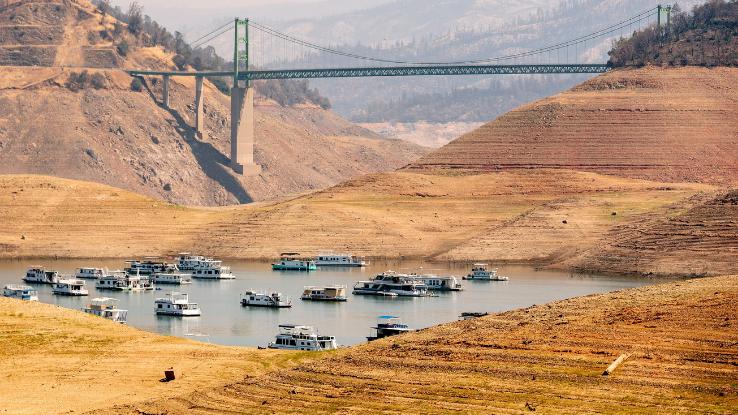 The larger issue, though, and a major contributor to the longer wildfire seasons of recent years, is the fact that Western states have been experiencing drought conditions consistently since 2000, the year that the National Integrated Drought Information System started monitoring drought levels. The longevity of the drought in the West points to the possibility of a megadrought — a phenomenon that occurs when drought conditions in a region persist for over 20 years.
In April 2020, a team of scientists studying climate history found that the West has experienced several megadroughts — in the 800s, the mid-1100s, the 1200s and the late 1500s. The difference, though, between past megadroughts and the one we're currently experiencing, is that human-influenced climate change is a major contributing factor to the severity of the current drought. The authors of the study estimate that human activity has increased the intensity of the current drought by 30–50%.
The compounding nature of human-led climate change and the West's emerging megadrought has dire implications for both the severity and the length of upcoming wildfire seasons. Forest vegetation receives and retains significantly less moisture during extended droughts, fostering the perfect conditions for wildfires to spark and spread. And, in the catch-22-like cycle referenced earlier, smoke from fast-spreading wildfires increases carbon emissions, which are less able to be absorbed by vegetation and offset by the process of photosynthesis if whole forests are wiped out by devastating wildfires.
Evacuations and Air Quality Issues Impact Residents of Fire-Prone Regions
In early September 2021, with the flames from California's Caldor Fire rapidly approaching South Lake Tahoe, the state was forced to evacuate over 50,000 people from the region as the fire destroyed over 700 homes. After establishing a base at Heavenly Ski Resort and working to divert the fire away from the most heavily populated tourist area near the southern tip of Lake Tahoe, firefighting crews were eventually able to steer the fire away from the city and reach 70% containment. Still, the Caldor Fire, with over 219,267 acres burned, ranks as the 15th largest fire in California's history. And as fire season gets longer in the West, residents of fire-prone areas need to be ready to evacuate their homes earlier and earlier in the spring and increasingly later in the fall.
Longer and more intense fire seasons have also contributed to air quality issues across Western states. When a large volume of smoke is released into the air, it emits "substantial amounts of volatile and semi-volatile organic materials and nitrogen oxides that form ozone and organic particulate matter," according to NOAA. These toxic emissions affect both air quality and the health of local residents and first responders. Exposure to wildfire smoke can cause respiratory tract and eye irritation, as well as conditions like bronchitis and reduced lung function. Exposure to smoke can also worsen existing conditions like heart failure and asthma. According to the EPA, smoke exposure is most damaging to older adults, people who are pregnant and children.
Human Carelessness and a Lack of Preparedness Only Make Wildfires Worse
But wildfires of this magnitude don't start in a vacuum. Nor do they all stem from the environment's current conditions. Last year, lightning strikes hitting these already dry regions contributed to some fires, but, overwhelmingly, human carelessness is to blame. Cal Fire reports that about 95% of wildfires are caused by humans; electrical failures, smoking, campfires, burning debris and arson all figure into this statistic.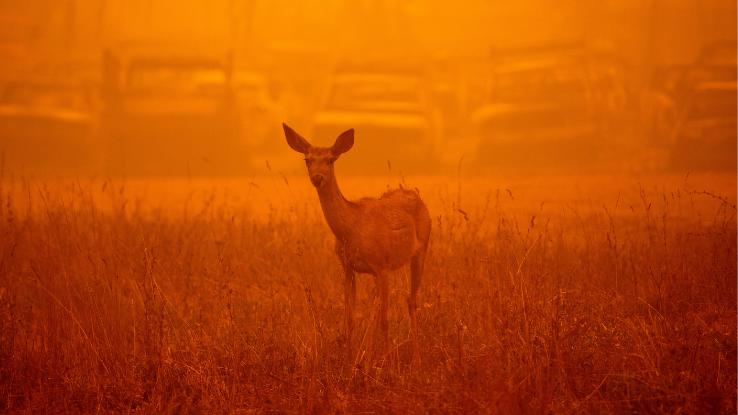 In 2020, the devastating El Dorado fire, which started in San Bernardino, was caused by a couple's use of pyrotechnics at a so-called gender reveal party. Meanwhile, in Northern California, Pacific Gas & Electric (PG&E) pleaded guilty to a staggering 84 counts of manslaughter in the wake of the Camp Fire, which devastated Paradise, California, in 2018. The company's transmission line was the cause of what's been dubbed the deadliest and most destructive fire in California's history. But this isn't an isolated incident. This year's Dixie Fire — the second-largest in California's history — is being linked to PG&E as well. Over the past six years, the company has caused over 1,500 fires in California alone.
Critics suggest that the company has been prioritizing profits over safety for years, neglecting to upgrade power lines or sufficiently trim trees, among other essential maintenance. The now-bankrupt PG&E has decided that the most cost-effective solution, however, is to cut power to millions of Californians on dry, windy days. Often, this is done without notice, endangering, among others, individuals who rely on electric medical equipment or medications that must be stored at cold temperatures.
And instead of listening to Indigenous leaders and tribes about the practice of controlled burns, the federal government has taken to implementing what The Nature Conservancy describes as a "fire suppression" strategy. In lieu of taking the environment's needs or landscape maintenance into account, this tactic hinges upon protecting watersheds and commercial timber supplies.
Can "Good Fire" Help Prevent More Catastrophic Wildfires?
For at least 11,000 years, Indigenous communities in California have used controlled burns as a tool to manage forests and prevent catastrophic wildfires. Controlled burns benefit the overall health of a forest by clearing out potential sources of wildfire fuel — dead grass, dead trees, fallen limbs and underbrush — in a more predictable manner.
It's important to note that, for Indigenous people, controlled burning is more than just a forest-management strategy — it's a cultural practice. The Yurok, Karuk, Hupa, Miwok, Chumash and many other tribes in California conduct controlled burns, known as "good fire," to stimulate the growth of medicinal plants, clear habitat for animals, and cultivate and balance the forest ecosystem.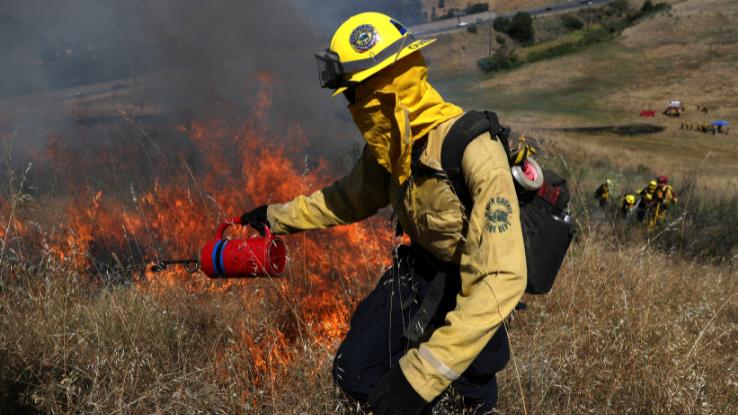 The practice of controlled burns was banned, however, by the U.S. Forest Service in the late 1800s, shortly after the state of California took action to forcibly remove Indigenous people from their ancestral land within the state. Instead of prescribed burns, the Forest Service embraced a new wildfire-mitigation policy that involved swiftly extinguishing each unplanned blaze. This policy of total fire suppression has two major goals: to quickly put out wildfires, ideally by 10 a.m the day after they're first reported, and to prevent new unplanned blazes from starting.
However, as the devastating wildfires of the last few years have shown, the focus on total fire suppression in California has only worsened the situation. Without controlled burns, undergrowth and dead wood from fallen trees and branches have been allowed to accumulate. In drought conditions like the West is currently experiencing, this vegetation dries out, turning the forest into a tinderbox with more than enough fuel for wildfires to spark and spread unchecked.
In recent years state and federal agencies have begun to recognize the importance of controlled burns. In 2018, the state of California introduced a new plan to triple the number of controlled burns in the state under a new program with the goal of "creating a culture where fire is a tool, not a threat." Still, as of 2021, only 125,000 acres of forest in California are managed using controlled burns, which is less than one third of what land management experts, scientists and Indigenous leaders recommend.
The Climate Crisis: How Can You Help Protect Our Land and Water?
While we'd all love to imagine that saving our oceans and forests is as simple as moving on from single-use plastics and bringing our canvas totes to Trader Joe's, it's much more complicated than that. With new effects of the ongoing climate crisis occurring weekly (if not daily), it's clear that policies need to shift, that the industries that underpin our country need to change.
Foregoing a plastic straw at Starbucks might feel like you're making a contribution to environmental efforts, but, in reality, corporations tend to play with our "green guilt." That is, while the Seattle-based company's efforts to eliminate 200 million single-use plastic straws is generally good, it doesn't compare to other initiatives Starbucks, and its fellow large corporations, could be taking on. A recent study found that just 20 companies are responsible for producing 55% of single-use plastic waste on the planet. But, instead of honing in on that issue, these same companies are displacing the guilt onto consumers.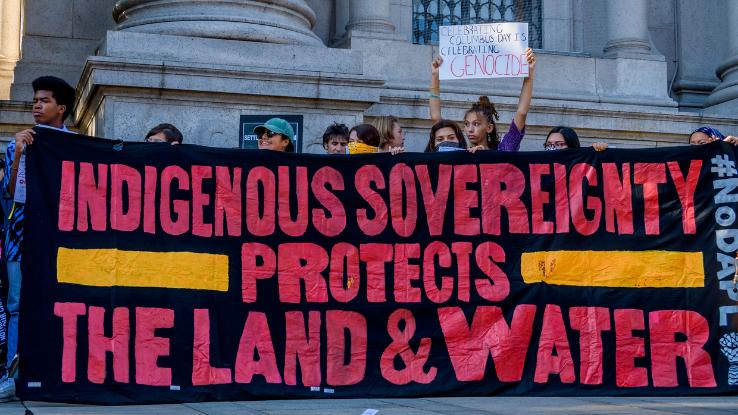 All of this to say, keep composting and using biodegradable products — shifting our lifestyles and societal practices can have an impact — but don't forget to think bigger, too. There are so many organizations and activists that need our support. For example, support and donate to organizations aiming to not just fight climate change, but to promote climate justice as well, such as Earthjustice. And prioritize learning from, supporting and donating to Indigenous activists and Indigenous-led organizations that are leading the fight to preserve our water sources, forests and land.
Some great organizations you should amplify and support include:
Of course, there are many, many other essential organizations, so, as always, be sure to seek out local groups in your community in addition to those with a more national reach.