What Special Clothing Is Traditionally Worn for Diwali?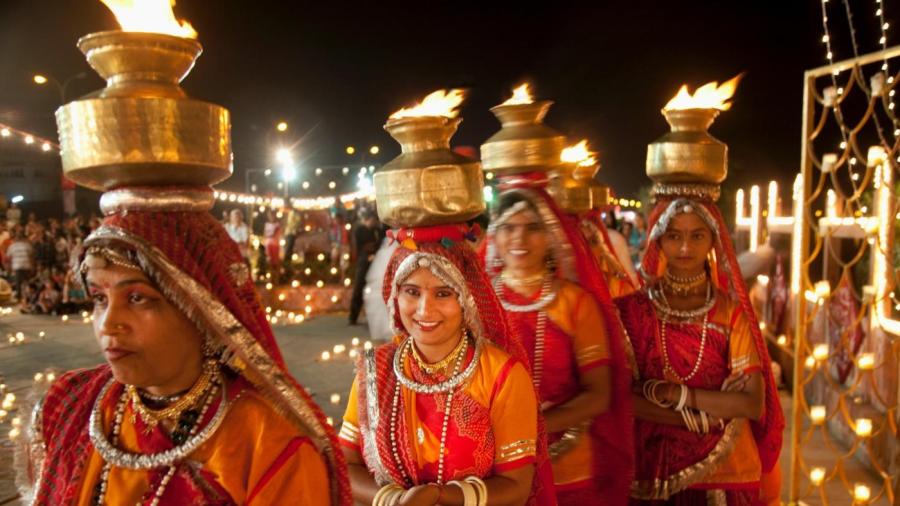 Special clothing that brings out inner light is traditionally worn for the Hindu festival of lights called Diwali. This holiday time is also known as the "festival of dresses." Men, women, young people and children make use of the opportunity to buy bright, ethnic clothing.
Diwali celebrates favorable auspices and gratefulness to the goddess Lakshmi through a form of worship called Pooja or Puja. Appropriate attire is both traditional and trendy. Women wear elegant sarees made from a variety of materials, such as silk, crepe, chiffon and velvet. Men dress in classic but contemporary kurta and dhoti. Young girls wear brightly decorated costumes called lehengas. Boys can dress up in suits or choose to be more comfortable in jeans and tee shirts. Even little children love dressing up in colorful robes and dresses.
Clothing must reflect excitement and joy during the five-day celebration. While some women flaunt designer styles, others opt for less extravagant, simpler festival apparel. Shopkeepers start new accounting books after the Diwali Pooja, so they carefully display their wares and offer discount prices to customers.
A cheerful time to "dress for excess," Diwali captures the essence of light and illumination. Costume jewelry adds to the spirit of happiness, and women embellish their hands with Henna or Mehandi.