Sally Ride Day: The Life & Legacy of the First American Woman in Space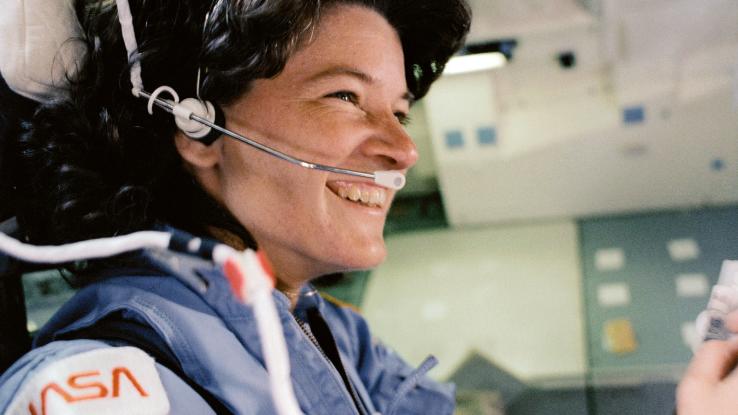 On June 18, 1983, astronaut Sally Ride made history when she became the first American woman in space, rocketing into orbit as part of the Challenger's STS-7 mission. Each year, the world still celebrates Ride's accomplishments on her birthday, but, more recently, May 26 has been officially dubbed Sally Ride Day.
The astronaut and astrophysicist's legacy continued to develop long after her initial space mission with the National Aeronautics and Space Administration (NASA). In fact, Ride would go on to become an LGBTQ+ icon, a champion of empowering women and girls in STEM (science, technology, engineering, and math) fields, and the bestselling author of seven children's books. So, let's celebrate Sally Ride Day with a look back at some of these landmark accomplishments.
Early Life: Ride Rocketed With a Racket
Sally Ride was born on May 26, 1951, in Encino, California, and grew up with an interest in — and a real knack for — tennis. She began playing the sport at the age of 10, and, eventually, got good enough to win a tennis scholarship to Los Angeles' prestigious Westlake School for Girls.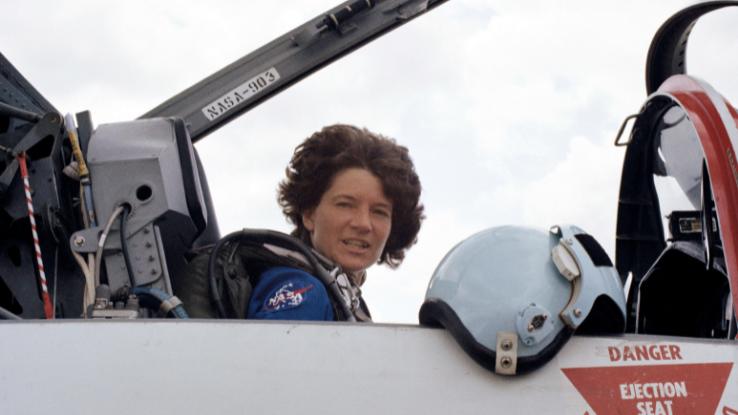 By her teens, Ride was ranked among the top 20 tennis players in the nation on the junior tennis circuit. After high school, she attended Swarthmore College in Pennsylvania, but dropped out during her sophomore year to play tennis professionally. That change of heart didn't last long, however. A few months later, Ride decided that higher education was in the cards for her after all. She later explained, "I was always very interested in science, and I knew that for me, science was a better long-term career than tennis."
With this new mindset, Ride headed back to California to study at Stanford University. By 1973 she graduated with a Bachelor of Science in physics as well as a Bachelor of Arts in English. After graduation, she decided to stick around Stanford long enough to earn a Master of Science and a doctorate degree in physics. So, yes, pursuing higher ed really was in the cards for her after all.
Little did she know that the unique set of skills she'd spent her life developing would later make her a prime candidate for a life-changing opportunity with NASA.
A NASA Newspaper Ad Launches Ride's Space Career
In 1977, NASA ran an ad in newspapers, putting out a call for candidates to serve as "mission specialists." Upon submitting herself for consideration, Ride was one of just five women selected for NASA's class of 1978. And, in a perfect moment of serendipity, Ride discovered that both her extensive science background and strong athletic abilities helped her excel in NASA's challenging training program.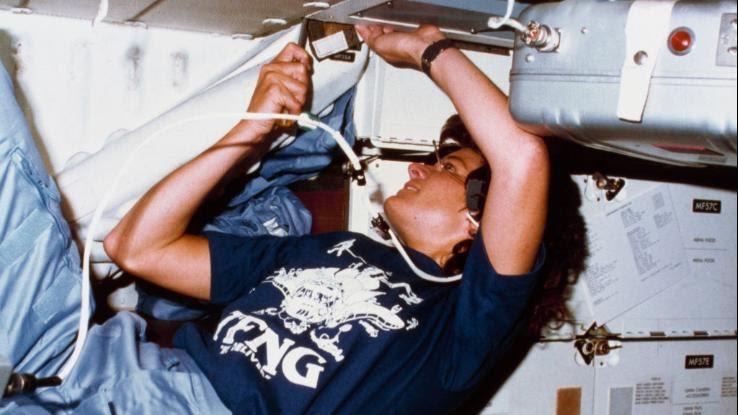 Soon after, Ride made history. During her historic flight on the Challenger's STS-7 mission, which launched on June 18, 1983, Ride served as the flight engineer. This made her the first American woman, youngest American, and first (later) openly queer astronaut in space. Although the mission only lasted a few days, Ride later returned to orbit on a second mission on October 5, 1984 and spent eight days in space conducting scientific research aboard NASA's STS-41G shuttle mission.
In 1986, tragedy struck NASA when the space shuttle Challenger exploded on its way into orbit, claiming the lives of seven astronauts. Ride joined NASA's investigation team to help uncover the reasons for the disaster and was later hired on as a special assistant to the NASA administrator for long-range and strategic planning.
Ride continued to work with NASA until 1989. At that time, she traded her role at NASA for a post at University of California in San Diego. While there, she taught physics and held the Space Institute director position. Eventually, Ride became a member of the President's Committee of Advisors on Science and Technology and the opportunity to continue contributing to scientific breakthroughs in the realm of space exploration.
Ride & Her Partner, Tam O'Shaughnessy, Later Became LGBTQ+ Icons
While Sally Ride spent much of her life being championed as the first American woman in space, it was only after her death that it became widely known that she was also the first gay astronaut to orbit the Earth. Her sister, Bear Ride, later explained that Sally's lack of openness about her sexuality wasn't a matter of shame, but simply of privacy.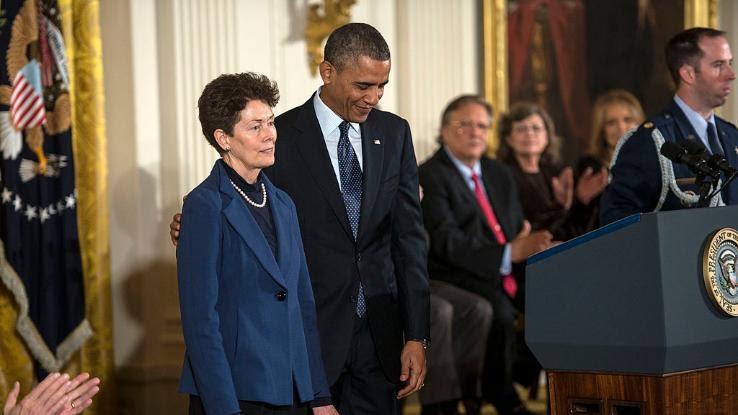 "My sister was a very private person," Bear Ride said in an interview with NBC News. She went on to explain that Sally's death would also come as a surprise to many people since the former astronaut had also been rather private about her battle with pancreatic cancer.
As for her sister's sexuality, Bear Ride commented, "Most people did not know that Sally had a wonderfully loving relationship with Tam O'Shaughnessy for 27 years. Sally never hid her relationship with Tam. They were partners, business partners in Sally Ride Science, they wrote books together, and Sally's very close friends, of course, knew of their love for each other. We consider Tam a member of our family."
After Sally's death, O'Shaughnessy — a professional tennis player — opened up about their long-term relationship, explaining that the two met at tennis competitions as kids. After developing a strong friendship throughout the years, their relationship later blossomed into a romantic one. Even though Sally was celebrated as an American hero, O'Shaughnessy didn't receive government benefits after Sally's death, underscoring a huge double standard in how queer Americans and their partners are treated.
In 2013, former President Barack Obama awarded Sally Ride a posthumous Presidential Medal of Freedom — and insisted O'Shaughnessy accept the honor on her partner's behalf. "I was profoundly moved by this very public acknowledgement of my central role in Sally's life," O'Shaughnessy wrote in an essay for HuffPost. "I remember thinking, 'Finally! I don't need to be secretive about who I really am any more.' Oh, how I wished Sally could [have] experience[d] this with me."
The Sally Ride Science Institute Helps Kids Shoot for the Stars
Throughout the course of her life, Ride maintained a strong interest in encouraging and empowering women and girls who were interested in STEM careers. She and her partner, Tam, authored seven children's books together, all with space exploration themes. Part of the aim? To get young girls interested in space and science.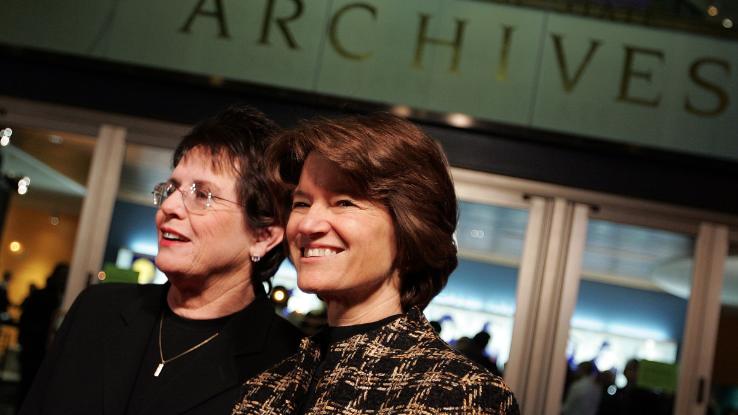 In addition to serving on the Advisory Board of the National Women's History Museum, Ride also founded her own institute, Sally Ride Science. The goal of the nonprofit is to help narrow the gender gap by promoting STEM studies programs for young people of all backgrounds and genders, though a particular emphasis is placed on encouraging girls.
For 20 years, Sally Ride Science has been doing just that by offering a number of STEM-themed educational resources, including the Junior Academy Summer Program. The program offers students from third to twelfth grade the chance to engage in hands-on workshops and explore topics like space exploration, computer programming, and marine biology. Even now, the organization offers a plethora of great online workshops and events.
Although Ride's life was cut short when she passed away on July 23, 2012 at the age of 61, her legacy will undoubtedly live on for years to come. As former NASA Deputy Administrator Lori Garver put it, "Sally was a personal and professional role model to me and thousands of women around the world. Her spirit and determination will continue to be an inspiration."