Major Historical Events and Celebs Who Were a Part of Them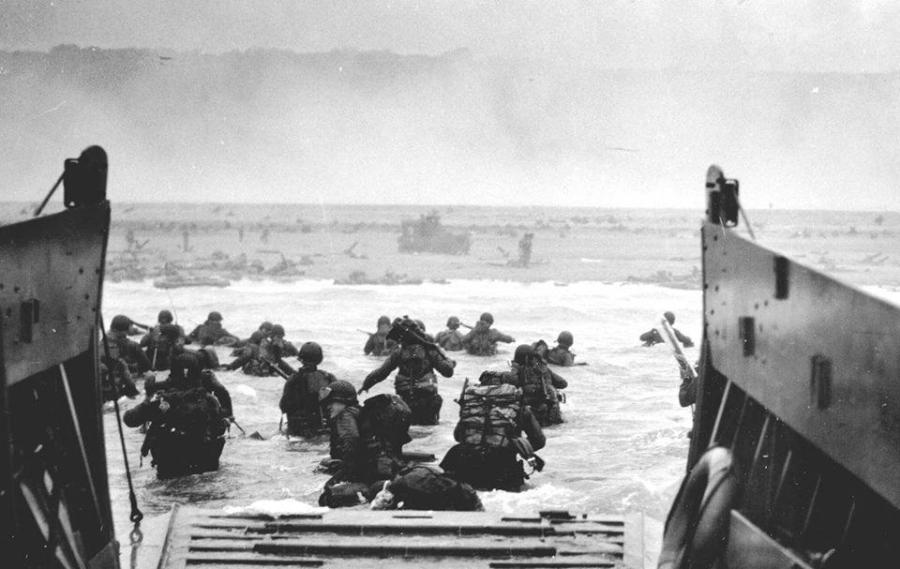 No matter one's upbringing or level of success, history affects everyone. Celebrities may have a unique influence on society, but are not spared when it comes to tragedy, patriotic duty, or even coincidence. Read about these celebrities who witnessed history first-hand and the real-life roles they played – some of whom have had a lasting impact on the world.
Bill Paxton — JFK's Last Public Address
Eight-year-old Bill Paxton was among thousands who gathered in the parking lot of the Hotel Texas in Fort Worth to see President John F. Kennedy speak on Nov. 22, 1963. It would be Kennedy's last public address before his assassination in Dallas. Paxton recalled seeing Kennedy's speech with his older brother, Bob, and their dad, John.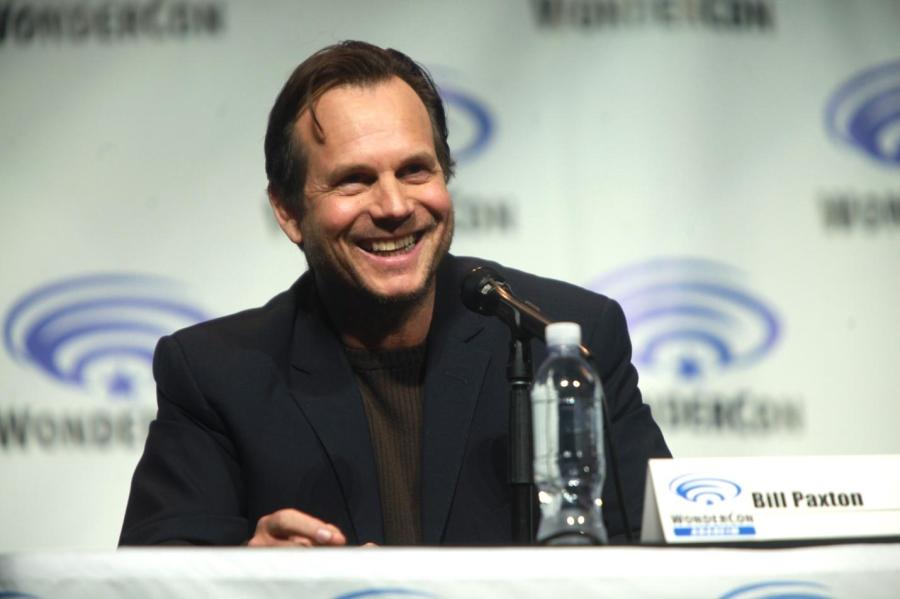 In 2007, Paxton visited the Sixth Floor Museum at Dealey Plaza where he was scheduled to give an oral history of his experience. Also, he was there to view footage from a film taken by Roy Cooper, a cameraman for KTVT-TV. It was in that footage that Paxton saw himself hoisted on the shoulders of a kind man he'd just met. The still photograph lifted from Cooper's film cemented in history what had, until that point, been nothing more than Paxton's childhood memory. 
Audrey Hepburn — World War II Dutch Resistance
Prior to her rise as one of Hollywood's beloved stars for her iconic roles in hit films such as My Fair Lady and Breakfast at Tiffany's, film star Audrey Hepburn bravely volunteered in the Dutch Resistance during World War II. 
As a teenager living in the Netherlands, Hepburn put her talent and passion for dance and ballet to use hosting secret shows called "black evenings." She donated earnings from the performances to help fund anti-Nazi Resistance groups. Hepburn also volunteered as a courier, delivering messages to Resistance members and allied pilots downed over the Netherlands. 
Steve Buscemi — 9/11 Volunteer Firefighter
A native of Brooklyn, New York, Steve Buscemi began his career as a New York City firefighter when he was 22 years old. He served on Engine Co. 55 in Manhattan's Little Italy for four years before leaving to become a successful American actor, writer and director. Buscemi has starred in a number of films and shows including Armageddon, Con Air, Monsters, Inc. and HBO's The Sopranos. 
On Sept. 12, 2001, in the aftermath of the terrorist attacks on the World Trade Center in New York, Buscemi rejoined his old company, FDNY Engine 55 and volunteered working 12-hour shifts for several days sifting through the rubble searching for survivors. 
Jimmy Stewart — World War II
Jimmy Stewart was always interested in aviation, but as a young man, his father steered him away from joining the U.S. Naval Academy. Instead, he enrolled in Princeton where he first became involved in acting. During the Great Depression, Stewart made the move to Hollywood and began working in cinema. During this time, he also pursued his passion for aviation.
When the U.S. entered World War II, Stewart was drafted into the Army, but was rejected for being underweight. After putting on the necessary pounds, he enlisted with the Air Corps and received his commission after the attack on Pearl Harbor. Stewart flew more than 20 combat missions and his bravery earned him a promotion to Brigadier General.
Samuel L. Jackson — MLK Jr.'s Funeral
Samuel L. Jackson was a sophomore attending the all-male, historically black Morehouse College in Atlanta when Martin Luther King Jr. was assassinated in April 1968. Days later, he flew to Memphis with others, including Robert Culp, to continue Dr. King's work by participating in a march supporting garbage workers. 
Dr. King's funeral was held at Spelman College the day after Jackson returned to Atlanta. He volunteered as an usher to help funeral-goers find their way around the campus. Jackson was later expelled from Morehouse College for his involvement in a campus protest during which he and others held the Morehouse board of trustees – including Dr. King's father – hostage.
Sigourney Weaver — Hollywood Bowl Beatles Concert
Sigourney Weaver was just 14 years old when she saw the Beatles perform at the Hollywood Bowl. "I didn't know anyone, but I went to the Hollywood Bowl," recounts Weaver, whose family had recently moved to the area. The Beatles' concert at the Hollywood Bowl was filmed by George Martin from Capitol Records. The film The Beatles: Eight Days a Week – The Touring Years (released in 2016) shows footage of the concert, including a glimpse of the young Sigourney Weaver enjoying the show.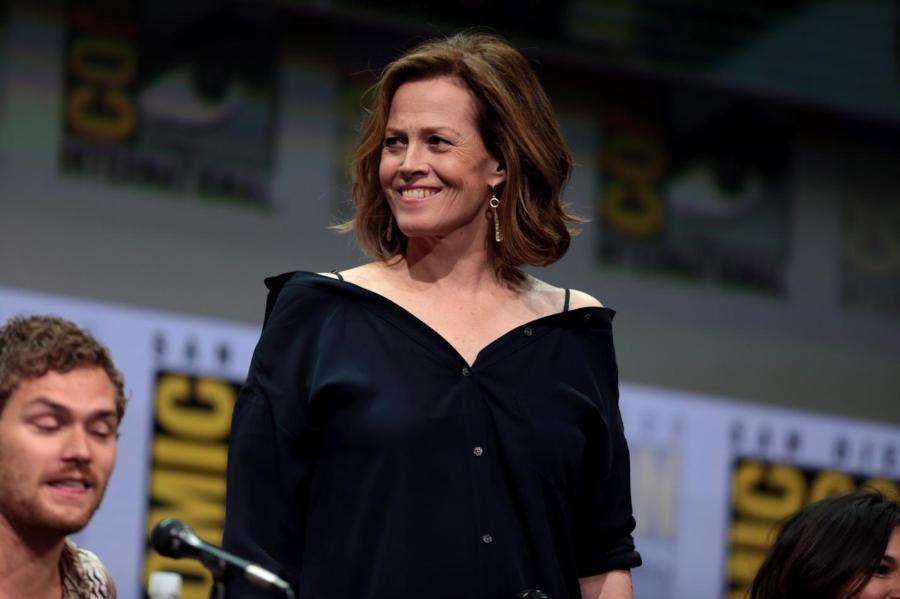 In 2015, Weaver told Tonight Show host Jimmy Fallon about a close encounter with The Beatles following the concert when she and another girl were "overwhelmed" and wandering home when "suddenly this limo comes out…it slows down and in the limo are The Beatles."
George Takei — Japanese Internment in World War II
During World War II, more than 120,000 Japanese-Americans in the United States were forced into concentration camps in the interior of the country, simply because of their ancestry. George Takei and his family were among the imprisoned and they spent more than two years in a Japanese internment camp.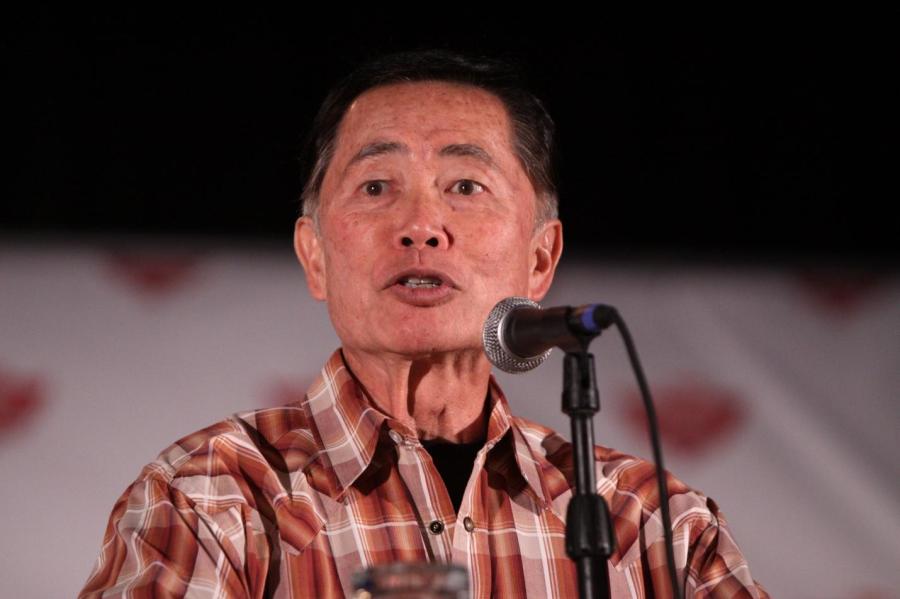 The Star Trek actor and his family lost everything. At the end of the ordeal, the family was only given a handful of train tickets and $20. Takei's time spent in the internment camp was the inspiration behind the 2012 musical Allegiance.
Eleanor Roosevelt — Sinking of the SS Britannic
Before the Titanic there was the SS Britannic, an ocean liner of the White Star Line that primarily carried immigrant passengers from Liverpool to New York City. On May 19, 1887, the Britannic collided with the SS Celtic in a dense fog about 350 miles east of Sandy Hook, New Jersey. The Celtic, with 870 passengers aboard, was headed for New York, while the Britannic and its 450 passengers was enroute to Liverpool.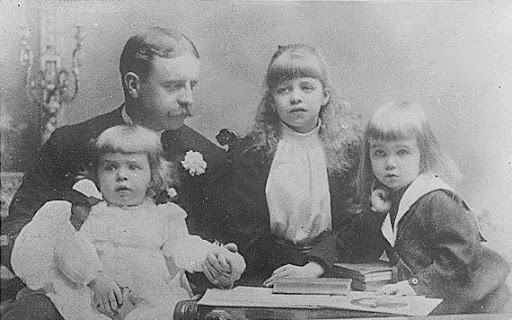 Among the passengers of Britannic was two-year-old Eleanor Roosevelt, along with her parents and aunt. Six passengers were killed in the initial collision, while six others went missing, later found to have been washed overboard. The young Roosevelt and her family were unharmed. Eleanor, however, had a lifelong fear of water and ships after the incident.
Pat Sajak — Korean War Disk Jockey
The iconic Wheel of Fortune host was once a member of the U.S. Army during the Korean War. He joined the army in 1968, but was fortunate enough to avoid frontline military action. Instead, he worked as a disc jockey on Armed Forces Radio. Sajak admits feeling somewhat guilty about his "soft duty," but says he felt a little better when guys from the field returned to town. They would thank him and the other DJs for "bringing them a little bit of home."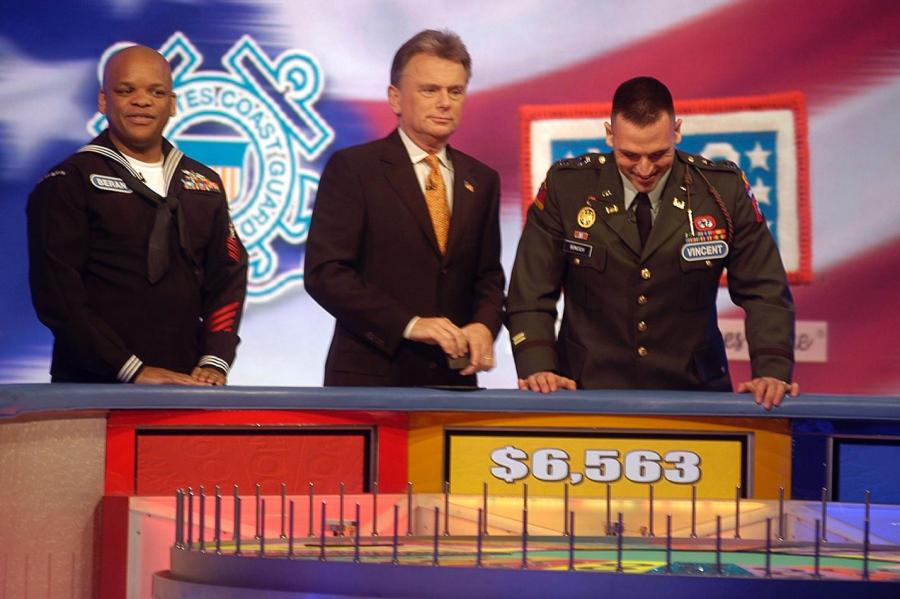 Prior to taking on his 30-year-and-counting gig as game show host, Sajak was a DJ for WSM in Nashville, worked as a voiceover artist on the Today Show and as a weatherman for KNBC in Los Angeles. As the Wheel of Fortune host, he enjoys the opportunity to feature military veterans and their families.
Yogi Berra — D-Day
Yogi Berra was an 18-year-old baseball prospect when the U.S. entered World War II. Putting his baseball career on hold, the eventual Hall of Famer and Yankees catcher bravely served the U.S. as a Navy gunner on June 6, 1944 (D-Day). The World War II veteran says he was young and naive and remembers thinking the planes and blasts looked "like the Fourth of July." 
Fortunately, Berra survived the Normandy invasion unscathed and recalls only losing one man from his boat (he left the vessel to land on the beach). Berra later received a medal from the French government for his efforts. He also coined the phrase, "It ain't over till it's over!"
Sir Michael Caine — Korean War
Born Maurice Micklewhite Jr., Sir Michael Caine was drafted into the British army in May 1951. He was stationed on the front lines in Korea and saw extensive combat, often participating in dangerous nighttime patrols. Caine confesses that his time in the war changed him forever. He was forced to battle rats and swarms of mosquitoes, as well as the enemy.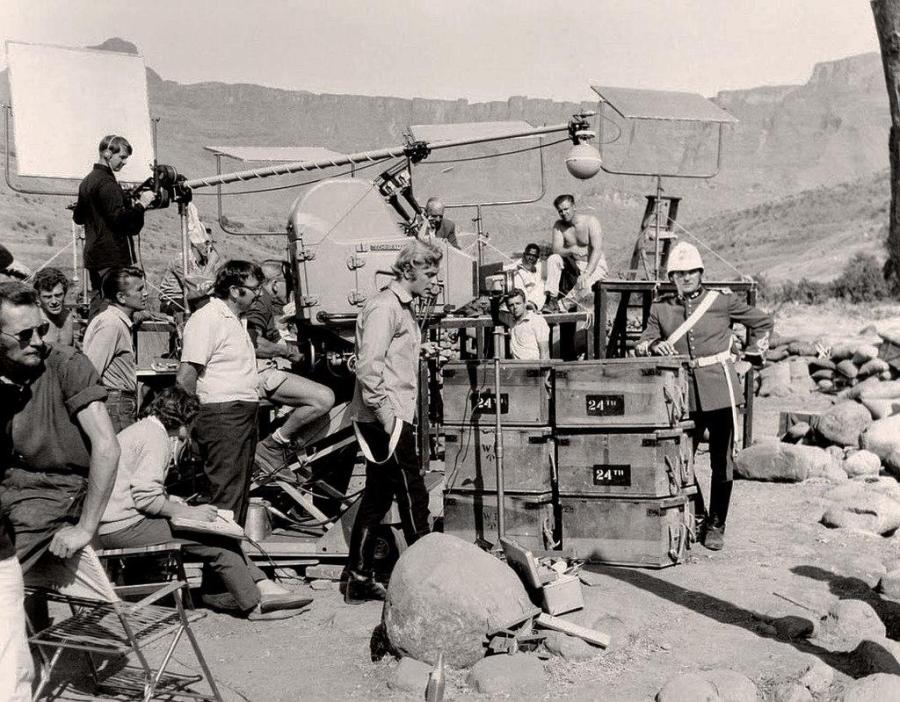 His time in the war ended after he contracted malaria and was discharged in 1953. Grateful to have survived, Caine returned to London where he studied acting and launched an acting career, one that saw him as an icon of British and international film. He has drawn on his past military experience in many roles in such films as The Eagle Has Landed, The Italian Job, Zulu and Get Carter.
Johnny Cash — Joseph Stalin's Death
At the time, Cash had just finished his basic training in the Air Force and was stationed in Germany. His job was to intercept the Soviets' Morse Code communications. Cash happened to be in the right place at the right time, specifically March 5, 1953, when the news that Soviet Joseph Stalin had died came across his interceptor.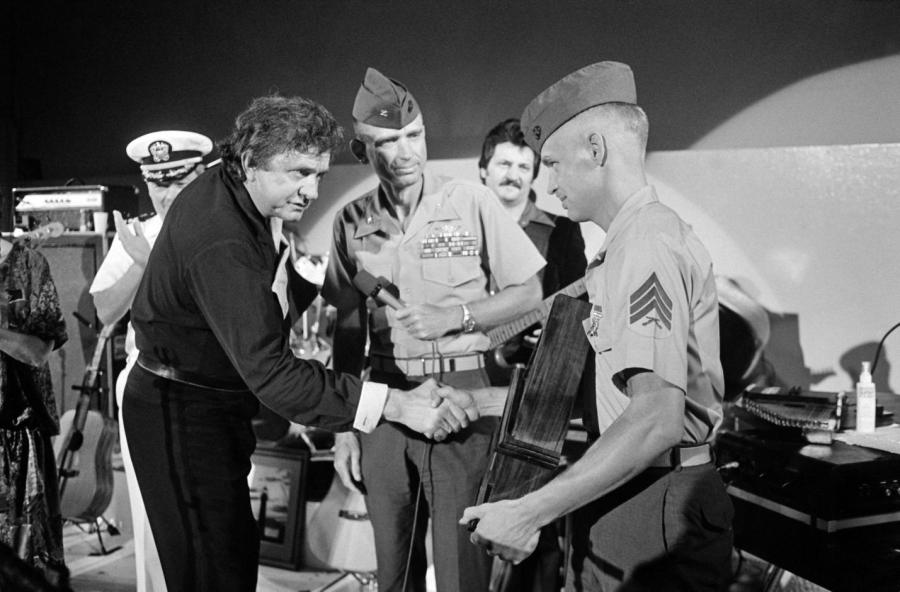 The Man in Black,
Johnny Cash, is famously regarded as a talented country singer, but that's not his only claim to fame. Cash was the first American to know that Joseph Stalin was dead. He knew it before President Eisenhower, the head of the FBI, and the Secretary of State and Secretary of Defense.
Hedy Lamarr — Bluetooth Technology
Austrian-born American film actress, Hedy Lamarr, is well-known for her scandalous love life and as the actress who depicted the first on-screen female orgasm in the movie Ecstasy. What many don't know is that in addition to her talent as an actress, Lamarr was also incredibly adept at technology. 
At the beginning of WWII, Lamarr and her friend composer George Antheil developed a radio guidance system that became the basis of today's Bluetooth technology, GPS and Wi-Fi. In 2014, their scientific research earned them an induction into the National Inventors Hall of Fame.
Fats Domino — Hurricane Katrina
Rock and roll icon Fats Domino kept the country dancing through the '50s and '60s with his songs Blueberry Hill and Ain't That a Shame, but it was his song Walking to New Orleans that would later be emblematic of his beloved town staring down Hurricane Katrina and its aftermath. 
When news of the hurricane's path reached the singer, he stubbornly refused to evacuate, saying he would weather the storm by his ill wife's side. After the storm, his children couldn't get in contact with him and news of his death began to circulate. One person even spray painted "RIP Fats" on his house. The rumors were put to rest when his daughter spotted him in a photo in the New Orleans Times as he was being helped off a boat after being rescued from the third floor of his flooded home.
Julia Child — World War II Spy
The world-famous chef didn't start her career preparing delectable eats. After impulsively quitting her job as advertising manager at a furniture store, she applied for a new job (under her maiden name McWilliams) with the Office of Strategic Services (OSS), a WWII era spy agency, that would eventually become the CIA. 
This wasn't her first time volunteering her services. Prior to her gig at the furniture store, she was turned down for being "too tall" for the Women's Army Corps, who had a maximum height of 6 feet tall (Child is 6 feet 2 inches tall). Child's first "recipe" was one for shark repellent, which is still used today and is strapped on downed space equipment to keep it from being attacked when it falls into the ocean.
Bea Arthur — One of the First Female Marines
Bea Arthur wasn't always Dorothy in a houseful of Golden Girls. Born Bernice Frankel to Philip and Rebecca Frankel in 1922, she followed her family to Maryland where they opened a clothing store. Although she denied it her entire life, uncovered documents reveal that Arthur spent two-and-a-half years in the Marines as a truck driver.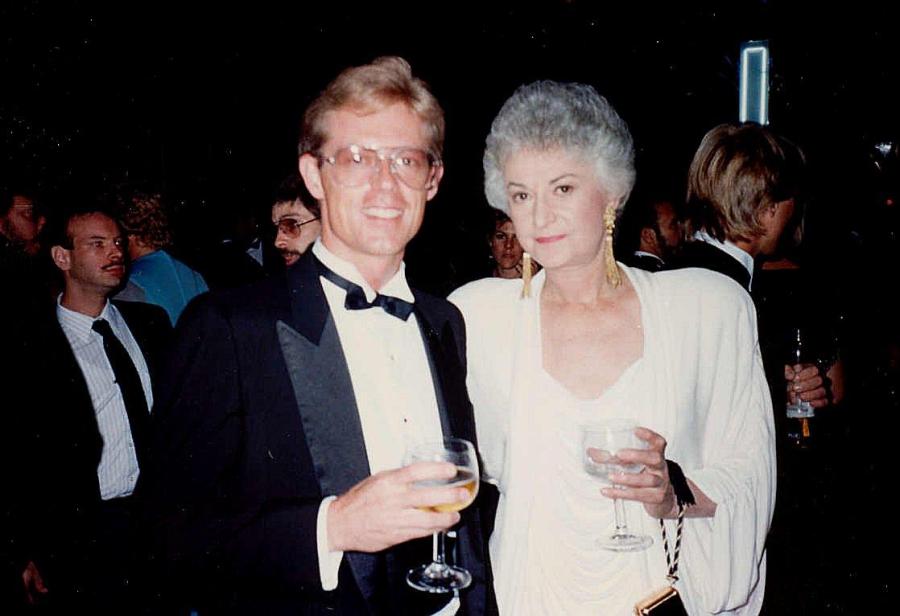 She enlisted at age 21 and was made a staff sergeant before being honorably discharged in 1945. She married fellow Marine Robert Arthur and changed her name from Bernice to Bea when she started her acting career in New York.
Dustin Hoffman — Greenwich Village Explosion
Not everyone is familiar with the Greenwich Village Explosion of 1970 that killed three members of the Weather Underground, but Dustin Hoffman was a little too close for comfort to the event, which happened next to the townhouse in which he lived with his wife Anne Byrne. 
The Weather Underground was a radical group of left wing activists who were building bombs in the basement of a home in Greenwich Village owned by Charles Merrill, co-founder of Merrill Lynch. When the explosion occurred, Hoffman's desk disappeared into the rubble left by the bomb. In a documentary of the event, he is seen standing out in the street after the explosion. Dustin and his family never returned to their townhouse.
Jet Li — 2004 Indian Ocean Tsunami
Kung Fu star Jet Li was in the Maldives when the picturesque island he was visiting was hit with an earthquake, followed by a tsunami. Li walked out onto the beach with his two daughters and nanny when the water began to rise rapidly, covering the heads of his nanny and daughter, Jada.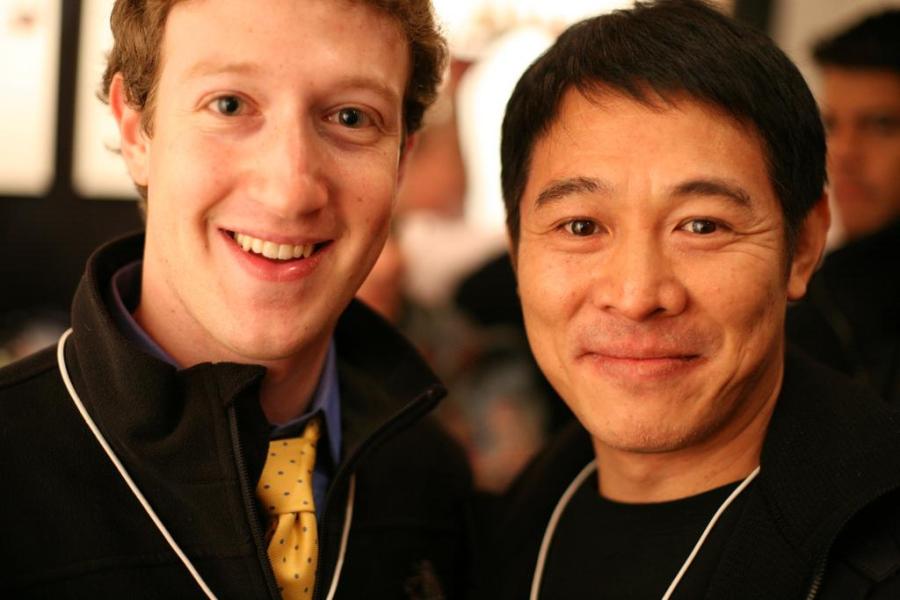 Luckily, four men heard Li yell, and swam to save the nanny and his daughter. The experience was transformative for Li and his inspiration behind starting the One Foundation. The foundation's primary purpose is to help with immediate disaster relief.
Mel Brooks — Bomb Diffuser in the U.S. Army
Funnyman Mel Brooks wasn't always making people laugh. After graduating high school and with just one year of college under his belt, Brooks was drafted into the U.S. Army. Being a bright young man, he was sent to the Army Specialized Program where he was taught such tasks as horse riding, saber wielding and the more practical job of combat engineering.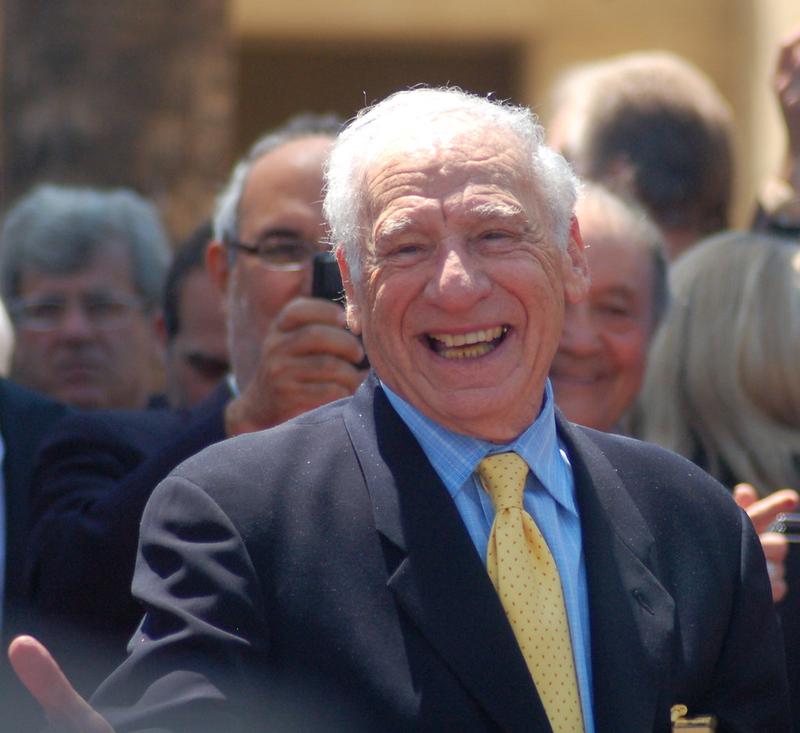 Most of the combat engineers held mundane jobs, like rebuilding bridges after the enemy had taken them out, but Brooks' was tasked with a job that brought a bit more adrenaline. He was sent to the front lines, where it was his responsibility to stare a land mine in the face and hope he could the diffuse bombs under heavy fire.
Christopher Lee — Britain's Royal Air Force
Christopher Lee is best known as an actor who portrayed cunning and mysterious villains, such as Dracula, the Sith Lord Count Dooku in Star Wars and the evil wizard in The Lord of the Rings and The Hobbit trilogies.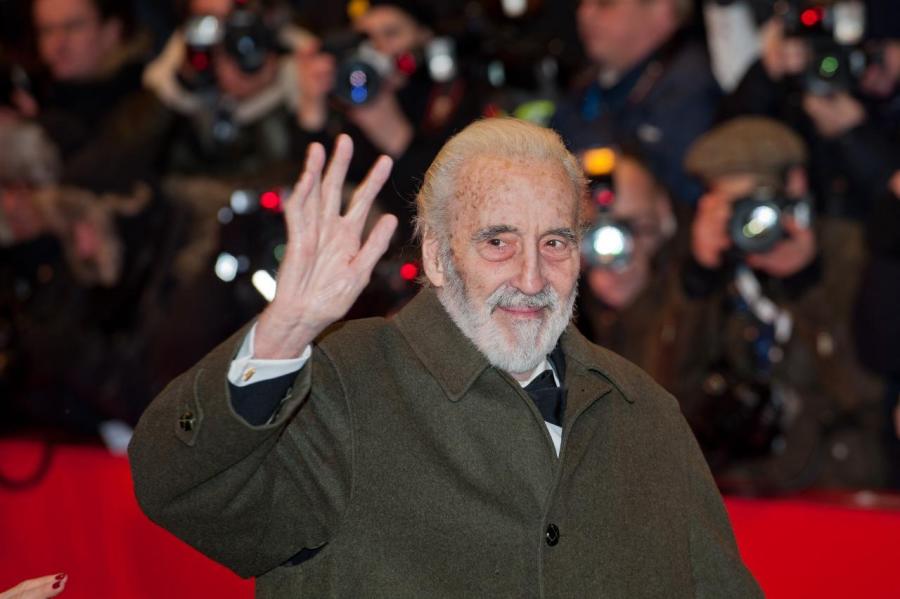 But before becoming an actor, Lee had an extensive career in Britain's Royal Air Force. Though he aspired to be a pilot, a medical exam showed that his optic nerve was damaged and he would never recover the ability to fly. He did, however, prove to be a capable soldier and an adaptable field agent, earning nicknames like "Duke" and "Spy." Lee rarely spoke of his wartime experiences, but towards the end of his life recalled the "dreadful things" he saw during his time in World War II.
Joaquin Phoenix — Children of God Cult
Phoenix's parents joined the group in the early 1970s, but eventually became disillusioned with the cult and got out. The typically reclusive star has always maintained his belief that his parents innocently joined the group thinking they had found a community of like-minded people and reversed course when they discovered the reality of what they had gotten into.
Her
star Joaquin Phoenix, now 40, has held most details of his childhood close. This might be because his upbringing was extremely unconventional. Phoenix was born into and spent his childhood in the Children of God cult in South America.
Dennis Wilson — Charles Manson's Roommate
Beach Boy member Dennis Wilson fell under the spell of Charles Manson and eventually became his roommate. Manson first entered the Beach Boy's life by chance after Wilson picked up two female hitchhikers in 1968 on the Sunset Strip. The women told Wilson that Manson was their guru and Wilson could help him get discovered because he was a well-connected entertainer.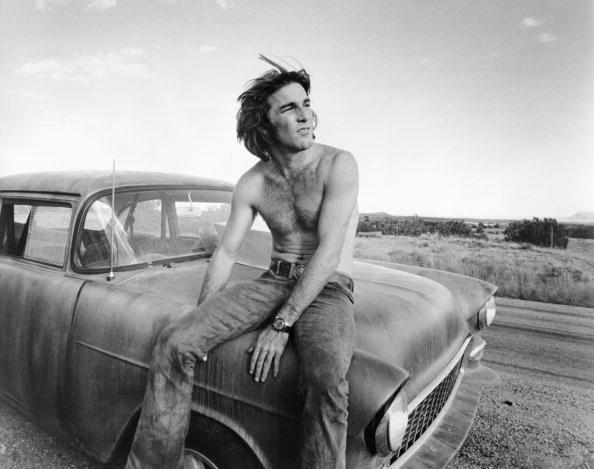 Wilson felt a musical kinship with Manson, who was a singer/songwriter like himself. Wilson even bought the rights to Manson's song Cease to Exist, reworking it as Never Learn Not to Love. The changes made to the song angered Manson and he was bitter at Wilson for leaving his name off the credits. Many of those close to Wilson believe his drug use and eventual self-destruction was a result of his guilt over his association with the murderous cult leader.
Kim Cattrall — PanAm Flight 103 Terrorist Attack
Most people wouldn't cancel a flight to do a little shopping, but Kim Cattrall didn't want to board her flight on June 20, 2007 without the teapot she had planned to buy for her mom. So, she took a later flight instead.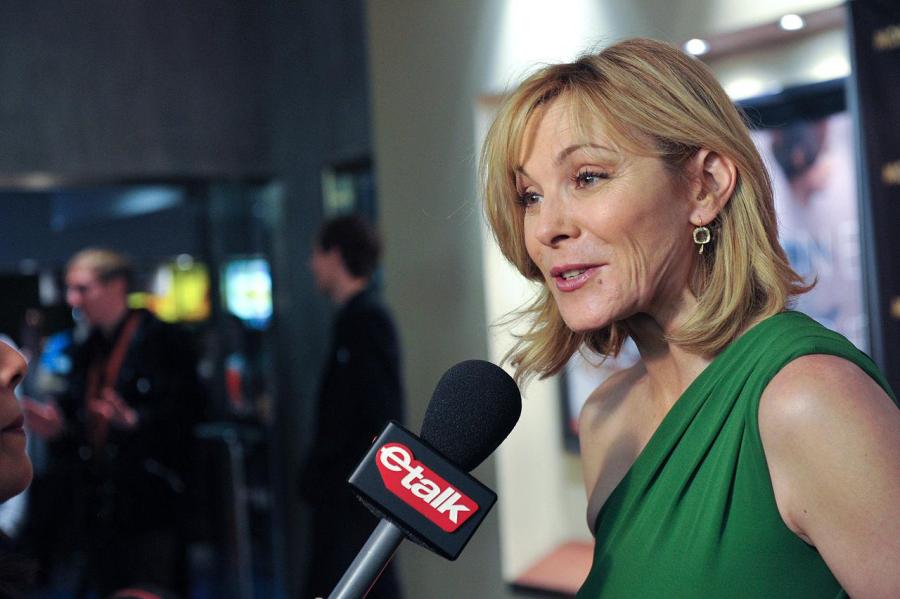 The Sex in the City star narrowly escaped death when she was booked to fly on PanAm flight 103. The English-Canadian actress should have been on the flight from Germany to Detroit (by way of London and New York). Terrorists blew up the Boeing 747 over Lockerbie, Scotland, killing all 243 passengers and 16 crew onboard.
Kurt Vonnegut — Bombing of Dresden
Kurt Vonnegut, author of the book Slaughterhouse Five, wrote the story after surviving the 1945 aerial bombing of Dresden, Germany. He survived by hiding in a slaughterhouse meat locker and the experience formed the plot of his story, which was written 21 years later.
Other works by the author are similarly focused on his wartime experiences. In addition to the bombing, he spoke of his "terribly elaborate Easter egg hunt," in which he helped to retrieve more than 130,000 bodies trapped underground. Vonnegut also compiled a scrapbook of newspaper clippings and family letters which sold for nearly $200,000 at auction.
Sir Alec Guinness — D-Day
British-born actor Alec Guinness was a versatile artist who played many different roles, like Fagan in Oliver Twist and Ben Obi-Wan Kenobi in Star Wars. Guinness, who won an Academy Award for his role as Colonel Nicholson in Bridge Over the River Kwai, also served as a member of the Royal Navy Volunteer Reserve.
Guinness was also at the scene on one of the most significant days of the war. On D-Day, Guinness was in charge of a landing craft, ferrying troops and supplies to the British designated beaches. He was quoted as saying "I gave my best performances during the war."
James Doohan — Commissioned Lieutenant in the Royal Canadian Army
James Doohan saw a lot of action in outer space, but before playing the role of Scotty on Star Trek, Jimmy Doohan was a World War II hero, serving as a commissioned lieutenant in the Royal Canadian Army.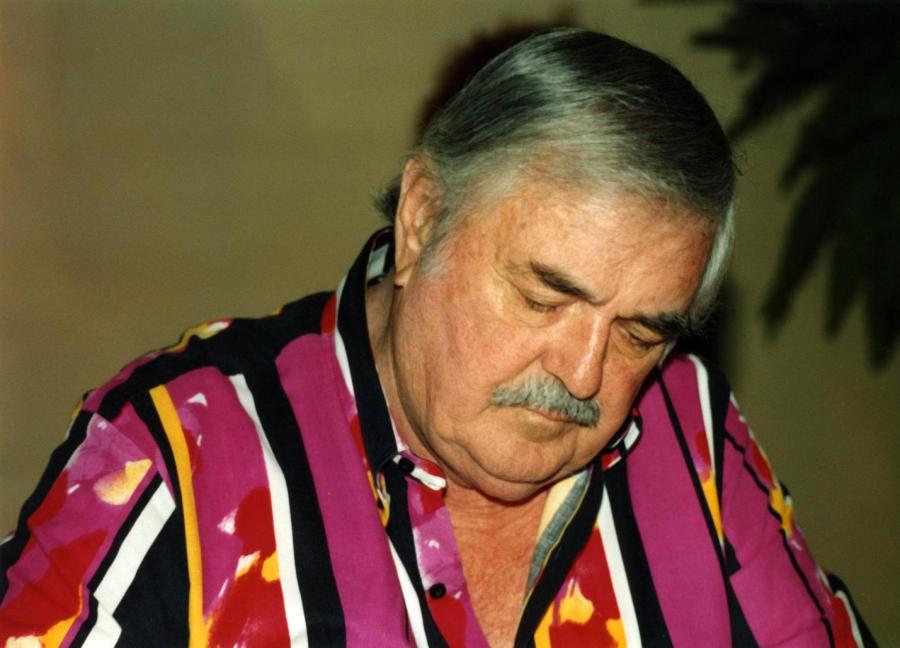 Known to his regiment as the "craziest pilot in the Canadian air force," Doohan took out two German snipers on D-Day. But, before the day was over, he was shot six times in friendly fire. As a result, Doohan lost his middle finger and nearly lost his life, saved only by the cigarette case in his pocket that deflected a bullet headed straight for his chest.
Russell Crowe — Al-Qaeda Kidnapping Target
The FBI trailed him for nearly two years beginning back in 2001, but it wasn't until much later that Russell Crowe discovered he had been targeted for kidnapping by Al-Qaeda as part of a "cultural destabilization plot." Because of the threat, Crowe was placed under FBI protection. 
He didn't know why at the time, and, even to this day, knows very few details. At the Golden Globes, he was followed by an FBI security detail of at least a dozen men, leading others to think Crowe simply thought too highly of himself. Then, after the kidnapping threat was found to be overstated, as suddenly as it began, the extra security disappeared.
Steven Tyler — Woodstock
After losing a weekend gig, a young 21-year-old Stephen Victor Tallarico (a.k.a. Steven Tyler) was freed up for a last-minute trip to Bethel, New York, for the famous weekend-long concert. Tyler admits to "tripping my brains out" on acid during the three-day-long music fest.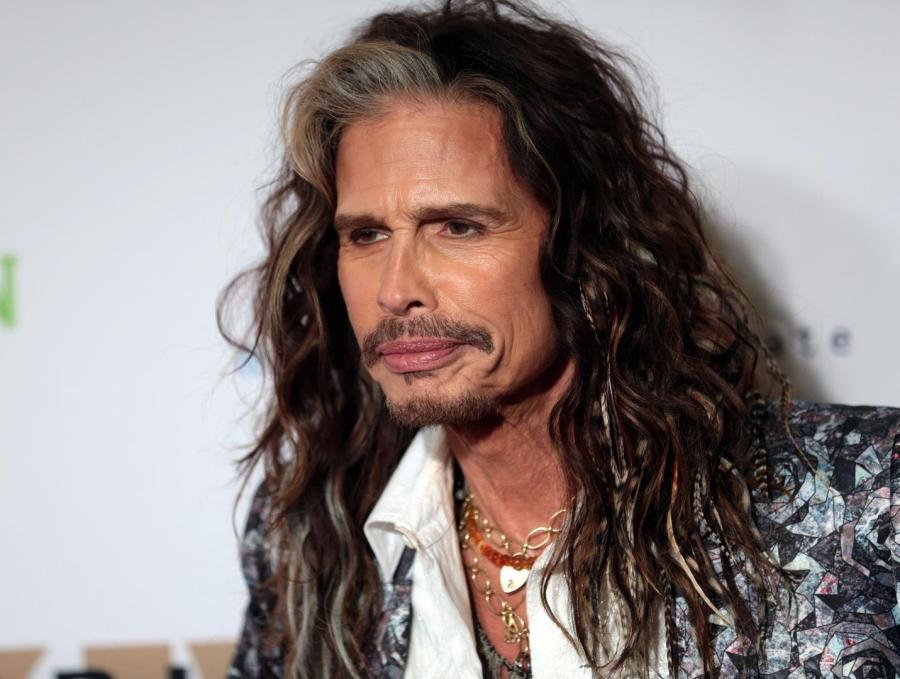 At the time, Tyler was in club bands like the Chain Reaction, but it's at Woodstock where he met Joey Kramer who would become Aerosmith's drummer. Aerosmith was formed a year later and 25 years later, Steven Tyler was on the other side of the fence, performing as lead singer of Aerosmith at Woodstock '94.
Marlon Brando — March on Washington
The Aug. 28, 1963, March on Washington, D.C. was a star-studded event with a long list of Hollywood A-listers in attendance, including Marlon Brando, Sidney Poitier, Sammy Davis Jr. and Charlton Heston.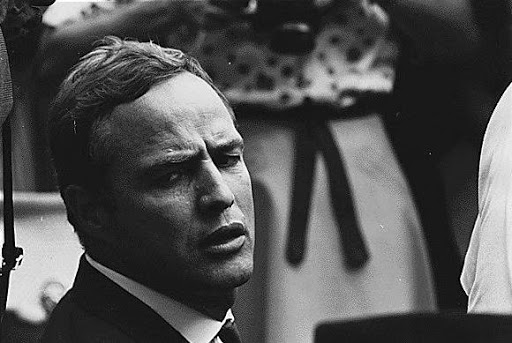 Having Hollywood stars in attendance was about garnering media attention, but it was also about easing the nerves of those who believed the event would be a violent one, including President John F. Kennedy. Harry Belafonte, who encouraged celebrities to attend the March, said that the presence of high-profile stars gave the event a festive appeal and helped put anxiety to rest.
Rob Riggle — 9/11 Bucket Brigades
Few know comedian Rob Riggle for his military career, but for more than 20 years, Riggle served in the United States Marine Corps, before announcing his retirement in January 2013. His first ambition as a servicemember was to become a pilot, but he left flight school to pursue comedy and became a Public Affairs Officer.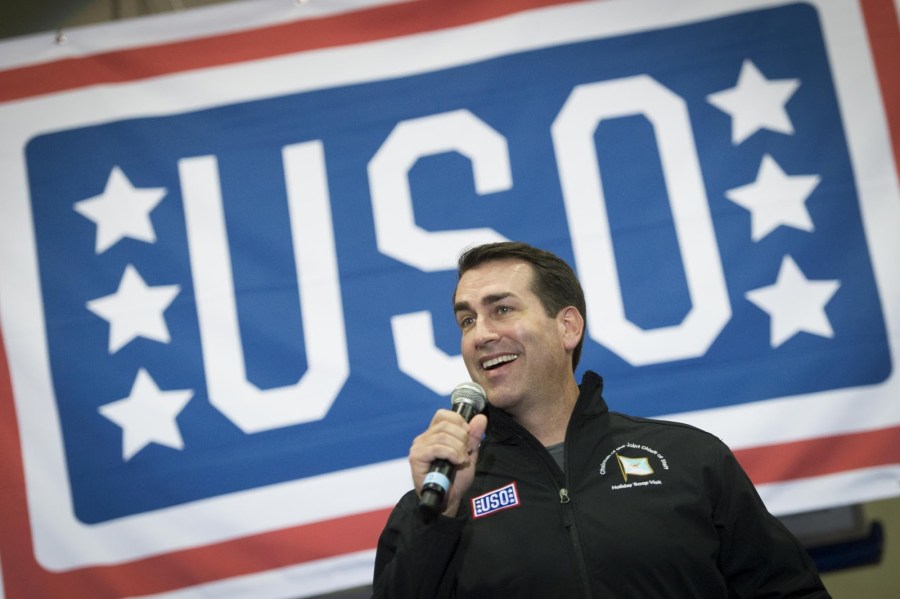 Following the 9/11 attacks, Riggle worked on the "Bucket Brigades" at ground zero. During his military service, Riggle visited Liberia, Kosovo and Afghanistan. He credits his mental toughness in show business to his experience in the Marine Corps.