LGBTQ+ History Month: Marsha P. Johnson & 12 Other Legendary Queer Activists
All year long, it's essential that we learn about the activists who provided the framework for the modern queer liberation movement. October is LGBTQ+ History Month — and we largely have Marsha P. Johnson to thank for that. After all, there's no question that Johnson has informed and inspired many present-day queer and trans activists.
Like Johnson, other people who came before us and paved the way are part of this legacy of radical activism, one that we'll likely need to look back upon and recreate to fight this new fight. This year alone has seen the introduction of more than 240 anti-LGBTQ+ bills, mostly targeting trans people and trans children.
Founded in 1987, the AIDS Coalition to Unleash Power, or ACT UP, declared that their motto was "Silence = Death" — and that notion holds true today. Silence does nothing to dismantle oppression and achieve equity and liberation. Silence also allows folks to forget LGBTQ+ history — and, in a sense, silences the trans and queer activists who fought to be heard. 
Here, we're taking a look at 13 of the most influential LGBTQ+ activists and lifting up their legacies. Some of them fought battles decades ago, while others are leading today's biggest fights, but, no matter the cause, all of them have forever shaped — and reshaped — American history. 
1. Marsha P. Johnson
Known for being one of the leading voices and figures at the Stonewall riots of 1969, Marsha P. Johnson has become an iconic figure in queer history, even inspiring the mission of The Marsha P. Johnson Institute (MPJI), which aims to not only "protect and defend the human rights of BLACK transgender people," but "reclaim Marsha P. Johnson and our relationship as BLACK trans people to her life and legacy." According to the MPJI, Johnson was an activist, performer, survivor, and self-identified drag queen — and that "P" in her name stood for "Pay It No Mind," something Johnson would say if anyone questioned her gender.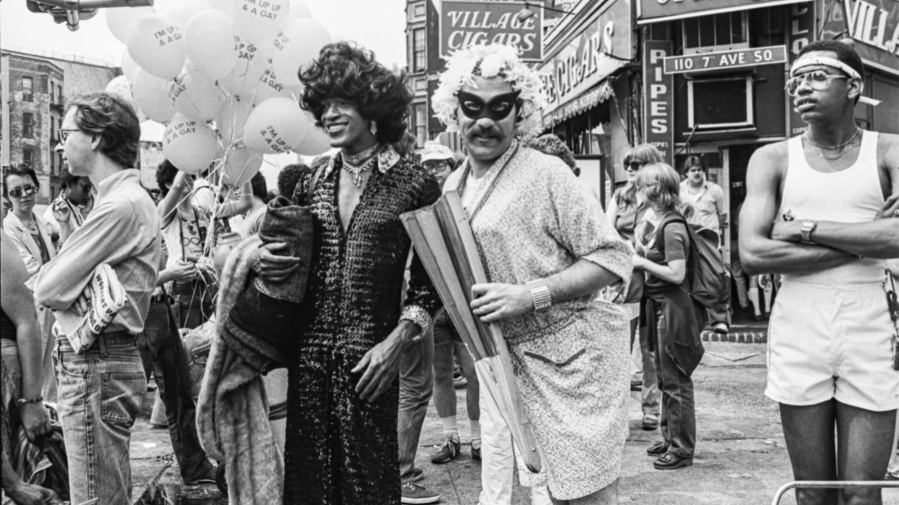 An outspoken advocate for gay rights, Johnson's activism extended beyond the Stonewall uprising. Later, she was a founding member of the Gay Liberation Front and co-founded the radical activist group Street Transvestite Action Revolutionaries (S.T.A.R.), alongside her friend Sylvia Rivera. Later on, the "Mayor of Christopher Street" spoke out about AIDS with ACT UP. And, when Johnson wasn't fighting for queer liberation, she was a popular figure in New York City's art and performance scenes. Undoubtedly, the modern fight for queer rights, equity, and liberation owe so much to Marsha P. Johnson.
2. Sylvia Rivera
Taken in at a young age by a group of local New York City drag queens, Sylvia Rivera was a gay liberation and transgender rights activist who, like her friend Marsha P. Johnson, self-identified as a drag queen. After throwing the second Molotov cocktail at the police during the Stonewall uprising, a then-17-year-old Rivera refused to leave the uprising for several nights, saying, "I'm not missing a minute of this—it's the revolution!" After the riots, Rivera helped lead demonstration with the Gay Liberation Front, and, in 1971, she co-founded the Street Transvestite Action Revolutionaries (STAR) alongside Johnson, thus committing herself, and STAR, to helping unhoused drag queens, gay youth and trans women.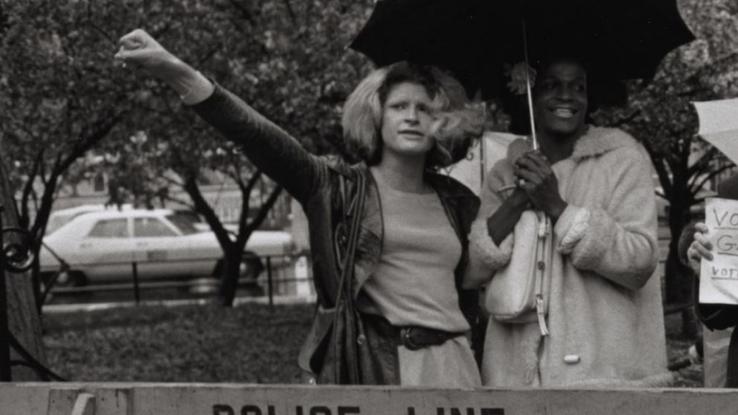 As seen by her dedication to supporting her unhoused neighbors at the Christopher Street docks, Rivera was an advocate for those who were left behind by the mainstream gay rights movement — that is, those who were assimilationist and not fighting for total liberation. "Throughout her life, [Rivera] fought against the exclusion of transgender people, especially transgender people of color, from the larger movement for gay rights," writes Emma Rothberg, a National Women's History Museum (NWHM )Predoctoral Fellow in Gender Studies, for the NWHM. Today, the Sylvia Rivera Law Project carries on her legacy by ensuring that "all people are free to self-determine their gender identity and expression, regardless of income or race, and without facing harassment, discrimination, or violence."
3. Harvey Milk
After moving from New York City to San Francisco in the 1970s, Harvey Milk became a leading voice in the gay rights movement and, soon enough, a leading political voice as well. After settling more permanently in San Francisco in 1972, Milk opened up a camera store in the Castro neighborhood — the heart of the city's gay community and hub for queer nightlife. Soon enough, the "Mayor of Castro Street" served on the mayor's Board of Permit Appeals and ran for local and state offices several times.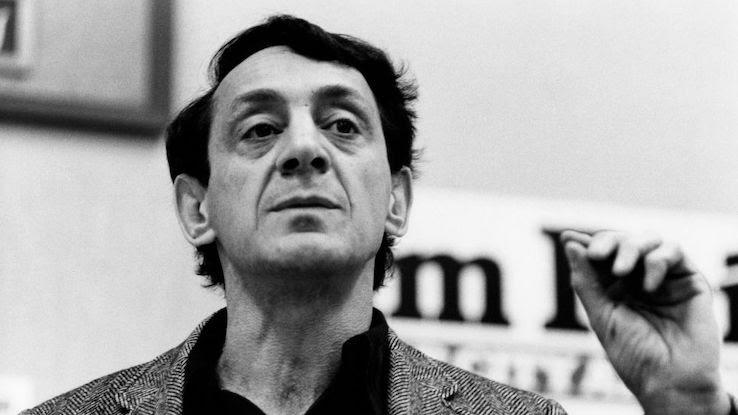 Despite losing these early bids for office, Milk persisted, founding the San Francisco Gay Democratic Club in order to bolster his push for election to the city's Board of Supervisors. Running on a platform that championed tax code reform, the creation of low-income housing and more, Milk became one of the country's first openly gay elected officials in 1977 when he was elected to San Francisco's Board of Supervisors.
Tragically, Milk's life and political endeavors were cut short when he was murdered by former colleague Dan White in City Hall. In the wake of White's assassination of both Milk and Mayor George Moscone, Milk's supporters marched to the site of the murders and held a candlelight vigil. Posthumously honored with the Presidential Medal of Freedom by former President Barack Obama, Milk — and his brave stance that queer folks should come out and be undeniably visible — remains one of American history's most inspiring figures.
4. Larry Kramer
During the 1980s and '90s, Larry Kramer's provocative methods of calling attention to the AIDS crisis helped alter national health policy. While the federal government seemingly ignored the public health crisis, Kramer, a gay author, "sought to shock the country into dealing with AIDS" (via The New York Times). In 1988, he wrote a piece for the San Francisco Examiner in 1988, directly addressing the director of the National Institute of Allergy and Infectious Diseases. That director was Dr. Anthony Fauci, and Kramer didn't pull any punches, calling Fauci a killer for not recognizing the gravity of the AIDS crisis.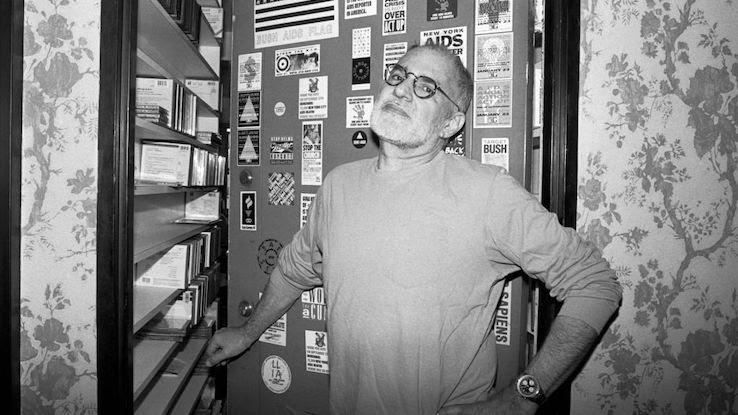 But even before calling out Fauci, Kramer found himself frustrated by the continued apathy the mainstream media, the federal government, and the general public seemed to have toward queer and trans folks who were suffering during the AIDS crisis. In 1982, Kramer co-founded the Gay Men's Health Crisis (GMHC), which aimed to "end the AIDS epidemic and uplift the lives of all affected." Several years later, in 1985, he penned the landmark play The Normal Heart and, by 1987, he cemented his place as a renowned activist by founding ACT UP.
Widely credited with changing public health policy as well as the public's perception of folks who are living with AIDS, ACT UP raised awareness of HIV and AIDS, providing a framework for today's activists.
5. Audre Lorde
As illustrated by FX's six-part Pride docuseries, the gay liberation movement took cues from the Black Power movement of the 1960s and 1970s. Notably, Audre Lorde, who describes herself as a "black, lesbian, mother, warrior, poet," was a leading voice in both movements, fighting against the oppression of both Black and LGBTQ+ Americans. She knew that the fight was ongoing, that "revolution is not a one-time event." As a revolutionary, Lorde was unafraid to speak out or carve out space for Black queer women, who were often excluded from the feminist movement. "I have a duty," Lorde said, "to speak the truth as I see it and to share not just my triumphs, not just the things that felt good, but the pain, the intense, often unmitigating pain."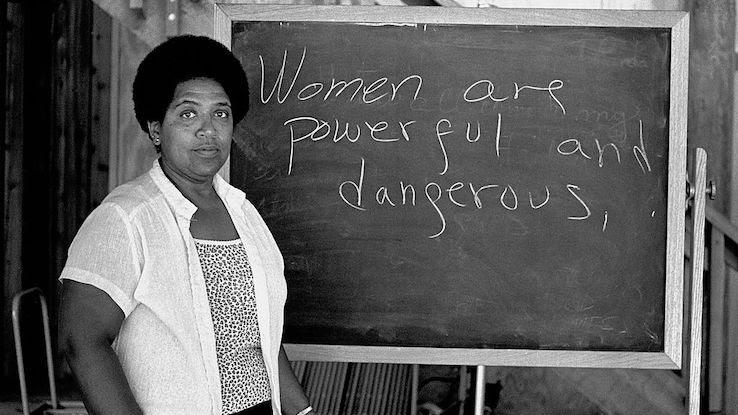 Lorde's most well-known work, Sister Outside: Essays and Speeches, is (arguably) the greatest contribution to feminist theory ever written. In it, Lorde writes about her identity as a Black woman — as a lesbian, a poet, an activist, a cancer survivor, a mother and a feminist writer. The title, which is paradoxical in nature, underscores the multiplicities of Lorde's identity, which position her "on the line" in a space that isn't necessarily safe. In addition to examining these intersections of identity, Sister Outsider discusses topics such as imperialism, coalition building, violence against women, police brutality, Black feminism, self-love and more. Without a doubt, Lorde's words, "I am deliberate and afraid of nothing," rang true in her actions and writings — and continued to inspire activists today.
6. Bayard Rustin
Frustratingly, many Americans have never heard of Bayard Rustin — even though his activism and dedication paved the way for the American Civil Rights Movement. An advisor to Martin Luther King, Jr., Rustin was the principal organizer of the 1963 March on Washington. Bu his activism wasn't contained to just one movement.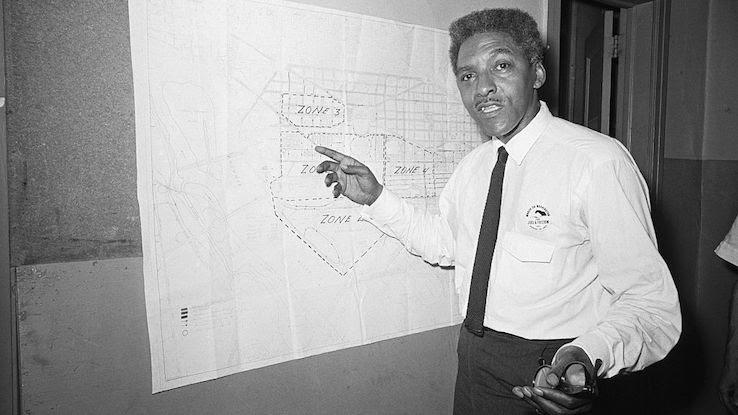 "Early in his career, he was arrested for 'moral cause,' which led to his outing to the public," the National Museum of African American History & Culture (NMAAHC) notes. "However, once outed, Rustin was completely open about his sexuality and was never ashamed." Sadly, this led to Rustin playing more of a behind-the-scenes role in the Civil Rights Movement — reportedly, he didn't want homophobia to undo the work of Black activists fighting for equality and equity — and that's probably why a lot of folks still don't know his name.
In the 1980s, Rustin became an advocate for AIDS education, fought alongside LGBTQ+ activists, and spoke out on behalf of New York State's Gay Rights Bill.
7. Edith Windsor
Before the U.S. government made it unconstitutional for states to ban same-sex marriage, Edith "Edie" Windsor paved the way for the U.S. Supreme Court's landmark Obergefell v. Hodges ruling in 2015. A few years earlier, in 2013, Windsor was denied spousal exemption from federal estate taxes when she inherited her partner's (Thea Clara Spyer's) estate in 2009 — even though they had been living together for 40 years and married since 2007.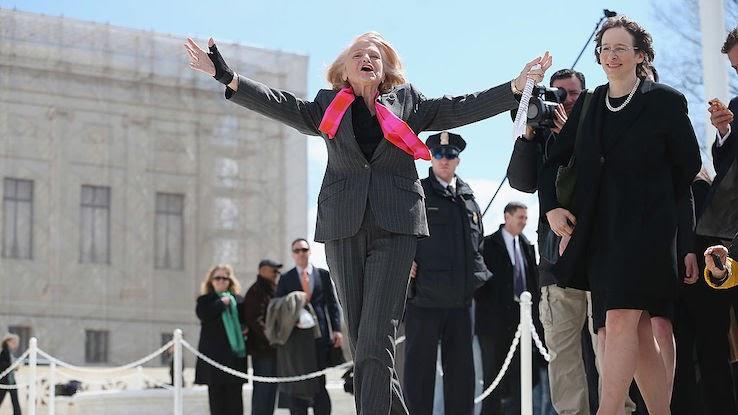 As a result, Edie became the lead plaintiff in the 2013 Supreme Court case United States v. Windsor, which, in the end, overturned Section 3 of the Defense of Marriage Act (DOMA). Her triumph was rightly considered a landmark legal victory when it came to the fight for same-sex marriage in the U.S.
Even before her Supreme Court case, Windsor was a well-known activist; in 1969, Windsor and Spyer returned from vacation to discover that the Stonewall riots were underway and, in the wake of the uprising, publicly participated in marches and other events. Windsor, in particular, founded an improv group called Old Queers Acting Up in order to address social justice issues in a more accessible way and served on the board of Services & Advocacy for GLBT Elders (SAGE).
8. Jewelle Gomez
Jewelle Gomez is a Black lesbian writer whose work has been enormously influential in reshaping the literary scene. Through her influential writings, Gomez has carved out space for Black queer women, allowing them to see themselves reflected in art as never before. In addition to writing works of fiction, like her Lambda Award-winning novel The Gilda Stories, Gomez also penned a collection of personal and political essays, Forty-Three Septembers.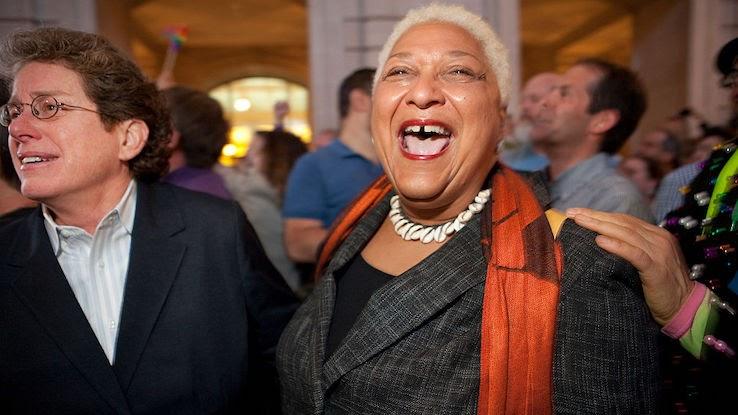 While the self-described "foremother of Afrofuturism" has an impressive body of work, which is radical in its own right, Gomez is also a prominent activist off the page. In addition to writing for publications like Ms. Magazine, Gomez was on the founding board of the Gay and Lesbian Alliance Against Defamation (GLAAD) in 1984. In her essay "The Marches," Gomez explains her mindset when it comes to the fight for queer liberation quite clearly, writing, "[N]o one of us should feel we can leave someone behind in the struggle for liberation."
9. Cecilia Chung
A nationally recognized advocate for human rights, health equity, social justice, and more, Cecilia Chung has worked tirelessly to fight for queer and trans folks. Most notably, she was the former Chair of the San Francisco Human Rights Commission and, currently, she serves on the Health Commission and works as the Director of Evaluation and Strategic Initiatives at the Transgender Law Center. But her work, in many ways, extends beyond taking action in the Bay Area.
That is, her work is centered around improving access to treatment for transgender folks and people living with HIV. In addition to fighting for equitable and accessible healthcare, Chung aims to end the stigma and discrimination that river both education and policy surrounding gender-affirming care and HIV treatments. As noted by UCSF, Chung became the "first transgender woman and first Asian [person] to be elected to lead the Board of Directors of the San Francisco Lesbian, Gay, Bisexual, and Transgender Pride Celebration [and] the first transgender woman and first person living openly with HIV to Chair the San Francisco Human Rights Commission."
10. Janet Mock
When the Emmy-nominated show Pose premiered on FX in 2018, Janet Mock made history as the first transgender woman of color to write and direct an episode of a TV show. But, several years before that history-making moment, Mock wrote about her experiences as a young transgender girl in her coming-of-age memoir Redefining Realness.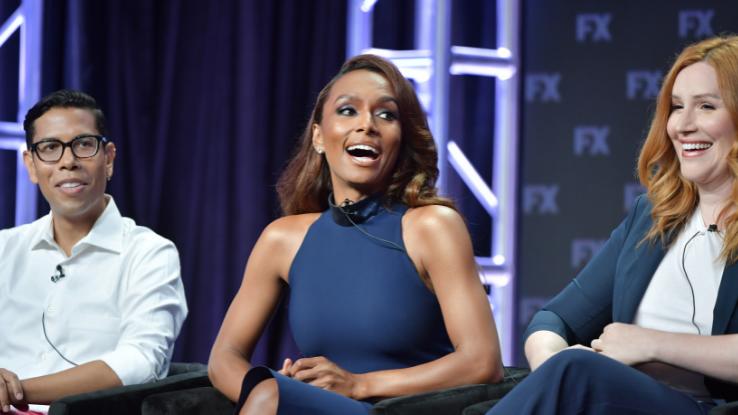 Mock's memoir tells the story of her courageous quest for self. Expressing her admiration for the memoir, acclaimed feminist thinker and activist bell hooks noted that Mock's work is "told with a spirit of raw honesty that moves beyond confession to redemptive revelation," and that "this book is a life map for transformation — for changing minds." Mock has also written a second memoir, Surpassing Certainty, and, in 2019, she signed a three-year deal with Netflix, making her the first openly transgender woman of color to secure a deal with a major content company.
11. Billy Porter
In May 2021, Pose's Emmy-, Golden Globe- and Tony-winning Billy Porter told The Hollywood Reporter that he is living with HIV — and has been since he received a positive diagnosis 14 years ago. "This is what HIV-positive looks like now. I'm going to die from something else before I die from that," Porter shared. "I'm the healthiest I've been in my entire life."
But, until recently, Porter hadn't even shared his diagnosis with his Pose castmates, even though he played Pray Tell, who is HIV-positive. Porter's reluctance to share his diagnosis overlaps with the fear so many folks experience: not only is there so much stigma and misinformation surrounding HIV/AIDS, but Porter was also brought up in a religious environment, which suggested that HIV was "God's punishment."
In speaking out, Porter has moved the dial when it comes to mainstream understanding of HIV/AIDS and the folks living with diagnoses. "The truth is the healing. And I hope this frees me. I hope this frees me so that I can experience real, unadulterated joy, so that I can experience peace, so that I can experience intimacy, so that I can have sex without shame," he told The Hollywood Reporter. "This is for me. I'm doing this for me."
12. Laverne Cox
Orange Is the New Black changed the television landscape in so many ways — primarily, it helped center the stories of folks who often aren't given space on primetime television. Not only did OITNB provide performers with the opportunity to tell these stories, but it also gave the actors a platform outside of the show. Oh — and it made activist (and all-around icon) Laverne Cox a household name.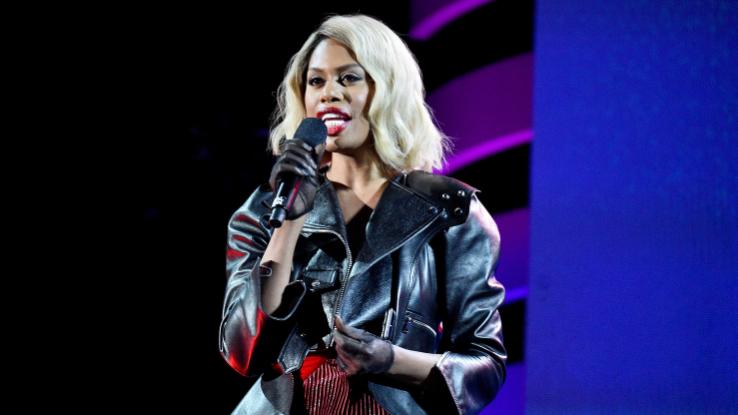 In 2014, Cox became the first-ever transgender person nominated for an acting Emmy. Although Cox didn't win, her visibility certainly helped pave the way. Upon receiving her third Emmy nomination in 2019, she told W, "Now, for my third nomination, I'm like, maybe the Academy needs to vote for me, and we can make more history." In addition to executive producing Disclosure, Cox won a history-making Daytime Emmy for executive producing Laverne Cox Presents: The T Word and, in 2017, she became the first transgender person to play a trans series regular on broadcast TV on CBS's Doubt.
13. Chase Strangio
In 2020, one of Ask's favorite documentaries was The Fight — a film that shows us just how important the efforts of everyday citizens can be and the way our actions can have a lasting impact. For many, the documentary, which follows a "scrappy but determined" team of American Civil Liberties Union (ACLU) lawyers as they take on various legal battles to protect the rights of U.S. citizens and immigrants alike, introduced them to Chase Strangio, a transgender rights activist and staff attorney with the ACLU.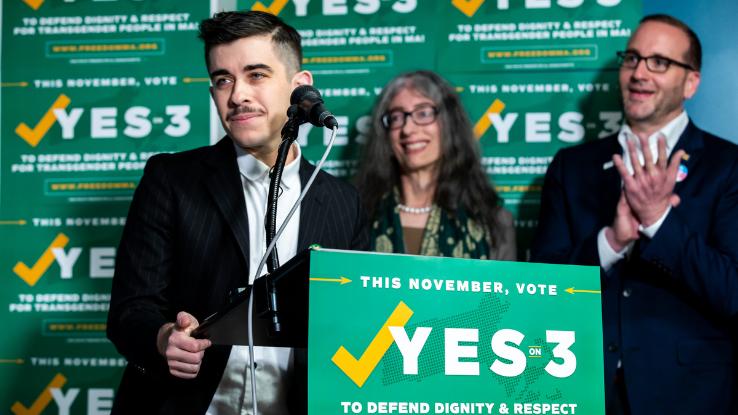 Named one of Time's 100 most influential people in the world in 2020, Strangio got his start working for GLBTQ Legal Advocates & Defenders (GLAD) and, later, received a fellowship from the Sylvia Rivera Law Project (SRLP). In June of 2020, he was one of the lawyers on the Bostock v. Clayton County case, which saw the Supreme Court ruling that it's illegal to discriminate in employment on the basis of transgender identity or sexual orientation. Additionally, Strangio is an outspoken activist and educator online, helping folks understand, and fight against, the anti-trans legislation that's being brought to state legislatures across the country.