How Countries Around the World Are Showing Solidarity With the Black Lives Matter Protests in America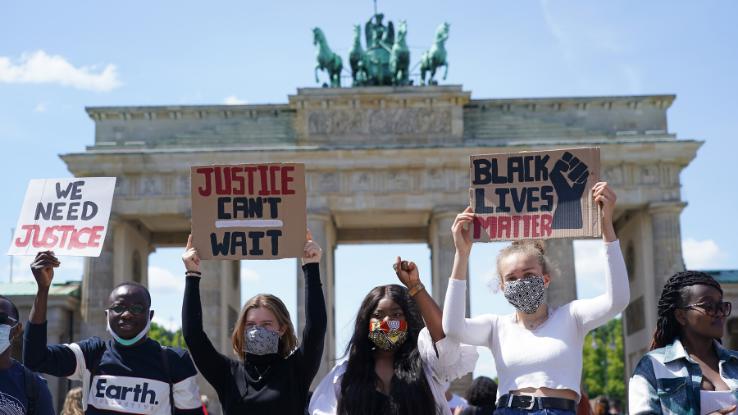 The death of George Floyd at the hands of police officers has sparked outrage over police brutality and spurred protests condemning institutional racism in American cities. Some marches have been peaceful, while others have erupted into violent clashes between police and activists. Millions of people in the U.S. aren't the only ones watching the violence unfold — the world is watching too.
As demonstrations in the U.S. go on, the world is jumping into the conversation about racism, systemic discrimination and injustice. Here's how other countries are responding to the George Floyd and Black Lives Matter protests.
The United Kingdom
Despite the United Kingdom's COVID-19 lockdown restrictions, hundreds of people marched in London in solidarity with protestors denouncing George Floyd's death. Demonstrations took place around the U.S. Embassy, Grenfell Tower and the Peckham neighborhood, where generations of African and Caribbean immigrants have lived.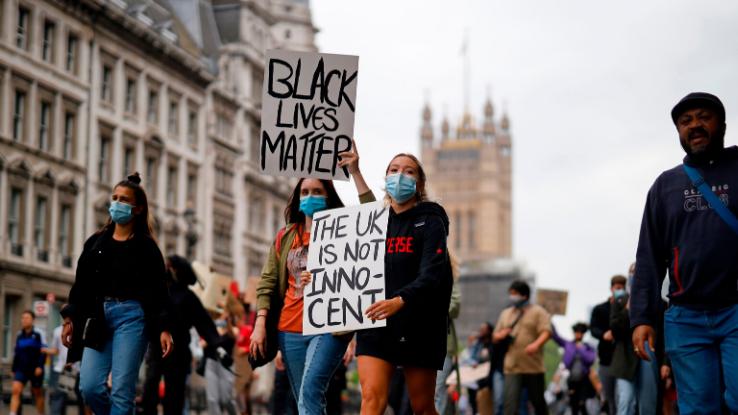 The protesters cried out Floyd's name, "No justice, no peace" and "I can't breathe" as they made their way throughout the city. Grenfell Tower was also tagged with the message, "Black Lives Matter." Although much of the march focused on violence in the U.S., some people also called out the long history of racism and injustice in the United Kingdom.
Israel
Cities across Israel have seen activists take to the streets to protest police brutality across the globe and in their own neighborhoods. On May 30, police in Jerusalem fatally shot Eyad al-Halak, an unarmed 32-year-old Palestinian man with autism, outside the special needs school he attended and worked in.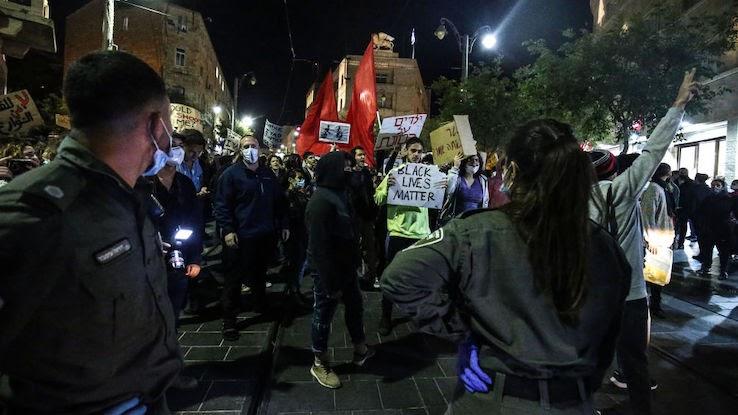 Immediately following al-Halak's death, protestors began marching and staging sit-ins in large cities including Jerusalem, Haifa and Tel Aviv, and in smaller cities across the country, to express their outrage. Hundreds of activists who gathered in Tel Aviv and Haifa carried signs with messages reading "Justice for Eyad." In a show of solidarity with U.S. protestors, those across Israel also held "Black Lives Matter" and "Justice for George" signs to highlight both racially charged police killings.
Germany
In Berlin, thousands of Germans rallied in front of the U.S. Embassy, chanting "Black lives matter." At the Brandenburg Gate, the crowd marched with signs that read, "Justice can't wait," "Black futures matter" and "Suffocate the racists." Protestors also honored Floyd by painting his image on the Berlin Wall, a concrete barrier and symbol of oppression that divided the city from 1961 to 1989.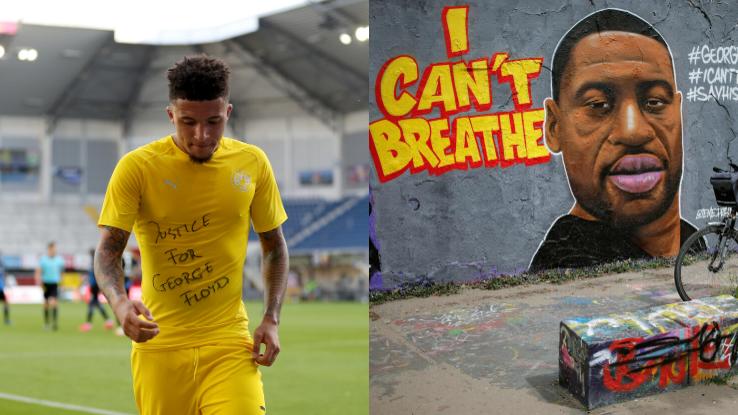 Germany's professional athletes also reacted to the protests in the U.S. During a game, soccer players Jadon Sancho and Achraf Hakimi revealed shirts bearing the words, "Justice for George Floyd." Soccer player Weston McKennie also honored Floyd during a match by wearing Floyd's name on an armband.
Kenya
In Nairobi, protesters gathered at the U.S. Embassy after the police killed a homeless man for violating a COVID-19 curfew. Unfortunately, this isn't the country's first case of police brutality. Local activists revealed that the police had taken 19 lives while enforcing COVID-19-related rules in Kenya.
Activist Boniface Mwangi expressed that the worldwide protests prove that police brutality is a public concern everywhere. Standing in solidarity with American protesters, residents of Nairobi demanded law enforcement changes and justice for victims in Kenya, the U.S. and the world.
Italy
In Milan, a crowd gathered in front of the U.S. consulate to express their support for demonstrators. The group sat down with their hands around their necks and signs by their sides bearing various messages condemning discrimination. Artists also created a mural to remind everyone of Floyd's repeated cry to police: "I can't breathe."
A Twitter user shared a post about a demonstration in Rome, noting that it took place in front of the American Embassy. "We were only like 50 people, but we all felt like we had to do something," wrote the protester.
Canada
Protesters also held rallies in Toronto, but the demonstrations occurred primarily in response to the death of Regis Korchinski-Paquet, a Black woman who died while police were in her home. While the events that led to her passing are unclear, protesters demanded the end of racism and police violence, as well as answers on Korchinski-Paquet's death.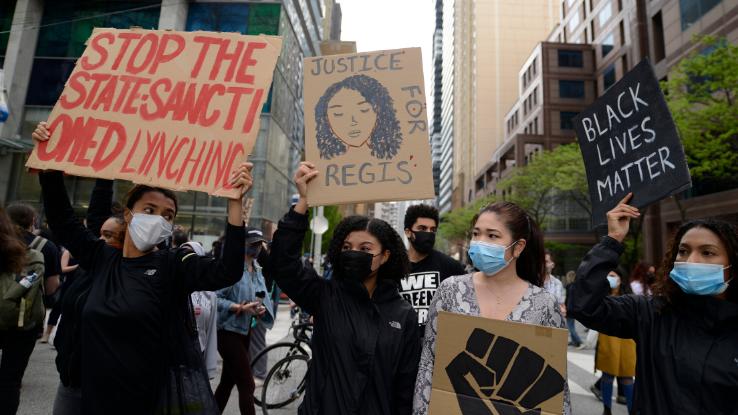 Canada's Prime Minister, Justin Trudeau, addressed the issues in the U.S., saying, "Many Canadians of diverse backgrounds are watching, like all Canadians are, the news out of the United States with shock and with horror. Anti-Black racism — racism — is real. It's in the United States but it's also in Canada and we know people are facing systemic discrimination, unconscious bias and anti-Black racism every single day."