Are There Any White Running Backs in the NFL?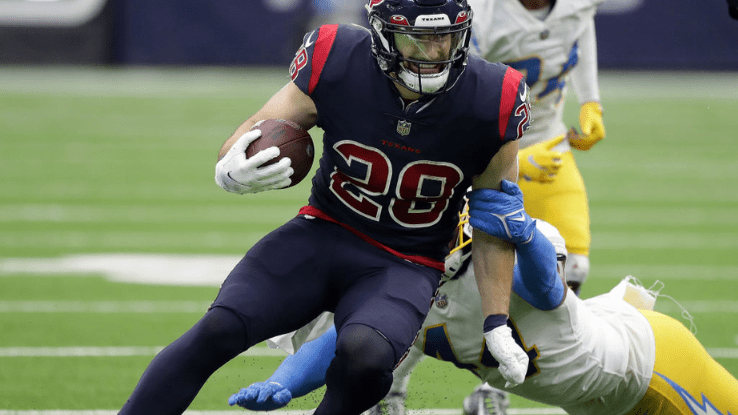 There are white running backs in the NFL. They include Rex Burkhead of the Houston Texans, Christian McCaffery of the Carolina Panthers and Ryan Nall of the Chicago Bears. Other recent examples include Peyton Hillis of the New York Giants, Collin Mooney of the Tennessee Titans and Danny Woodhead of the San Diego Chargers.
Several sportswriters have pondered why there are relatively few white running backs in the NFL. In 2008, Jemele Hill wrote an article for ESPN that provided some historical background: "There's no doubt racial discrimination and exclusionist Jim Crow policies helped usher in 'position profiling' in both the NFL and college football. For a long period of time, blacks were stereotyped as being intellectually incapable of playing certain positions, namely quarterback. One position where African-Americans were welcomed was running back."
In 2010, an NFL scout suggested that Toby Gerhart's race could be a liability in the NFL Draft, saying that "he'll be a great second-round pickup for somebody, but I guarantee you if he was the exact same guy – but he was black – he'd go in the first round for sure." The Minnesota Vikings selected Gerhart in the second round of the 2010 NFL Draft.
Race has been an odd way to divide NFL players, but rosters have unconsciously been disproportionate across different positions. For decades, the quarterback position was helmed by white players. until players like Marlin Briscoe started breaking the mold in 1968. It took almost 50 years for every NFL team to have had at least one starting quarterback at one time.
There aren't many white running backs in the NFL, but there are a few on rosters and practice squads throughout the league. The NFL is continuing to unpack its biases and right its wrongs, slowly working towards inclusivity for people of all backgrounds.