How to Register a URL for Your Website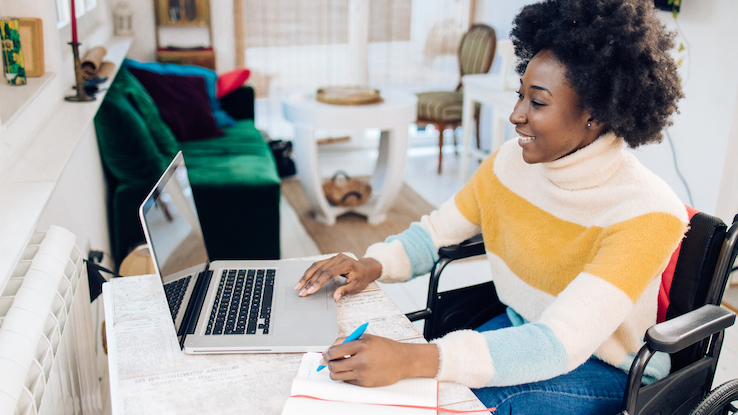 Whether you're creating a website for your small startup business or a portfolio of your art for clients to view, you'll need a domain name to take your site live. However, figuring out how to choose and register a URL is a process that can take some time. Fortunately, it's a relatively simple process, especially when you understand how to complete the key steps — and have some helpful guidance for doing so. To get started, take a look into the options you have for registering a URL for your website, then review what's involved in selecting, checking and registering it. 
An Introduction to Registering Domain Names
A domain name is the web address where your website is located online. It's the main part of the URL that your visitors will type into their browsers to access your site. As a quick example, on our site, "reference.com" is the domain name, which you can type into your internet browser's address bar to access the site. Our homepage URL is "https://www.reference.com/"; you can also type this into your browser's address bar to visit the same webpage.
When it comes to business websites, your domain name is an essential part of your branding. Therefore, it's essential to choose one that's memorable, easy to pronounce and easy to type. It's also a smart idea to ensure that it accurately reflects your products and services.
There are many domain names available, and most won't cost too much to register. However, finding one that you want that's also actually available can be a bit tricky, especially if it's a shorter or more common name.
If you come across one that's both available and fits your branding, you'll want to register it as soon as possible. It's important to note that you don't need to have a website ready to go in order to register a domain name. You can purchase and register the domain name and then connect it to your page when you're ready to take your site live.
There's a variety of websites and domain registrars that you can use to find and register a URL. Some of the most popular examples include GoDaddy, Namecheap and Domain.com. 
How to Register a URL for Your Website
First, you'll choose a website where you can check the availability of and register a URL. After that, you're ready to get started with the registration process outlined in the list of steps below.
1. Brainstorm a List of Possible Domain Names
Start by putting together a list of possible URLs you want to use for your website. If you're having trouble, you can use a domain name generator tool such as Domain Wheel. 
Also, consider which domain extensions you're comfortable using — ".com," ".co," ".net" or something else. The ".com" names tend to be pricier. However, if the URL you want is already taken using this extension, you might opt for a ".co" or something similar.
2. Check the Availability of Your URL
Once you have a solid idea of what you want your URL to be, the next step is to make sure it's available. To do that, you can use Namecheap or one of the other websites listed above. 
On the website's homepage, you can enter your target domain and click on the button to perform a search. You'll see a list of results that show whether the domain is available, and you'll also receive some alternative and similar options. 
You'll also be able to view the pricing information for each one. When you find one you want that also fits your budget, you can add it to your shopping cart and complete the checkout.
3. Register Your URL
The specific steps you'll take for registering your URL will depend on where you are in the process and the site you used to purchase it. For example, if you're ready to take your website live already, you'll need to purchase a web hosting plan — an extra step after registering.
To make it easier when purchasing and setting up your URL and hosting, you might want to use a site such as GoDaddy.com. That way, you can register your URL at the same time that you purchase your hosting package. In some cases, web hosting providers include a free domain name when you host your site with them, at least for the first year.
On the other hand, if you're not ready to take your website live yet but still want to register your URL so no one else takes it, you can use Domain.com or Namecheap. 
Regardless, once you're on the checkout page, you'll be asked to enter your billing and contact information. You can also select the number of years for which you want to register your URL and enable an auto-renewal option. When you're done making these selections, you can complete your purchase.
4. Configure Your URL to Your Website
Once you've purchased and registered your URL, the final step will be to configure it and connect it to your website. Again, this process will depend on a handful of factors, such as whether you used a hosting provider to register your domain.
For example, if you're using WordPress for your website, many web hosts offer a one-click installation option that lets you easily configure your URL to the content management system (CMS) directly from your hosting dashboard. Check with your hosting provider for specific instructions.
Tips for Registering a URL for Your Website
Selecting a domain name can be a long-term commitment. Therefore, it's important to make sure you dedicate a fair amount of time to considering your URL's branding aspects before purchasing and registering it. During the process, some helpful questions to ask yourself include:
Is the URL easy to remember and share?
Will users know or remember how to spell it?
Does it help indicate to users what your business or website might be about?
If possible, aim to avoid hyphens and double letters between words in the spelling of your domain name. This can result in more people mistyping the URL and accidentally ending up on another business' website. 
To help minimize costs associated with registering a domain, look for promotional deals from hosting providers to see if you can get a premium URL for free or at a discounted price. 
Finally, consider hiding your domain information from public databases to increase your online security. Using sites such as WHOIS, people can look up your URL to discover personal information about you. Some hosting providers and registrars offer domain privacy protection features, either with the plan or as an add-on when you register your URL. Look into these to see which can work well based on the level of identity protection you prefer.