What Is a Recipe for Oven-Baked Chicken Thighs?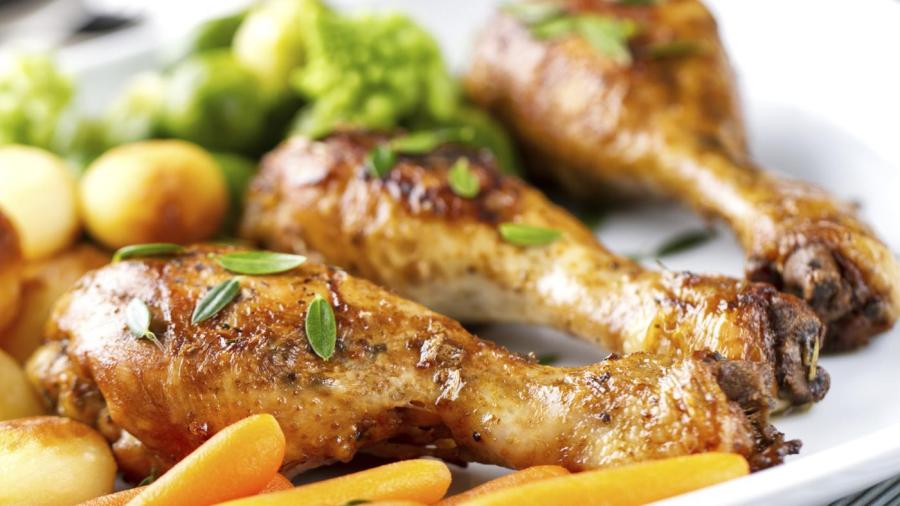 To make simple but flavorful baked chicken thighs, marinate or season skin-on thighs as desired before roasting them for approximately 35 to 45 minutes at 375 degrees Fahrenheit. The skin, which becomes crisp after the thighs are baked, helps protect the meat from drying out while it bakes.
Martha Stewart's easy roasted chicken thigh recipe calls for marinating 8 bone-in, skin-on chicken thighs in a mixture of 1/2 cup olive oil, the juice of 1 lemon, salt and pepper for at least one hour or as long as overnight. Bake the chicken with the skin-side facing down in a greased roasting pan for 20 to 25 minutes. Turn the thighs, and roast them for another 10 minutes. In a small bowl combine 2 tablespoons honey with 1 tablespoon mustard and salt and pepper to taste. Brush the mixture on the chicken thighs, and broil the chicken for five minutes before serving it.
Alternatively, make a tasty one-dish meal by combining approximately 2 pounds of halved new potatoes and 1 pound of roughly chopped chorizo in the bottom of a greased baking dish. Sprinkle 2 chopped red onions, 2 teaspoons dried oregano and the zest of 1 orange over the potatoes and sausage. Rub 12 chicken thighs with olive oil, and add them to the pan. Bake the mixture for approximately 60 minutes at 425 F.