Take a Look Inside Oprah Winfrey's Stunning California Mansion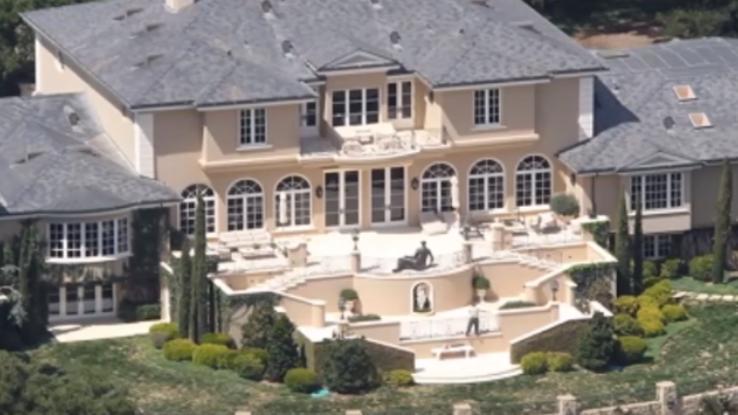 Oprah Winfrey stands alone as a one-of-a-kind celebrity. She remains one of the most successful public figures, with an entire empire attached to her name. Even though she's constantly in the press, Winfrey has led a mostly private home life.
Not much is known about her Southern California mansion, and she prefers it that way, but that doesn't mean everything about it is top secret. Here's an inside peek into the enormous home of one of the most successful women of our time.
The Queen of All Media
Everyone knows Oprah Winfrey. Known as the "Queen of All Media," the television mogul has inspired generations of individuals with her successful talk show, The Oprah Winfrey Show, and her philanthropy work has made her one of the most famous individuals in media. In short, she's widely regarded as one of the most influential women in the world.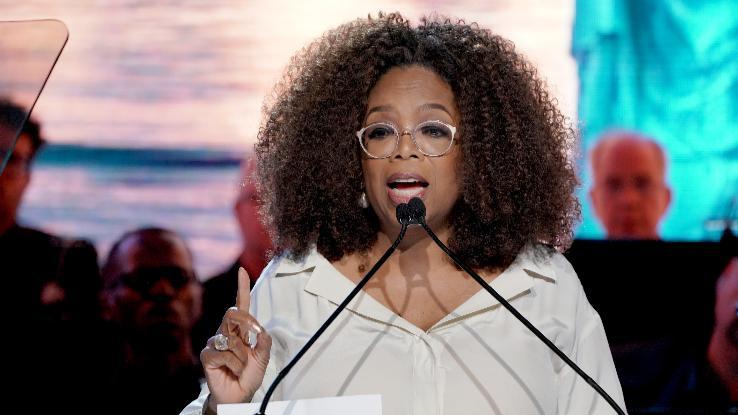 Winfrey's empire spans nearly five decades, and she's worth roughly $3.1 billion. This allows the philanthropist to live a luxurious life in a glamorous mansion. So, what does her home look like? Let's take a peek inside. You know you're curious.
Where It's Located
No, we're not going to tell you her home address, but it shouldn't be surprising that Winfrey's mansion is located in one of the wealthiest communities in the United States — Montecito, California. Located just east of Santa Barbara, the community is surrounded by the beautiful Santa Ynez Mountains and the shores of the Pacific Ocean.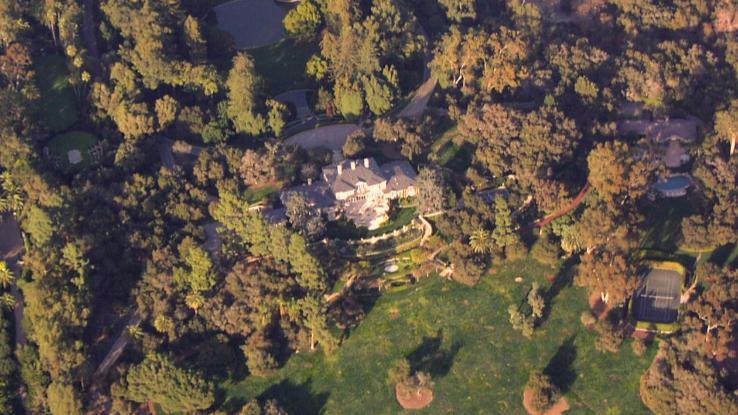 Current real estate listings for Montecito generally run from $1 million to $85 million. If you visit the city, you can expect to see plenty of famous celebrities strolling the streets, maybe even Winfrey. So, why did she decide to move to Montecito?
Mesmerized by the Beauty
Buying a house always comes with challenges, even for celebrities. Of course, Winfrey's wealth has always allowed her to buy whatever house she likes, but there was a time when the media mogul wondered where she could find the home of her dreams. She kept searching, but nothing made her happy.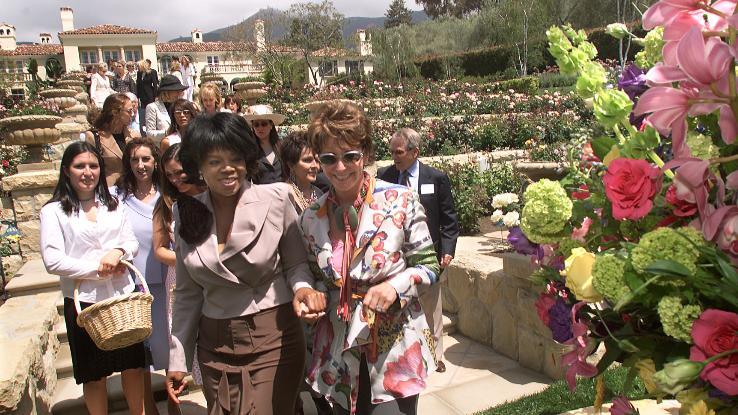 In 2001, Winfrey was invited to a party in Montecito at a gorgeous mansion. She immediately fell in love with the mansion and its enchanting beauty. She knew it was the perfect home for her, even though it wasn't exactly available. Did that stop her?
Buying It Anyway
At the time, the mansion was owned by aeronautical equipment manufacturer Robert Veloz and his wife, Marlene. Technically, the couple was living in a 2,000-square-foot gatehouse on the property, but they weren't actively trying to sell the mansion. That didn't stop Winfrey. As with other obstacles she had faced in her life, she was determined to not give up on her dreams.
Winfrey offered the owners a whopping $52 million, hoping it would convince them she belonged in the mansion on their property. They agreed, and Winfrey successfully executed the purchase.
What She Was Buying
First built in 1912, the Montecito mansion has undergone various changes and renovations over the past century. Designed in an extravagant Georgian style, the mansion and the surrounding complex covers roughly 23,000 square feet on 42 acres. From Winfrey's backyard, she can enjoy stunning views of both the Santa Ynez Mountains and the Pacific Ocean. Can you imagine a better way to wake up every morning?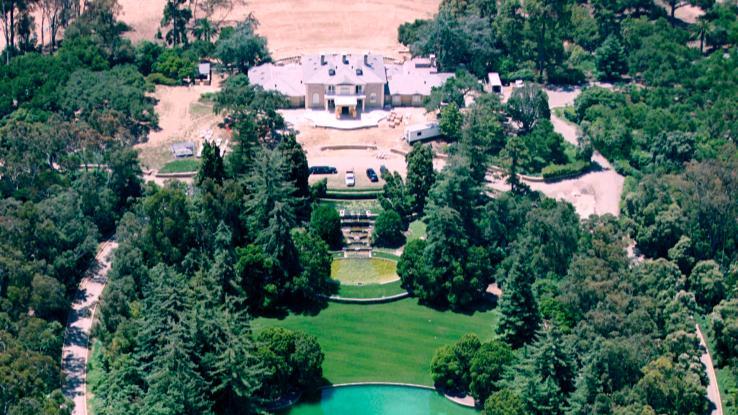 The mansion's current form was completed in 1959, and the home is now worth $88 million. It contains a total of 14 bathrooms, six bedrooms and 10 fireplaces. Additional rooms include a wine cellar and a home theater.
Resembling Gone with the Wind
Once Winfrey purchased the stunning mansion, she knew she wanted to make some changes to make it feel more like her own home. She was amazed at the purchase and couldn't believe she had finally found her dream home.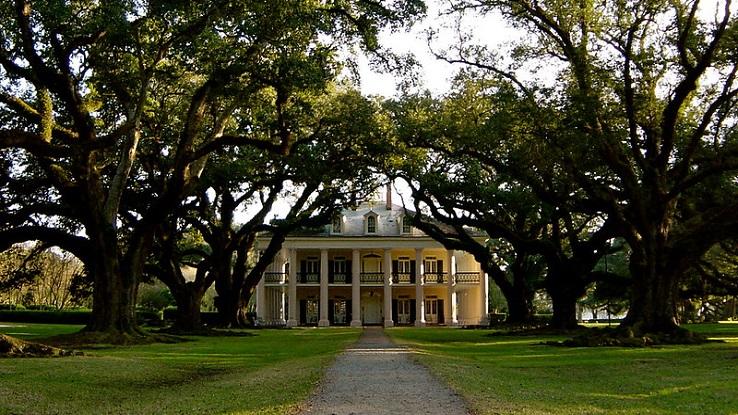 Shortly after purchasing the mansion, Winfrey strolled the grounds and sanctuary with her fitness guru friend Bob Greene. She told him she selected a name for the mansion: Tara II. She chose the name because the place reminded her of the fictional plantation home in the 1939 film Gone with the Wind. It was a good name, but Greene objected, suggesting she should select a more symbolic name.
Doesn't Hold a Candle to Tara
Greene felt that, frankly, my dear, the fictional Tara plantation from the classic movie didn't hold a candle to the gorgeous property Winfrey had purchased. He also warned her to be careful about naming her mansion "Tara II," when she was an African American woman who was born into poverty in Kosciusko, Mississippi. He suggested that naming her mansion after a Southern slave-holding plantation might not be the best move for her.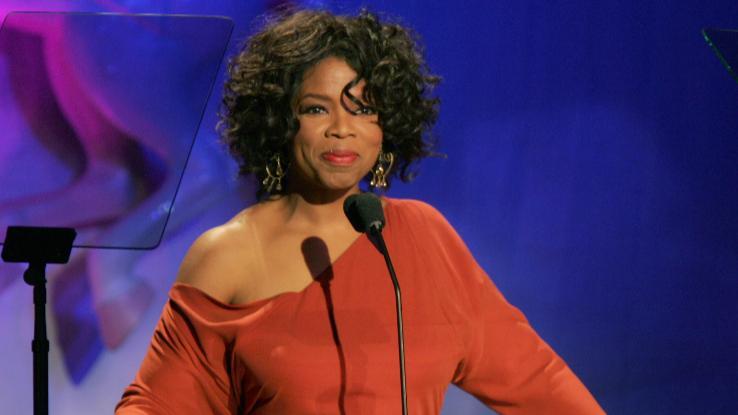 Winfrey hadn't considered that argument. The media mogul was born to a single mother and was raised partially by her grandmother. During her childhood, she had to wear dresses made from potato sacks. In the end, Winfrey agreed that "Tara II" wasn't the most fitting choice, considering her background.
The Promised Land
Even though her property reminded her of a Southern plantation, Winfrey decided she couldn't name her mansion after one. Greene ultimately suggested she turn to the Bible to find inspiration for a name. He mentioned the property resembling "The Promised Land," and the name stuck and became the identity of her new home.
Winfrey then had her dream home, but she hadn't customized it to make it her own. She started a massive project to personalize the home to her liking. One of the first additions she added to the home was an expansive library, filled with a huge book collection suited for the queen of book clubs.
Changing the Foyer
The foyer is technically the main entrance hall in any home, but it's typically huge and especially important in a mansion. Winfrey changed the foyer to feature an elegant banister that graces the sides of her immaculately white main staircase. The staircase curves up above the foyer's sunshine yellow walls.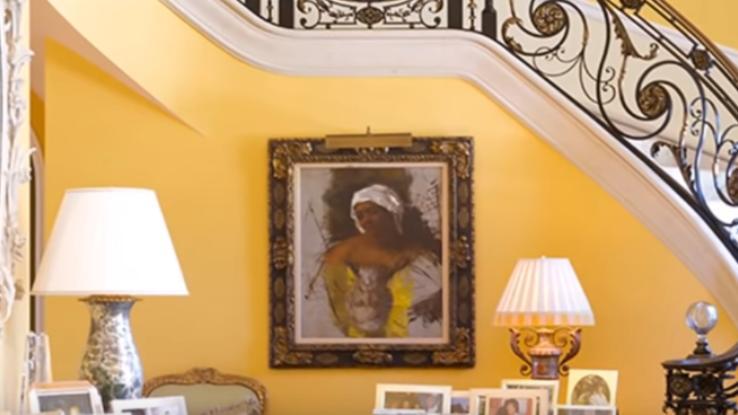 You might think Winfrey's expert eye for art would inspire her to feature elaborate paintings in her foyer. However, she opted to fill the entryway with framed photographs of her friends and loved ones. Picture frames filled with loving faces are found in everyone's home, reminding us that Winfrey is just like everyone else. Despite her fame and wealth, she's still a person who loves her friends and family.
About the Kitchen
The kitchen is often referred to as the heart of a home. It's where you cook your favorite meals and chat with friends and family. The kitchen inside Winfrey's mansion is well-stocked, logically arranged and breathtakingly spacious. It originally featured a fireplace that occupied much of the space.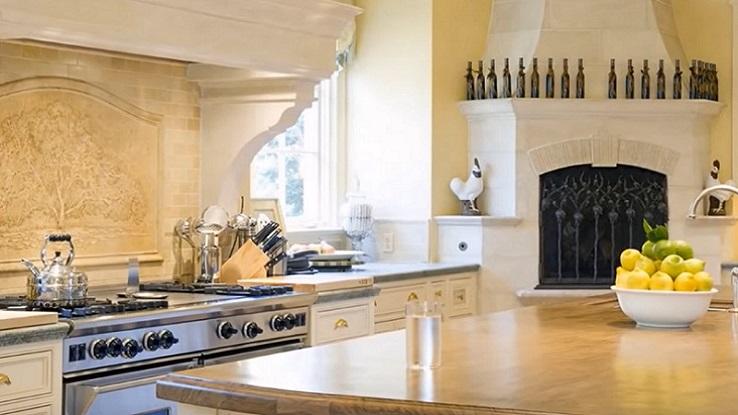 Ultimately, Winfrey opted to have the fireplace removed because she disliked how much space it took up in the kitchen. She noted that when she has guests in her home, they tend to go directly to the kitchen. Winfrey wanted her new kitchen to have plenty of space to entertain guests.
A Dedicated Reading Room
Winfrey is famous for starting her own book club, Oprah's Book Club. She helped re-popularize the trend of book clubs, so when she moved into her mansion, she knew she had to have her own designated reading space. After all, she has always stressed the importance of reading.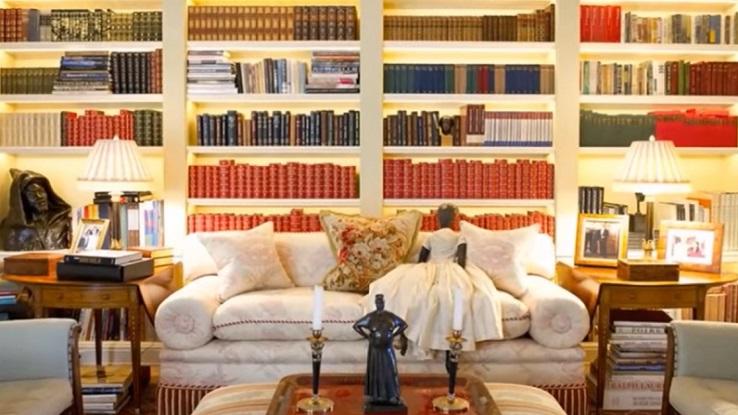 The first thing people notice in her reading room is the large African American doll seated on the couch. Because Winfrey grew up during a time when children's toys didn't reflect her own skin color, this doll probably represents progress. Her book collection stretches across the back wall of the room. However, it has been said that Winfrey prefers her guests to admire her books from a distance.
For the Guests
Not surprisingly, Winfrey's mansion features an elaborate guest room for her guests to stay in when they're visiting. If you thought the room might be less extravagant than the rest of her mansion, you don't know Winfrey. The guest room is fit for a king and queen as well.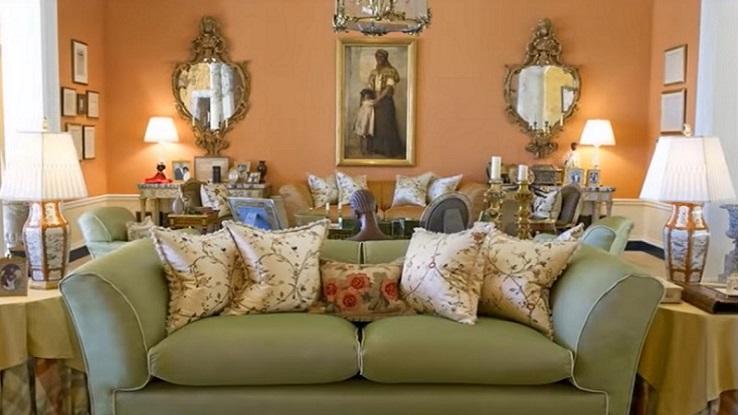 The room features different bouquets of fresh flowers, soft pastel furniture and color-coded decorations. There's even a fireplace for those chilly evenings. Yes, it even gets cold in California during the winter. Are you ready to pack your bags and stay at Winfrey's home?
The Gorgeous Dining Room
You might get flashbacks of the elaborate dining room in Disney's Beauty and the Beast when you walk into Winfrey's dining room. With candelabras hanging from the ceiling and statuettes on the table, the room is simple yet tasteful. In addition, the wood table is perfectly polished, resembling a glassy ocean reflecting the sky. It's the perfect setting for a fun dinner party.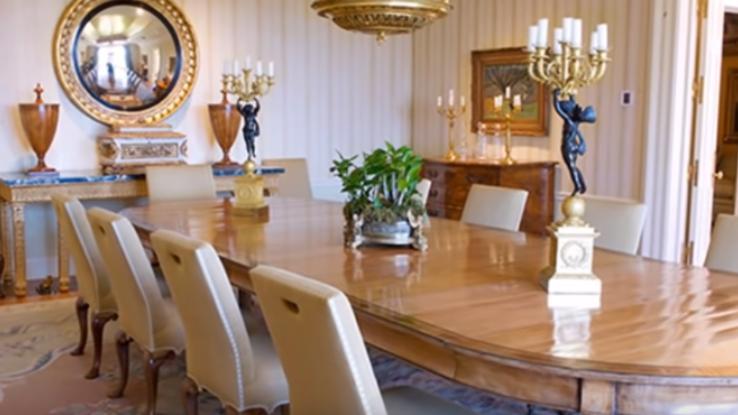 When Winfrey was remodeling her "Promised Land" mansion, she sold several of her prized possessions, including a poster from the Steven Spielberg-directed film The Color Purple (1985), which sold for $4,000. Winfrey donated the collective proceeds from the sale ($600,000) to the Oprah Winfrey Leadership Academy Foundation College Fund.
Fancy Wallpaper
Every room inside Winfrey's mansion is drastically different. One of the most striking differences in each room is the wallpaper. Some rooms feature loud checkered patterns, while others have a soft color scheme — but the fun doesn't stop there.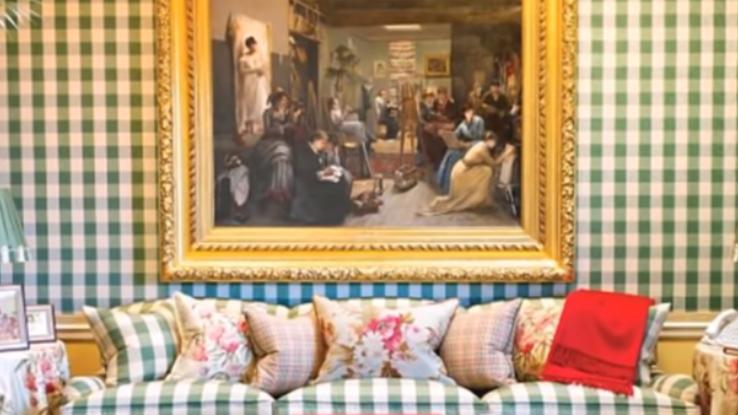 At one point, one room featured a green striped couch that matched the wallpaper as well as plush pillows coated with peonies and daisies. Much of the furniture looks like it belongs in a museum or a castle. Occasionally, furniture pieces are sold at auction to benefit various foundations, and some lucky winner snags some décor from the one and only Oprah Winfrey.
The Perfect Tearoom
The average home probably doesn't include a tearoom, but there's nothing average about Oprah Winfrey. Opening onto the vast grounds of the Promised Land's garden, Winfrey's tearoom originally served a different purpose. When the mansion was first built, it was intended to be a space for gardeners to cut and create floral arrangements. Winfrey decided it was the perfect room to sit and relax with a cup of tea, and you can't disagree with her.
In the tearoom, you won't find any distractions, such as televisions or digital devices. Instead, it's a room where Winfrey and her partner, Stedman Graham, can sit quietly and enjoy each other's company in the gorgeous garden.
Even More Living Rooms
There are many rooms to explore in Winfrey's mansion, including different living rooms. These rooms are furnished with meaningful objects and antiques, including candelabras, framed pictures, mirrors and a variety of furniture pieces. Everywhere you look, you can see something different.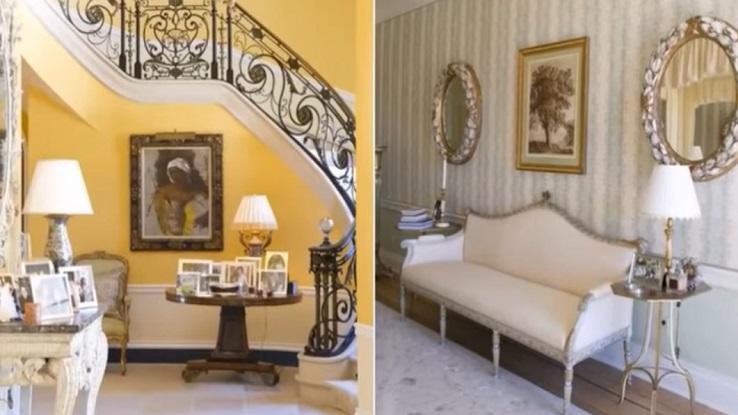 Winfrey uses these rooms to mix things up at her Promised Land mansion. She decided the rooms were perfect for playing with her design dreams. The rooms may seem "cluttered" to some people, but they are an integral part of Winfrey's home, and she loves designing them to suit her personal taste.
There's No Place Like Home
Perhaps one of the best things about Winfrey's mansion and grounds is the gorgeous garden. Outside the tearoom, the entryway to the garden boasts sweet-smelling purple wisteria next to a small copper fountain. In addition, the entrance is lined with roses, lilies, dahlias, daffodils and many other beautiful flowers.
The entrance to her garden is one of Winfrey's proudest spaces on her estate. She has commented that when she drives away from her home, she looks back at it and is reminded of the moment in The Wizard of Oz when Dorothy realizes she never had to look any further than her own backyard to know "there's no place like home."
Her Walk-in Closet
Many people own homes with walk-in closets, but Winfrey's closet takes walk-ins to a whole new level. Her personal closet is completely color-coded, and her clothes are arranged in gorgeous oak cabinets. (No one would blame you if you're dying to try on her clothes.)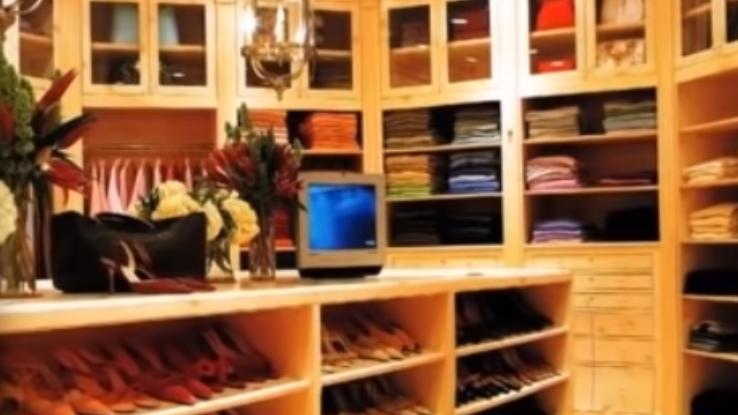 Shoe addiction? Winfrey's shoe collection is off the charts. The closet feels like its own room, complete with vases of freshly cut flowers (from her garden, of course!) and a television. If Winfrey gets bored while getting ready in the morning, she can turn on the TV and watch the morning talk shows.
A Lucky Penny
Interior designers Andrew Walker and David Simmons carefully worked to make Winfrey's Promised Land mansion into the home of her dreams. Winfrey wanted every part of her property to be glamorous and contain some of her personal touches, including the guesthouse. The centerpiece of the main room is an enormous penny on the wall. (You can't miss it!)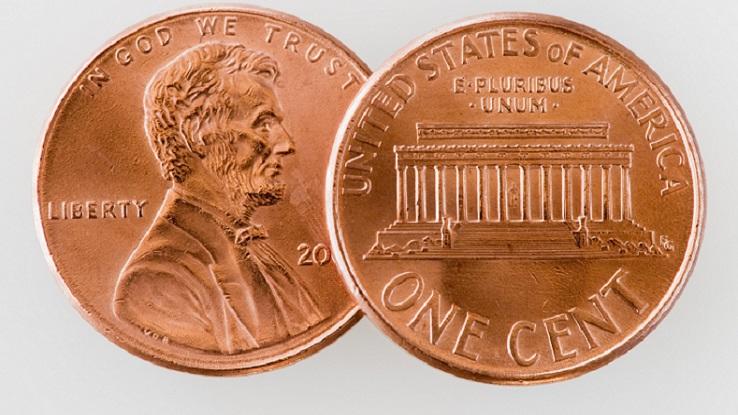 Walker and Simmons found the Lincoln penny at an antique sale in Waukesha, Wisconsin, not far from where Winfrey grew up in Milwaukee. Like many rooms of the mansion, the guesthouse has a perfect view of the expansive garden space.
Ellen to the Rescue
Winfrey called Ellen DeGeneres, another famous television talk show host and philanthropist. DeGeneres, also a proud resident of Montecito, was happy to help her friend. Winfrey also called DeGeneres live via FaceTime during the taping of DeGeneres' show to give her fans a personal look at the damage to the town.
Winfrey also used the opportunity to feature the city firefighters and search and rescue teams, who worked endlessly to save homes and lives. She was fortunate her mansion was saved. Her gas was shut off, and her water mains were closed. She also had other homes she could live in until it was safe to return.
Symbolic Statues
Winfrey's garden isn't your typical garden with flowers, fruits and vegetables. Instead, it features many polished statues. In line with the estate's Biblical theme — Promised Land, remember? — Winfrey named one of the main pathways in the garden "Hallelujah Lane." If you take a stroll down the lane, you're greeted by a white Greco-Roman statue, set inside a nook framed by wrought-iron arches.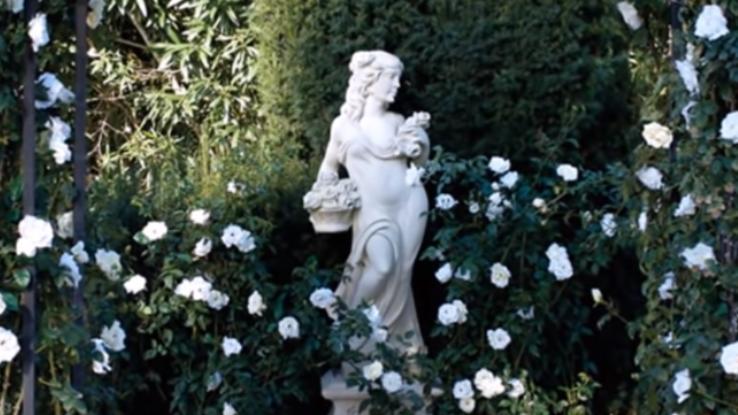 Sombreuil roses weave around the arches, while smaller iceberg roses border the statue. White hydrangea bushes surround it all, serving as a loving tribute to Winfrey's grandmother, who had similar flowers at her Mississippi home. Does it get any more touching than that?
The Four Women
The statues don't end with the white Greco-Roman statue. Winfrey wanted her garden to feature a plethora of symbolic statues. She couldn't get enough of them, including a bronze statue piece by Costa Rican sculptor Francisco Zúñiga. The 1974 piece, titled "Grupo de cuatro mujeres de pie," features a group of women.
The four women stand beneath a grove of eucalyptus, palm and pine trees in Winfrey's garden. Each woman represents a different stage of life: the teenage girl, the expectant mother, the middle-aged woman and the elderly woman. Winfrey loves symbolism, and she certainly picked some interesting statues to decorate her lavish garden.
Providing Enough Shade
Everyone should be lucky enough to have a garden like Oprah Winfrey's, but that is seldom the case. The trees themselves are gorgeous, with gnarled, wriggling branches. The 12 California live oak trees planted throughout the garden at Winfrey's request are representative of the local vegetation. She had a specific reason for the significant number.
Winfrey has christened the oak trees her Twelve Apostles. They are some of her favorite features of her home, and they provide her with a sense of peace when she strolls through her expansive garden. The trees are gorgeous, but the tranquility doesn't stop there.
Feeling Peaceful
Winfrey loves the vastness of her property, and she doesn't hesitate to stop and appreciate her surroundings. She has said on numerous occasions that when she's at the Promised Land, she can go several weeks without turning on the television. She doesn't need to watch TV when she has an enormous mansion to enjoy.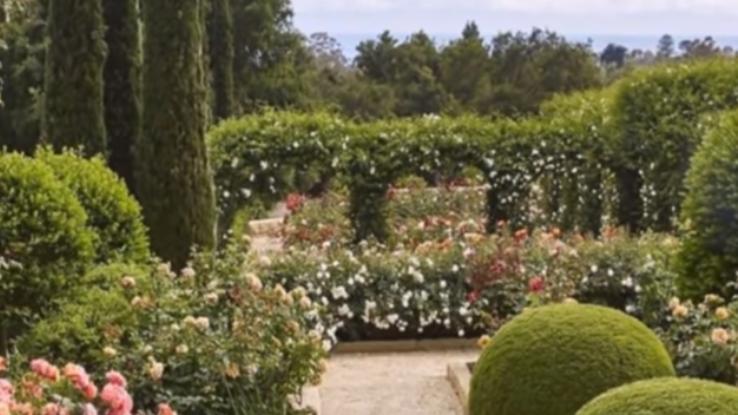 In fact, Winfrey has even gone an entire summer without using the TV. She prefers being present and enjoying her space by doing things like reading a book on her scenic porch. Sometimes, she just sits and daydreams while she's awake. Of course, it doesn't hurt that she has a wonderful view to admire.
Buying a Farm
You wouldn't think of Winfrey as a farmer, but the media mogul never fails to surprise. After moving into her home, she became close to her next-door neighbor. When the neighbor passed away in 2016, the family hoped Winfrey would purchase the farm property. The idea made sense, as it would allow Winfrey to add more land to her already expansive property.
Named Seamair Farm, the property is uniquely different from Winfrey's mansion. She purchased the farm for $28.9 million, and she started working it right after the purchase was finalized. She knew it was the perfect addition to her already wonderful land of dreams.
A Modern Farm
With the purchase of Seamair Farm, Winfrey acquired one of architect Cliff May's famous California Dream Homes. May is known for designing gorgeous signature ranch houses, and his Seamair Farmhouse is a mid-century modern ranch home unlike any other.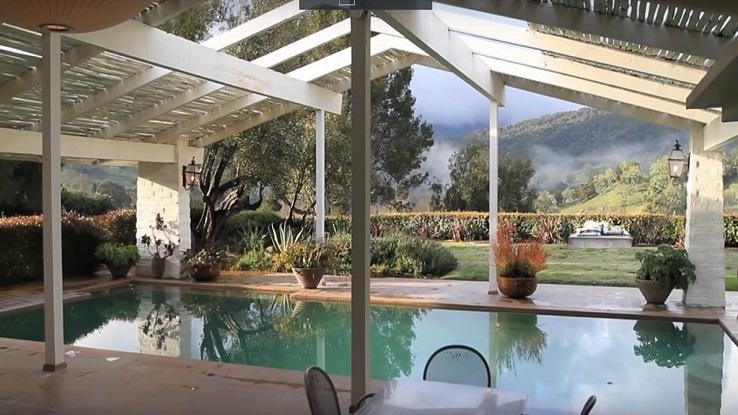 The farmhouse has five bedrooms, four bathrooms and 4,750 square feet of space. The land occupies 23 acres and features an orchard of fruit trees, an avocado grove and a fish pond with Japanese koi. Winfrey never imagined she would own a farm, but she certainly wasn't disappointed she bought it. She was pleasantly surprised to find something her Promised Land mansion couldn't offer.
Embracing the Ranch Life
Seamair Farm had previously been used as a horse racing track, which meant it came equipped with its own equestrian area. The ranch features an expertly trimmed riding course and plenty of stables for her horses. It's so spacious that when you're out riding, you can't see anything but the ranch in front of you.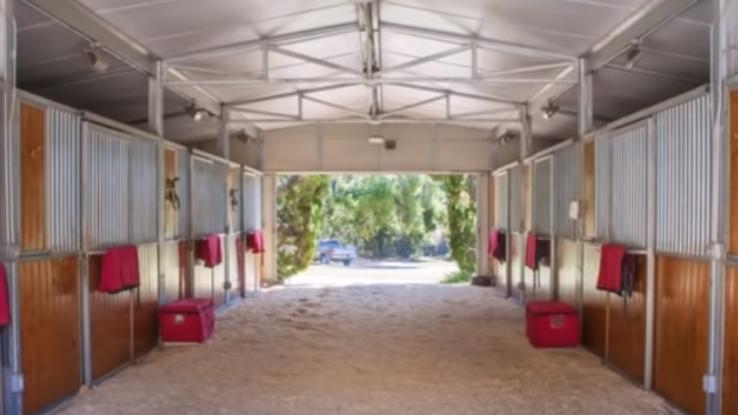 The ranch adds more possibilities to Winfrey's property than she ever could have imagined. Her team decided to add two natural wells to the farm to assist with watering needs. Just like other homeowners, Winfrey has experienced some issues.
Dealing with Droughts
The state of California is known for its numerous and frequent droughts. Even Winfrey has been a victim of drought. She is proud of her vegetable garden, and she enjoys growing her own produce. However, the environmental conditions in California have become so dire in recent years that her garden has suffered along with many others from the statewide water shortage.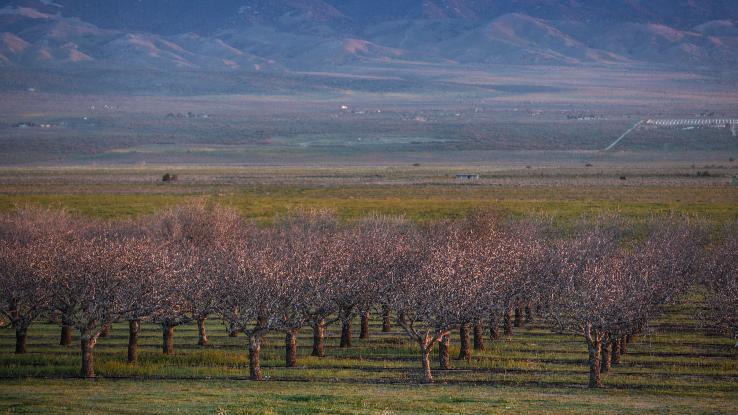 That's one reason Winfrey decided to add natural wells to her Seamair Farm property. She can use water from the wells to help her garden survive, and it's also more environmentally friendly. She may have had to cut her regular water usage in half (like many other Californians), but she knew what to do as an alternate solution. Of course, even when a drought ends in California, the area's troubles aren't over.
Dealing with Mudslides
In January 2018, Montecito, California, was devastated by catastrophic mudslides. Winfrey remembered waking up around 3:47 a.m. to disaster. Her dogs were barking, so she decided to wake up her partner, Stedman Graham. The couple was surprised to see the sky over the Santa Ynez Mountains appeared to be aflame.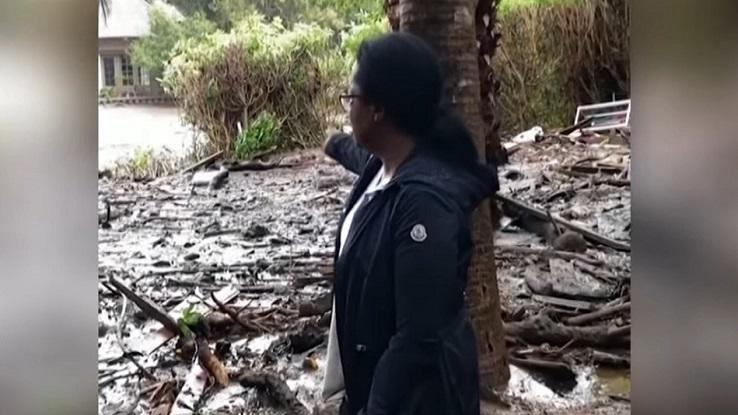 The mudslides crept onto her Promised Land property, but she was ultimately very fortunate. Many of her neighbors' homes were devastated by the damage. She was lucky to still have her home, but the mudslide surrounded her mansion and stretched down Highway 101, preventing her from leaving her home. Who did she call for help? One of her famous friends, of course!
All Her Other Homes
Winfrey doesn't just own her Montecito mansion. When you're one of the richest women in the country, you own properties in many luxurious areas. For example, she owns a beautiful mountain lodge in Telluride, Colorado, and she stays in that home when she's ready to hit the slopes.
The 8,706 square-foot house includes five bedrooms, six-and-a-half bathrooms, a personal chef's kitchen, a fitness room, a game room, an indoor hot tub, a home theater, a guest house, a three-car garage and smart home technology. Winfrey also owns spacious homes in Lavallette, New Jersey; Chicago, Illinois; Fisher Island, Florida; Maui, Hawaii; Antigua; and Orcas Island, Washington.