Here's How the COVID-19 Pandemic Changed In-Person Retail Shopping in Lasting Ways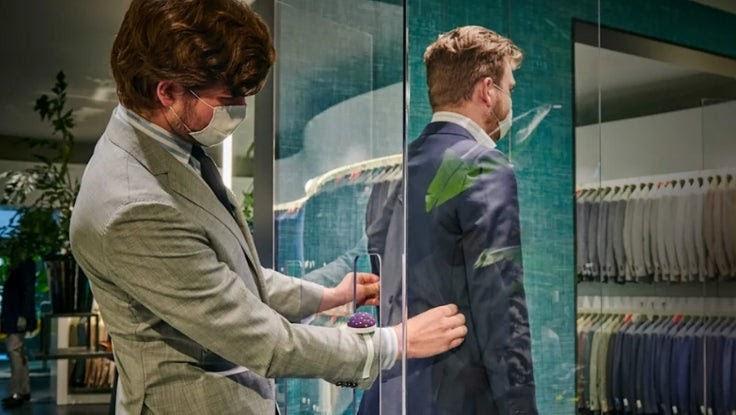 After sheltering in place, or at least staying close to home, for over a year, many of us developed pandemic fatigue. But we weren't the only ones that struggled to adapt to a completely new way of going about our daily lives. Throughout the pandemic, retail shops and restaurants scrambled to keep up with changing safety parameters and implement procedures that allowed them to reopen — and in some cases required them to re-close — as local governments obtained new information and developed new strategies to mitigate the spread of the novel coronavirus.
Limited capacities, mask mandates, designated hours and strict cleaning and social distancing protocols became the norms for shoppers and businesses alike. In many states across the country, these restrictions and safety guidelines fluctuated unpredictably — a complication that's continued even after large segments of the population have become fully vaccinated.
Things aren't back to "normal" yet, and it's unclear which of the pandemic's changes to our social, professional and emotional lives will remain as towns and cities across the country gradually reopen. But in the midst of so many shifts, retailers have continued to adapt and innovate to meet shoppers', and health officials', needs. From shopping appointments to contactless curbside pickups, these innovations have become more than temporary fixes. With this in mind, we're investigating how the COVID-19 pandemic has created a lasting impact on in-person shopping.
What Was the Norm Before the Pandemic?
Before the COVID-19 pandemic hit, shopping was a lot more carefree — and personal. Consumers didn't give a second thought before entering a store to browse and touch merchandise. Remember dressing rooms? It became difficult to imagine changing outfits in a space others have used. In fact, it also became difficult to imagine using shopping carts or baskets without sanitizing the heck out of them.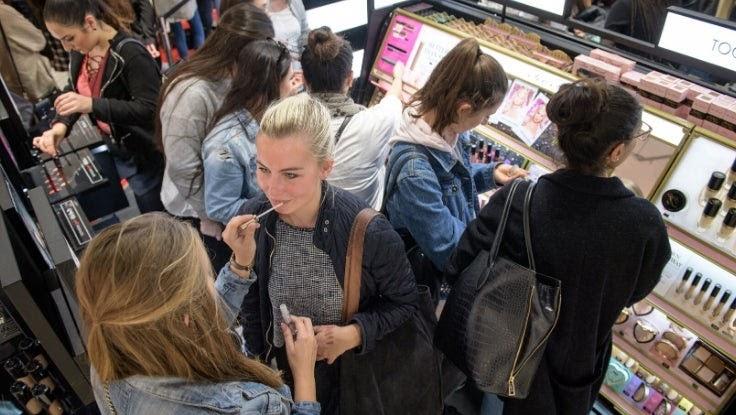 And then there's the whole handling money thing, which seemed like a normal practice until we all became hyper-aware of just how easily germs can spread from even the slightest contact with another person. From a convenience and safety perspective, none of us are sad to see crowds dwindle at once-busy stores, but, at the same time, this created issues for brick-and-mortar businesses that traditionally relied on foot traffic for a large part of their income.
The 2008 recession had already impacted malls' ability to operate successfully, and the pandemic — not to mention online shopping — appears to have accelerated this process. But are malls and other traditional shopping centers dying, or are they simply evolving? And how will our experience of the pandemic further shape this ongoing change?
How Did COVID-19 Change In-Person Shopping?
When you go shopping, you probably don't realize just how much you're touching — or you probably didn't before the pandemic. At the very least, you're handling products, touching carts and baskets and punching in your PIN on cash register keypads. And don't even get us started on fitting rooms, with their door knobs, hangers, benches and previously worn apparel. In fact, about 49% of millennials and 71% of baby boomers reported feeling uncomfortable about trying on clothes in fitting rooms.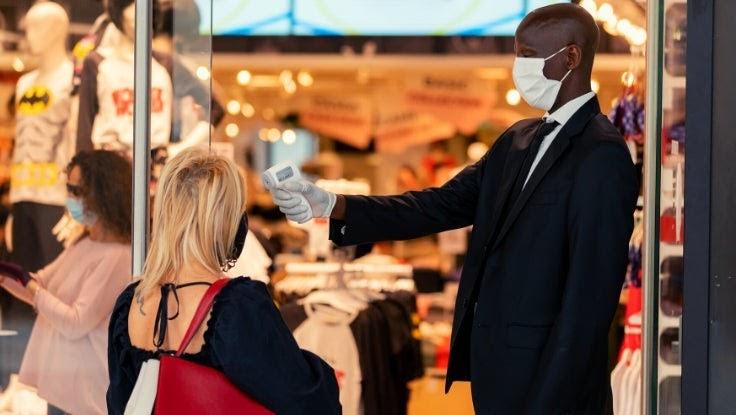 Of course, the idea of the virus spreading from person to surface to person is much less of a concern now that we know much more about how it spreads than we did at the beginning of the pandemic. The Centers for Disease Control and Prevention (CDC) notes that "It is possible for people to be infected through contact with contaminated surfaces or objects (fomites), but the risk is generally considered to be low." Also, Hackensack Meridian Health states that "experts believe that in many situations, it's unlikely for viral particles to land on clothing, especially if you practice social distancing and the people you encounter wear masks," but also acknowledges that "some people feel calmer and more in control when they remove clothing that they've worn in public in case it was exposed to COVID-19."
Regardless of how you feel about clothing as a COVID-19 vector, it's safe to say that retailers should keep following the CDC's guidance when it comes to cleaning and disinfecting in-store objects. It's possible that these recommendations will change as official guidelines continue to relax, but constant sanitation, face masks, temperature checks, glass barriers at registers and social distancing did become part and parcel of visiting a grocery store, retail business or shopping center.
Additionally, many businesses changed over from favoring cash to favoring contactless transactions, such as Apple Pay, and these changes are likely to remain. Business Wire reports that, because of the pandemic, 82% of small and medium businesses embraced new technologies to simplify the payment process in an effort to reduce COVID-19 transmission. The media company further reports that only 16% of consumers are planning to return to pre-pandemic payment methods. At stores, like makeup seller Sephora, that once encouraged touch, product testing was nixed altogether. Food retailers like Costco also went contactless when it came to samples and stopped handing out food — but have since modified their edible product demonstrations in interesting ways.
Will COVID-19 Changes Continue to Impact In-Person Retail Shopping?
Whether you're window shopping or just browsing, the act of milling about a store or mall offers a sense of escapism. It's social without being too social, and, even if you don't spend any money, the experience of imagining potential purchases is fun, to say the least. Shopping isn't often likened to a recreational activity, but, in many ways, it's just that.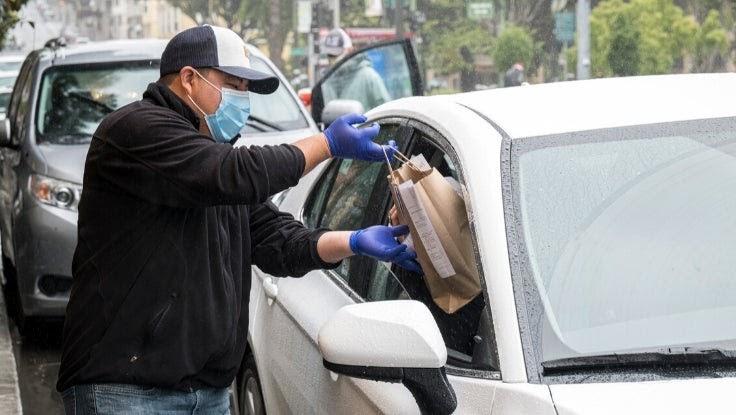 Lan Xia, professor of marketing at Bentley University, notes in a BBC article that "Browsing offers the opportunity of serendipity. One thing leads to another and you end up with something you hadn't thought of buying in the first place." And, honestly, that's fun. Unfortunately, with social distancing measures in place and caps on the amount of people allowed in stores, shopping during the pandemic felt more like a "get in, get out" situation. Something with a very clear end goal — instead of being something done for pleasure or leisure.
Additionally, retail stores had to contend with widespread supply chain issues, consumer stockpiling and growing uncertainty about brick-and-mortar stores. According to Retail Dive, "more than 40% [of folks surveyed said that] they…'avoid[ed] or limit[ed] visits to shopping centers/malls' and more than 30%…avoid[ed] stores in general." After all, if you're going to cut down on your contact with the outside world and public spaces, it's the nonessential that goes first, and that became one of the primary changes many of us made when it came to our retail-shopping habits.
Although the National Retail Federation (NRF) claims that retail sales will grow up to 8.2% in 2021 and revenue may top $44 trillion, much of this growth is likely to take place online; the NRF's forecast estimates that online sales could potentially grow by up to a whopping 23%. Unsurprisingly, outside of luxury retailers, businesses in the e-commerce space saw sales skyrocket. In fact, a DealAid.org survey found that a staggering 90% of consumers said they spent more time shopping online during the pandemic — and that trend, of favoring online shopping to in-store shopping, continued into the 2020 holiday season, too.
Many of us are finding that our pandemic shopping habits are here to stay, and retailers anticipate that "Americans will continue to shop at stores, but they also may schedule curbside pickup or sign up for grocery delivery services" even after life returns to some semblance of normalcy. While we're looking forward to enjoying some elements of our previous lives, other changes have ultimately proved beneficial and convenient. And we, along with retailers, will carry these innovations forward as life continues to adapt.