How to Draw Your Floor Plan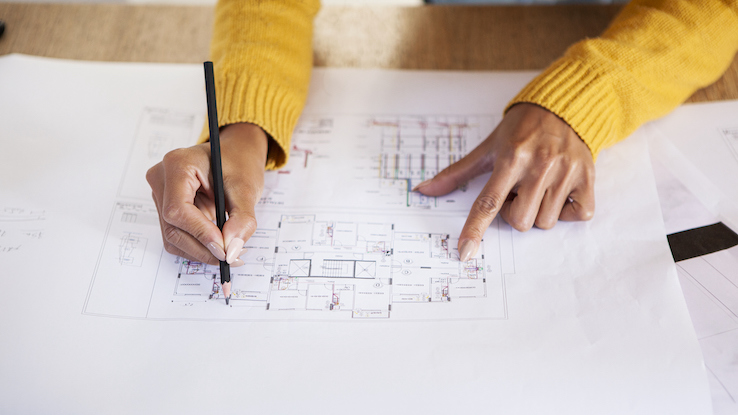 Whether you're envisioning your dream house or actually getting started with a new build, one of the first things to do is create a floor plan. This diagram of the rooms in a home can help you picture what a space will look like, determine the features you want to include and even plan out how you want to arrange the furniture. But before you get started with your design, it's a good idea to learn what the process of drawing a floor plan involves — and what tools you might need to do so. Join us for a look at what it means to draw a floor plan and what you'll need to create your drawing.
How to Draw a Floor Plan of Your House
Although you should certainly get assistance from an architect before finalizing a floor plan for an actual house you want to build, you don't need an architectural degree to get started with a basic floor plan drawing. Platforms like SmartDraw are meant to make drawing a floor plan easy for beginners, and there are plenty of other easy-to-use online software tools you can try.
The software you choose may provide a walkthrough to guide you through the process of creating your drawing. However, there are a few common elements that all floor plans should include that you'll want to consider if you're starting from scratch:
Each floor of the home
Each living and working space and the ways they're all connected
Bathrooms and the features or fixtures you want in each
Room layouts with placements of key fixtures, such as an island in the kitchen
Spaces for large, permanent appliances like your washing machine
Placement of doors and windows
If you're planning a remodel, you'll first create a drawing of your current space. Then, you can draft a second design for the "after" version of what you envision the floor plan looking like following the renovations.
How to Draw Your Own Floor Plan for Free
Along with SmartDraw, there are many free online floor plan creators available, each with its own suite of features. While all programs let you set up a floor plan diagram, some offer extras like 3D modeling and furniture libraries. Some even incorporate landscape-design capabilities. It can be helpful to test out two or three to see which app or software you like working with best. Some top options include:
Floorplanner
Live Home 3D
PlanningWiz
RoomSketcher
MagicPlan
SketchUp
HomeByMe
Most free floor plan software programs allow you to scale your floor plan based on the measurements you give it. This happens instantly so you can see what your floor plan would look like with different dimensions. Scaling features are also useful for remodels because you can input your home's current dimensions and the software should render an accurate depiction of your house.
Tips for Drawing Your Floor Plan
When you're drawing your floor plan, consider saving a "base" version you can use as a starting point for multiple designs. Return to it any time you'd like to start off with a fresh slate. Keep in mind that changing one aspect of a plan may cause others to become unfeasible, so save your progress often in case you need to revert to a previous version.
Even if you enjoy drawing your floor plan on your own, it can help to talk to a professional designer if you're serious about building. They'll have ideas you may not have thought of as well as techniques to get more functionality out of limited square footage. They'll also be able to inform you of the things that aren't in the floor plan but that could impact it, like environmental and regulatory concerns.