How Much Do Super Bowl Performers Get Paid & How Are They Chosen?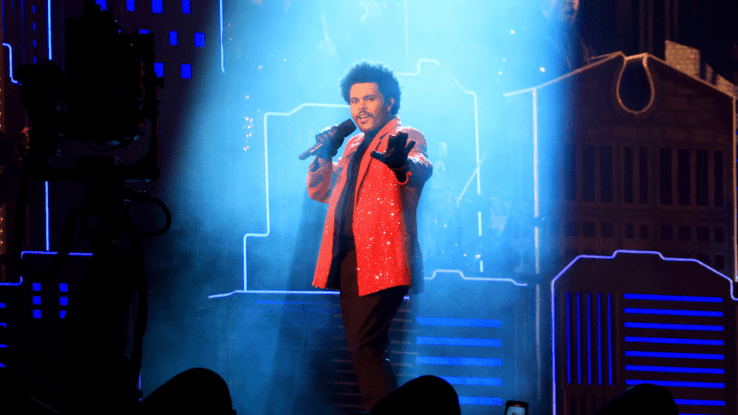 In recent years, the annual Super Bowl halftime show has almost become as big a draw as the game itself. Every February, millions of viewers tune in to the high-profile show, expecting all of the bells and whistles of a stadium concert compressed into 15 minutes. From Prince and U2 to Beyoncé and Lady Gaga, music's biggest names have graced the stage over the years. But how, exactly, does the National Football League (NFL) land on these entertainers? And, given that the Super Bowl is one of the most-watched annual TV events, how much are these performers paid for their halftime contributions?
How Did The Super Bowl Halftime Show Get Started?
Though the Super Bowl typically happens in early February now, the big game used to air in January. The very first Super Bowl was on January 15, 1967, in Los Angeles, California, with a performance from bandleader and trumpeter Al Hirt, the University of Arizona Symphonic Marching Band, Grambling State University Marching Band, and the Anaheim High School Ana-Hi-Steppers Drill Team and Flag Girls.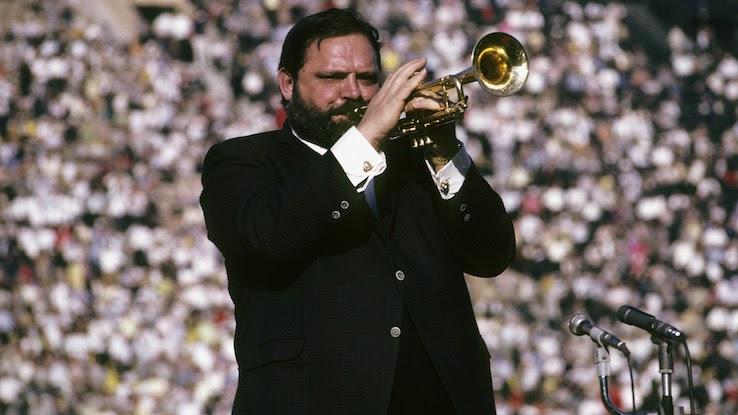 Since that very first show, there have been exciting (and increasingly high-tech) shows each year. In fact, there seems to be an unspoken pressure to make the performances bigger and better as the decades go on. Since that first half-time performance, the show has featured popular bands and artists from across genres and generations, making for unforgettable entertainment.
How Are Super Bowl Performers Chosen?
So, how does the selection process go? It's all decided by a panel, which is led by the NFL's director of entertainment and TV programming along with the league's production company and the show's producer and director. When compiling a shortlist of potential performers, the panel takes into account each act's appeal — after all, they need to capture the attention of a fairly diverse audience.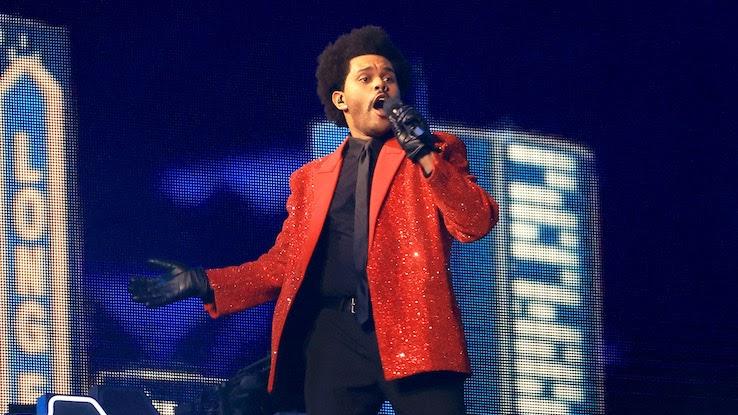 From there, the NFL reaches out to performers' agents and managers to confirm their availability. Additionally, the producer and director behind the halftime show will meet with the entertainers to discuss ideas for the setlist, stage design, guest appearances, and more. For the panel's part, they also consult with the network broadcaster, as well as the game's sponsors, to smooth over any additional details.
Some weeks before the show, a crew of about 300 is hired to assemble and break down the stage in minutes. As for the artists? They also have to work on their speed since the halftime performance must be delivered in under 15 minutes.
Do Super Bowl Performers Receive Payment?
Many will be shocked to know that halftime performers aren't paid to perform at the Super Bowl. Per league policy, the NFL covers all costs related to the production of the halftime show and the league pays for the entertainer's travel expenses — but that's about it. There was one exception: During the Super Bowl XXVII halftime show, which featured Michael Jackson, the NFL and Frito-Lay made a donation and provided commercial spots to the Heal the World Foundation. While that isn't a form of payment, really, the league did sacrifice their ability to sell those commercial spots.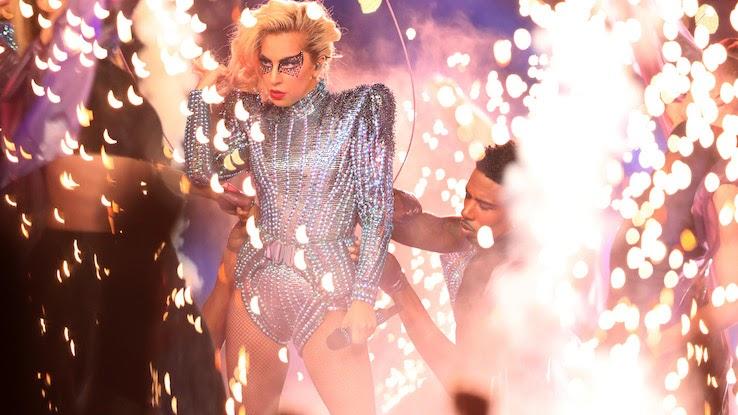 So, what do these performers get from being part of the halftime show? Exposure (former unpaid interns can relate). Around 100 million viewers watch the Super Bowl and the halftime show each year, which opens the door for artists to acquire more sales and fans overnight. For example, according to CNBC, Lady Gaga saw sales of her digital catalog spike by over a whopping 1000% following her 2017 performance.
Without a doubt, the halftime show is full of excitement and theatrics — and it's a fun way to break up the big game. In fact, we've rounded up a few of our favorite halftime performances here, so join us for a stroll down memory lane.
Prince Delivers an Iconic Super Bowl Performance
The Purple One himself delivered a halftime performance at Super Bowl XLI in 2007. Performing with the Florida A&M University marching band (the Marching 100), Prince performed on a huge, unforgettable stage shaped like his logo.
During his electrifying set, Prince performed a short rendition of Queen's "We Will Rock You," as well as his hit songs "Let's Go Crazy" and "Baby I'm a Star." He also did a variety of covers including Creedence Clearwater Revival's "Proud Mary" and Foo Fighters' "Best of You." Prince ended his 12-minute set with "Purple Rain," and, ultimately, reached about 140 million viewers at home. Music enthusiasts still regard this performance as one of the best in Super Bowl history.
Beyoncé, Bruno Mars and Coldplay Link Up for an Unforgettable Performance
Coldplay was chosen as the performer for Super Bowl 50 in 2015. But the group, led by Chris Martin, brought out both Beyoncé and Bruno Mars, who had performed at the Super Bowl in 2013 and 2014, respectively. After all, the NFL had to pull out all the stops for an anniversary celebration that big.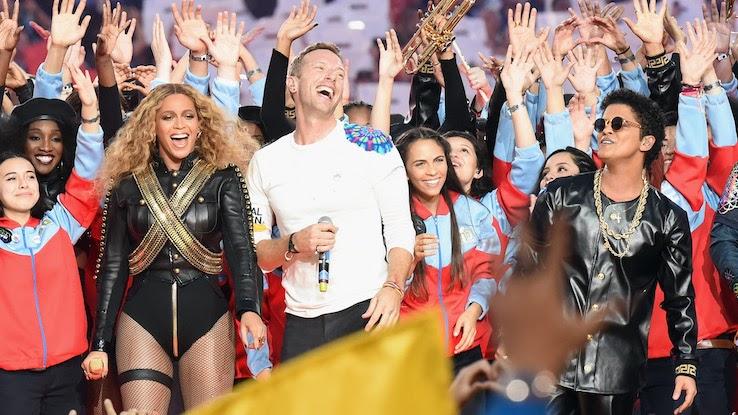 Joined by Mark Ronson, Gustavo Dudamel, the University of California Marching Band, and the Youth Orchestra L.A., Coldplay performed some of their hit songs, like "Viva la Vida", "Paradise", and "Adventure of a Lifetime." Then, Beyonce, joined by a massive group of background dancers dressed as Black Panthers, performed her single "Formation." Mars, of course, performed his ever-popular "Uptown Funk" with the group. All in all, the performance attracted 115.5 million viewers.
Shakira and Jennifer Lopez Shake Things Up at Halftime
Shakira and Jennifer Lopez co-headlined the 2020 Super Bowl halftime show — and they brought out incredible guest stars like Bad Bunny, J Balvin, and Lopez's own daughter, Emme Muñiz. Shakira performed hits like "She Wolf," "Whenever, Wherever," and "Hips Don't Lie," while Lopez sang beloved tracks like "Jenny from the Block," "Ain't It Funny," and "Get Right."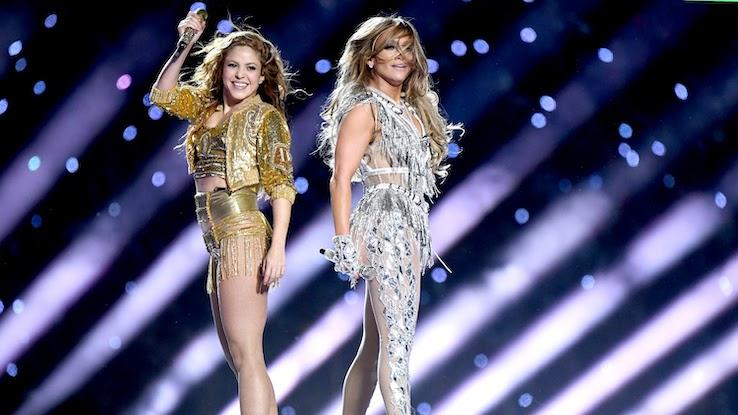 In the end, the duo shared the stage to perform "Let's Get Loud" and "Waka Waka (This Time for Africa)." With high-paced choreography and multiple costume changes complimenting the entertainers' musical talents, the performance was so critically acclaimed that it received five Primetime Emmy nominations.