What Food Goes Best With Coleslaw?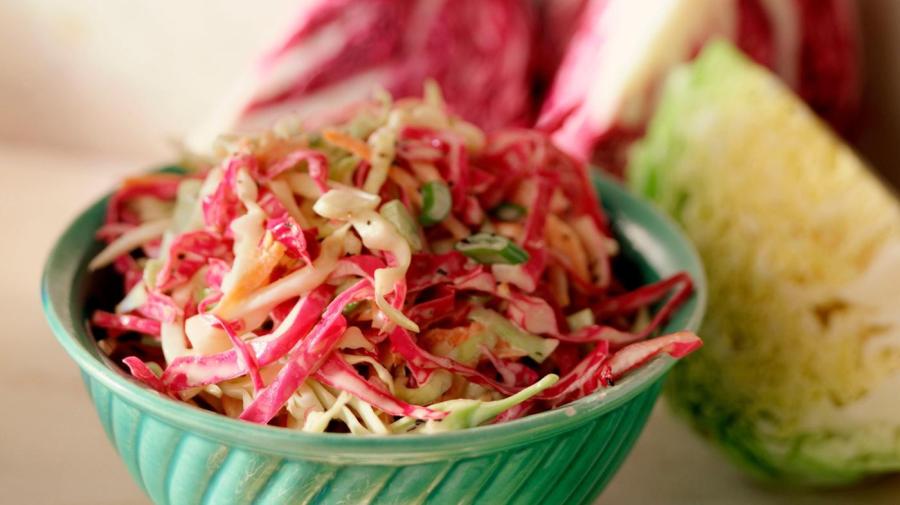 Foods that go well with coleslaw include fried chicken, corned beef sandwiches, hot dogs, Polish sausages and grilled meats. For example, coleslaw is an added condiment to mustard and mayonnaise in a corned beef sandwich with Swiss on toasted rye bread.
To make coleslaw that complements buttermilk oven-fried chicken, toss 4 cups of packaged cabbage with 3 tablespoons of fat-free mayonnaise, 1 1/2 teaspoons cider vinegar, 1/2 teaspoon of celery seeds, 1 1/2 teaspoons of sugar and 1/8 teaspoon of salt. Make the chicken by coating 4 bone-in chicken breast halves in 1 cup of low-fat buttermilk and seasoning them with 1/2 teaspoon of salt and 1/2 teaspoon of ground black pepper. Dredge the chicken in a mixture of 1/3 cup of all-purpose flour and 1/3 cup of cracker meal, and brown it in a skillet at medium-high heat for four minutes with 2 tablespoons of butter. Bake the chicken at 425 degrees Fahrenheit for 32 minutes.
Make a coleslaw recipe that can be served with Polish sausages by whisking together 1/2 cup of mayonnaise, 3 tablespoons of buttermilk and 2 teaspoons of dried dill weed and tossing the sauce with 1 cup of shredded carrots and 1 10-ounce package of broccoli slaw. Serve it and yellow mustard on a Polish sausage in a hot dog bun.