What Is an Example of an Introduction of a Speech?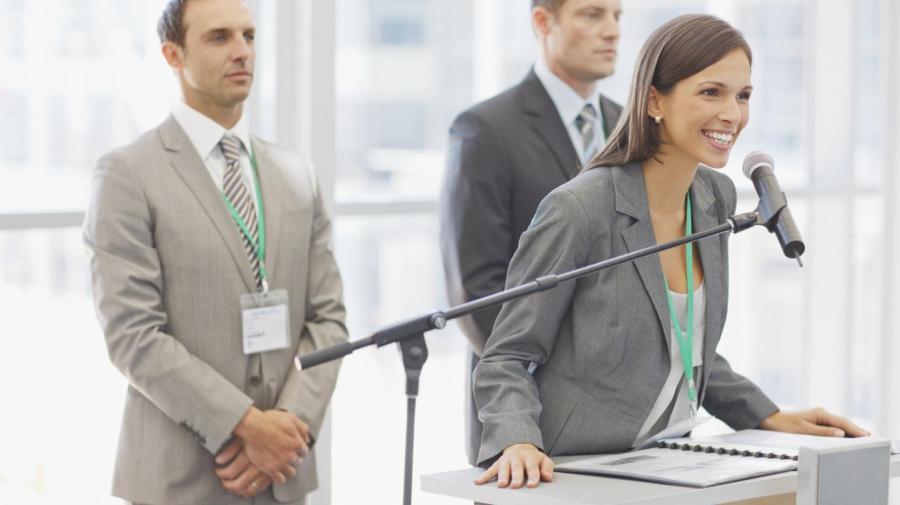 The introduction to a speech typically includes an attention getter, the main point and a brief outline of the sub-points. Exact examples depend on the type of speech.
All speeches should start with an attention getter that eases the audience into the topic. For a persuasive speech, this attention getter should provoke thought on the issue at hand. For an informative speech, the attention getter should be on-topic, but it does not need to be as pointed.
The introduction should also include one or two statements outlining the main point. For a persuasive speech, this is the thesis statement, or the single statement of the speaker's position on the issue. A persuasive speech introduction should also include the call to action, or what it is the speaker wants the audience to do or think. For an informative speech, the introduction includes a statement of purpose. This is a single statement relating what information the speaker is going to give.
Introductions should also include a brief outline of the speaker's main points. For the persuasive speech, this is the speaker's sub-points relating to the thesis statement. For the informative speech, these are the main aspects of the topic the speaker covers.
Examples of speeches with strong introductions include J.K. Rowling's commencement address at Harvard University and Hillary Rodham Clinton's introduction to an address delivered in Beijing, China, at the U.N. 4th World Conference on Women Plenary Session.