What Is an Easy Recipe for Pesto Using Dried Basil?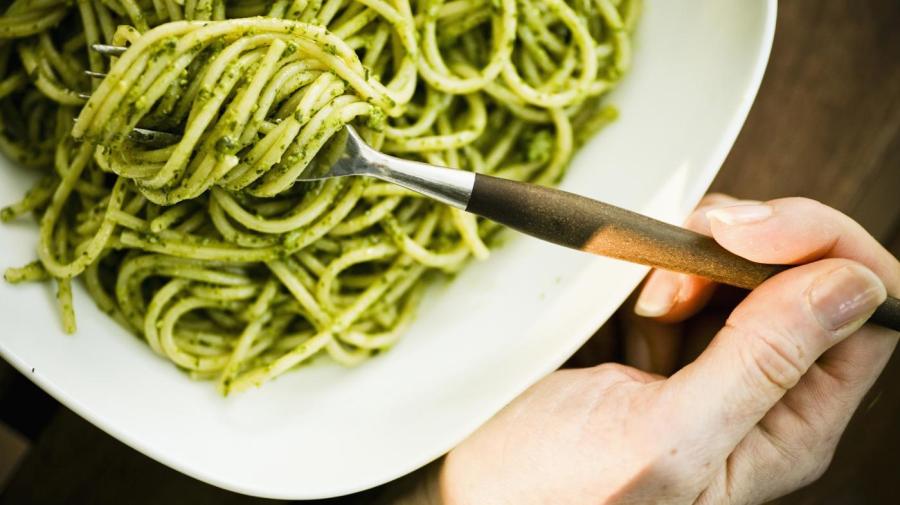 To make a basil pesto, combine fresh spinach leaves, dried basil, garlic, pine nuts, Parmesan cheese, extra-virgin olive oil, salt and black pepper in a food processor until the mixture is smooth. The pesto can last for 2 days in the refrigerator or up to 3 months in the freezer.
Recipe Title: Basil Pesto
Pesto is quick and easy to make, and it can be used on a number of dishes, including pasta, sandwiches, salads and vegetables. This recipe calls for 2 cups fresh spinach leaves and 1/4 cup of dried basil, but the spinach can be omitted and the dried basil can be substituted with 2 cups of firmly packed fresh basil, if desired.
Prep Time: 5 min.
Cook Time: N/A
Ready In: 5 min.
Ingredients:
2 cups, fresh spinach leaves
1/4 cup, dried basil
2 cloves, garlic
1/4 cup, pine nuts
3/4 cup, Parmesan cheese, grated
1/2 cup, extra-virgin olive oil
Salt and Pepper
Combine the ingredients

Combine the basil, garlic, pine nuts and Parmesan cheese into a food processor. Pulse until the ingredients are coarsely chopped. Then add in the olive oil and continue to pulse the food processor until the pesto is smooth and the olive oil is fully incorporated. Season with salt and pepper to taste.

Use or store

Use the pesto immediately, or store in an airtight container in the refrigerator. For longer storage, freeze the pesto in covered ice-cube trays.