What Are Some Cool Educational Games for Kids?
Trying to find the right games for kids — options that are both entertaining and educational — can be a bit of a dilemma. As a parent, you want to limit screen time, but it can be tough to get your modern child to sit and pay attention to old-school board games like Scrabble and checkers. 
Fortunately, you can still find many games out there that are engaging and a lot of fun. Even better, many of your old favorites — even classics like Monopoly and Sorry — now either have mobile versions or themed, kid-friendly versions that can make them a little more appealing to children. Ready to learn more about a few brain-boosting games — some digital and online and some traditional hands-on — that the whole family can enjoy together on your next family game night? Let's get started!
Games for Preschool and Elementary School Age Children
Ready to play? Children in preschool and elementary school are at a great age to learn about taking turns, sharing, sportsmanship, following rules and other elements involved in playing a classic board game. Monopoly, the most iconic board game in the category, would probably be a bit too challenging (and boring) at this young age, but plenty of other options are perfectly age appropriate to ensure that family game night is a hit.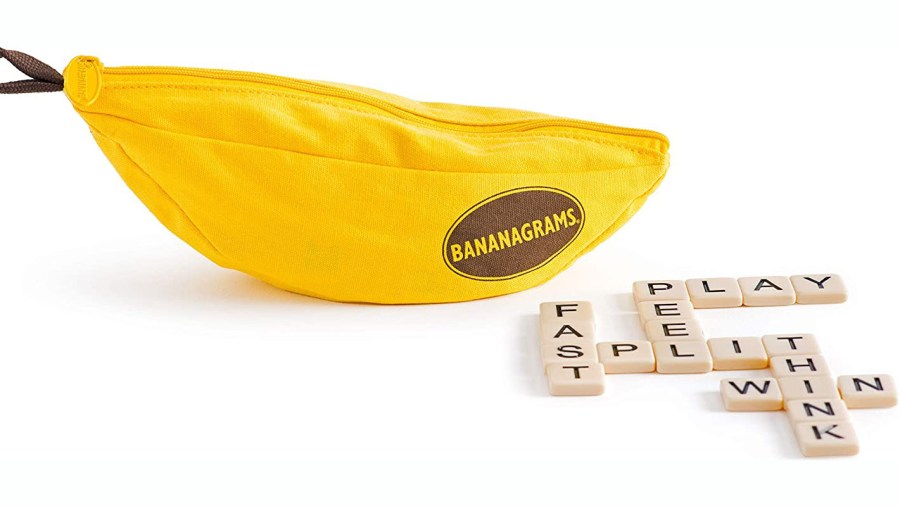 Bananagrams is a fun game for ages seven and up to help them learn how to make words using letter tiles that are stored in a big banana. The concept is similar to Scrabble and other word-building games, although it's aimed at younger children who are just learning how to read and write. The game is available in more than a dozen different languages and also has a special edition for preschoolers. Boggle Jr. is another good word-building game for ages three and up. 
When it comes to building math skills in younger children, Cootie is a great addition to your roster. To play this board game, you roll a die and build a bug (a cootie) based on where your playing piece ends up on the board. It helps teach children counting (how to count the sides of the die) as well as number identification and chart reading. 
If you're looking for fun online games for younger kids, Tinybop Games has many learning-focused games for preschoolers and elementary age kids, including games about anatomy and space. It's available for download on a computer, iOS mobile device and Android mobile device.
Games for Kids in Later Elementary Grades (and Up)
If your child already knows how to read and count, some of the games aimed at younger children may be a little too "young" for them. When you're ready to level up, plenty of games are specifically designed for kids in grades three through five.
For those interested in social studies or geography, Great States is a terrific board game that focuses on United States geography, including landmarks, capitals and other state facts. Explore the World is a similar style game that focuses on world geography. 
Buzzword (ages 10 and up) is a smart English language arts pick for late elementary school students. Players must guess what the "buzzword" is based on the clues that are given. It's slightly like charades, a bit like Boggle and a lot of fun for all involved. 
When it comes to mastering both strategy and addition, UNO can't be beat for children (and adults) of all ages. Even better, the popular card game comes in multiple versions, with many themed decks specifically geared toward kids. By later elementary grades, children should be able to grasp the concept of regular UNO. The game also comes in a mobile version that kids can play on their tablets or phones.
Animal Jam is a good online choice for this age group. The game exists in a virtual world that teaches kids about zoology and ecology. The app is produced by the National Geographic Society and focuses on ages six through 12.
Educational Games for Kids in Middle School
Middle school may be the toughest age group of all when you're trying to hold a child's attention, particularly for family game night filled with educational games. However, it's not a lost cause, and there are some games out there your child may enjoy.
Taboo is a top-rated game for both kids and adults. As another game that's similar to charades, Taboo requires you to try to get your team to guess a certain word, but you have to do it by giving clues that don't include five very specific — and extremely obvious — keywords. This game focuses on strategy and vocabulary building as well as team building and is a great way to bond with your brood. 
When it comes to math skills, the classic favorite Battleship is a suggested game for this age group. While Battleship is a highly competitive game, it goes beyond fun to teach kids in the middle grades about using X and Y coordinates on a grid and using their critical thinking skills to plot strategies.
If you're looking for an educationally-based, online game for middle school kids, check out Prodigy, a whip smart game available for PCs, iOS and Android that's free to download and play. Designed to foster mathematical acumen, Prodigy's difficulty increases as math skills are developed. The only way to advance in the game is to solve problems correctly. 
Even games that aren't specifically "educational" can help kids develop critical social skills, cooperation, patience, entrepreneurship and creativity. So, whether you break out your stack of board games or let the kids log on to Roblox, you can be sure there's a lot to learn from playing around.