What Is Cocktail Chic Attire?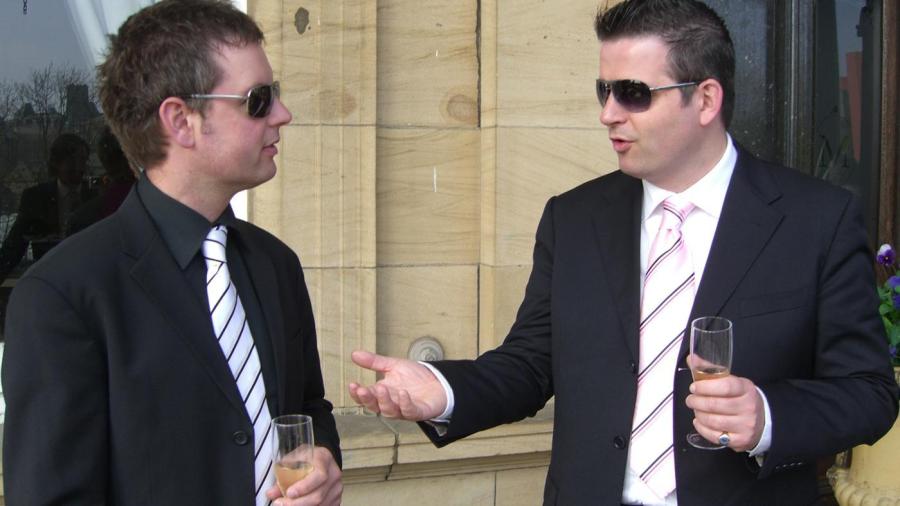 Cocktail chic attire includes dark suits and a tie for men, and party dresses for women. It's similar to traditional cocktail attire, with an emphasis on fashion-forward garments. Cocktail chic should be semi-formal, but can take some fashion risks.
A cocktail party is a semi-formal event, although it is also a festive occasion, so guests should dress with a touch of levity. Bright colors and fun accessories are acceptable. There is no concrete definition, however, for "cocktail chic," so it is up to the partygoer to determine the overall tone of the event when deciding what to wear.
When "cocktail chic" is noted on an invitation, it is important to consider the venue. If this is a professional or business-related cocktail party, the partygoer should avoid wearing anything too risque or outrageous. For example, short dresses or plunging necklines are unacceptable. If the party is purely social, it is safe to be a little bolder.
Cocktail chic can include such fashion-forward garments as palazzo pants, a jumpsuit, or vintage outfits. Bold fashion statements will be appreciated by a couture-minded crowd. Eye-catching outfits are recommended even for traditional cocktail parties. Embellishments like ruffles, beading and sequins can all be done tastefully.
For women, the classic "little black dress" is always a good option, as it can be accessorized to fit the mood of almost any event, from formal to haute couture.