Celebrities Involved in Horrible Car Accidents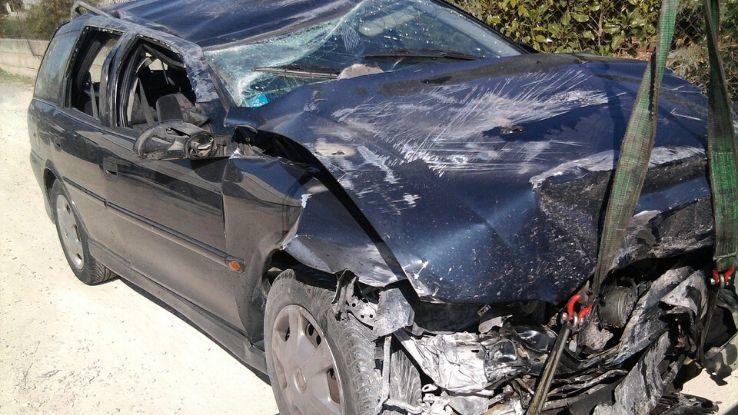 Car accidents often happen in the blink of an eye, yet their consequences can last forever. Even celebrities aren't immune to bad luck — or plain old bad choices — behind the wheel.
Some celebrities involved in horrible car accidents walk away with barely a scratch. Others are not so lucky, even if the fault was not their own. Let's take a look at some famous celebrities who survived deadly car accidents — and those who didn't.
James Dean
On September 30, 1955, Hollywood heartthrob James Dean had a fatal car accident just outside of Cholame, California. His passenger, a German mechanic, and the other driver, Donald Turnupseed, survived. Turnupseed pulled out in front of Dean at an intersection on the highway. He didn't see Dean in time, who was going extremely fast.
Dean had just recently purchased the Porsche 550 Spyder and was on his way to a race he had entered. Parts of his car were supposedly cursed after the crash, as some collectors who re-used them ended up in fatal crashes themselves.
Gary Busey
Back in 1989, Gary Busey had a serious motorcycle accident that almost cost him his life. Because he wasn't wearing a helmet, he sustained serious brain damage and had to relearn basic motor skills like walking, talking and swallowing. Busey was lucky to survive, as most patients with his type of injuries don't survive.
He was in physical and cognitive therapy at the hospital for nearly two months, but doctors actually expected him to be there much, much longer. By all accounts, his recovery was miraculous.
Lindsay Lohan
While evading the paparazzi in West Hollywood in 2005, Lindsay Lohan pulled a tricky turn and collided into the back of a minivan. Luckily, she only sustained minor injuries. Her car, on the other hand, a $180,000 Mercedes-Benz, sustained major damage.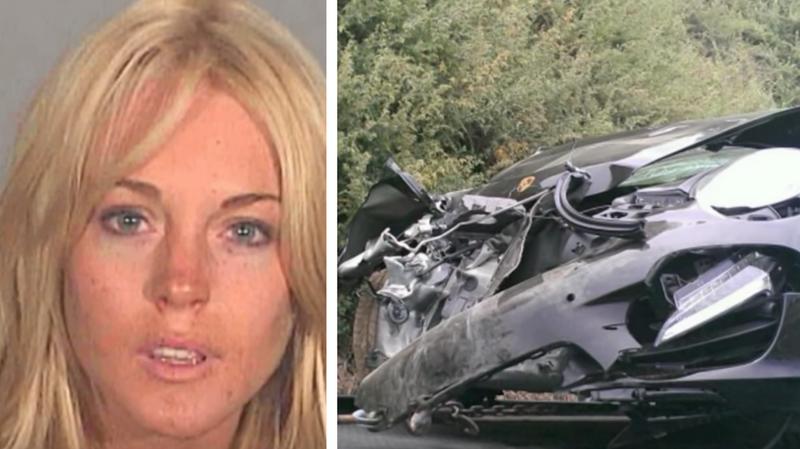 The other driver was attempting to make a U-turn from a parking space when Lohan's car allegedly collided with his at high speed, causing the minivan to spin around in the middle of the street. The incident hastened new liability laws for paparazzi who are involved in or cause accidents in California.
Tracy Morgan
In 2014, Tracy Morgan was seriously injured — and his friend, James McNair, was killed — when a tractor-trailer collided with Morgan's limousine tour bus. According to New Jersey State Police, a Walmart truck driver didn't slow down in time and slammed into the bus, causing it to overturn.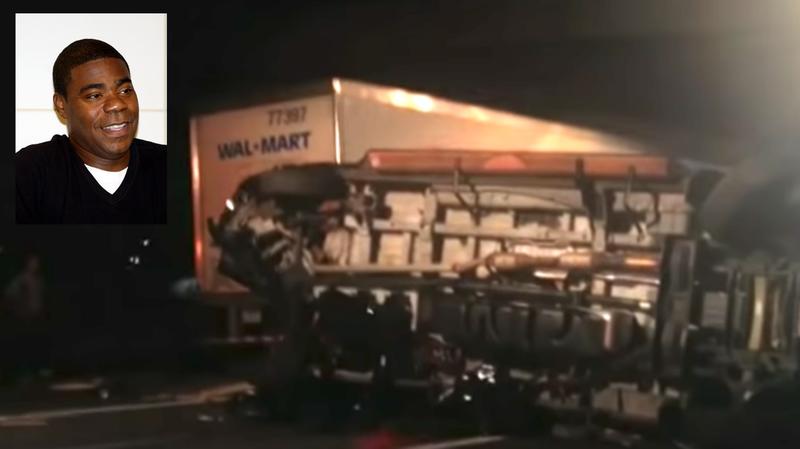 In 2015, he hosted Saturday Night Live, which served as his official comeback. Recovery was a long road for Morgan, but he eventually healed well enough to return to show business and has resumed working on multiple television and film projects.
Billy Idol
On the morning of February 6, 1990, Billy Idol ran a stop sign on his motorcycle and collided with another vehicle. In typical rock star fashion, Idol wasn't wearing a helmet, and he was seriously hurt. In fact, doctors barely saved his leg from amputation.
According to Idol, "The leg bone had gone straight through the jeans — whoooooarrr! — and ripped the muscle to shreds. Wild! Haha. And there was blood all over… I kept blacking out…" The accident caused him to lose his movie role as the T-1000 in Terminator 2.
Paul Walker
Paul Walker was a passenger on his way home from a charity event on the afternoon of November 30, 2013. According to events pieced together after the fact, Walker and his driver were traveling at around 100 mph when they collided into a lamp post, and the car exploded in a burst of flames. Both Walker and the driver died.
Walker was in the middle of shooting Fast & Furious 7, and his fellow castmates were devastated. Producers used his brother and CGI effects to complete his unfinished role in the hit film.
Morgan Freeman
After his horrible car accident in Mississippi in 2008, Morgan Freeman is lucky to be breathing. He lost control of the vehicle, and it veered off the highway and flipped several times before coming to rest in a ditch.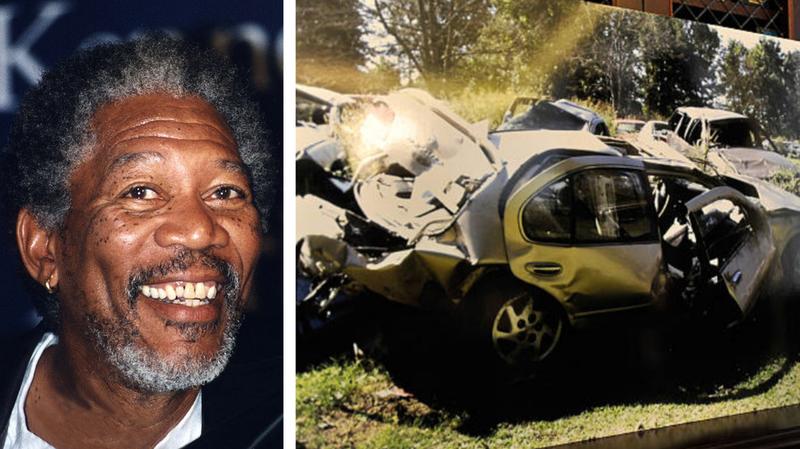 Morgan and his female companion had to be cut free from the vehicle and airlifted to the hospital in Memphis, more than 100 miles away. He broke his arm and elbow and also sustained serious injuries to his shoulder. He eventually fully recovered and is still active in Hollywood.
Helen Hunt
File it in the "it could have been much worse" category. In October 2019, Mad About You star Helen Hunt was a passenger in an SUV when it was T-boned by another car and flipped in the middle of a Los Angeles intersection. She was immediately taken to the hospital, where it was determined she had no serious injuries.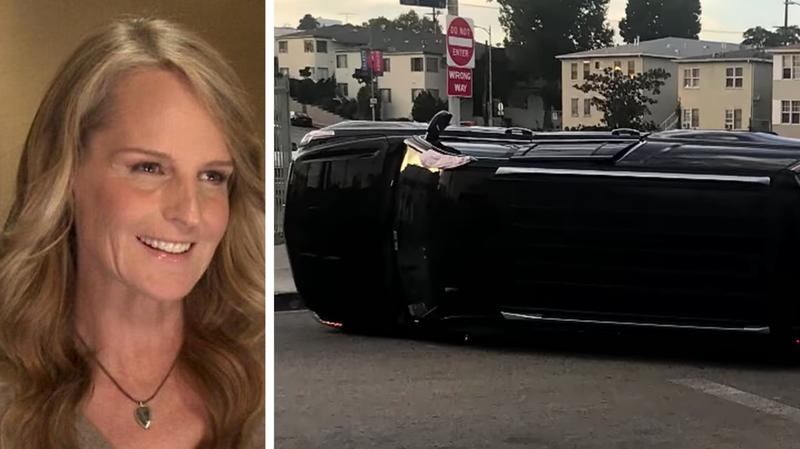 She was discharged later that evening from Cedars-Sinai Medical Center. Although the security footage available for the accident scene looked serious enough to cause fatalities, Hunt walked away unscathed.
George Lucas
George Lucas has always had a love of hot rods and driving fast, and one day it almost cost him his life. While still in high school, he was driving a custom modified Autobianchi Bianchina when another car hit him at 90 mph. Lucas' car flipped over multiple times, and it took him four months to recover in the hospital.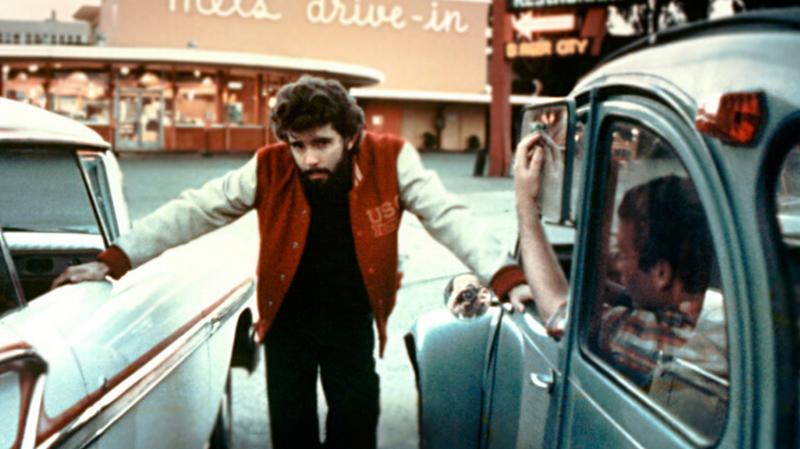 Before the accident, he was planning to become a professional race car driver. After his brush with death, he turned his attention to film school — and the rest is history.
Jayne Mansfield
One of the original blonde bombshells in Hollywood, Jayne Mansfield became a sensation as a curvaceous and sexy movie star. In June 1967, she left Biloxi, Mississippi, after finishing a nightclub gig and was on her way to New Orleans, where she was scheduled for a television appearance the next day.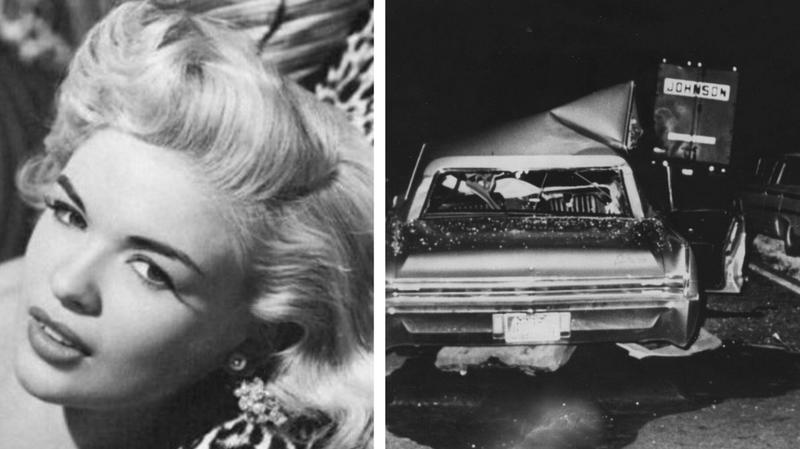 She was traveling with her driver, her companion and three of her children. Her car collided with the rear end of a tractor-trailer, killing all the adults in the car. All three children survived.
Dennis Rodman
Sometimes, you just can't escape bad luck. In 2010, Dennis Rodman was driving his Range Rover on the I-95 freeway in Fort Lauderdale when he suddenly had a blowout of one of his tires. Due to his rate of speed, the blowout caused the car to flip over three times.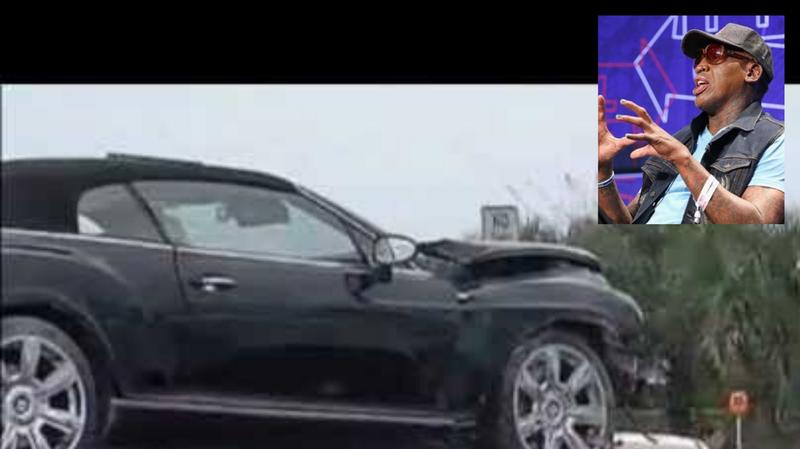 Other drivers near the accident stopped to help pull Rodman from the car. When they recognized him, some even asked him for his autograph! At the hospital, Rodman was treated for a minor injury to his finger.
Gloria Estefan
Things took a turn for the scary for Gloria Estefan one night in 1990. She was traveling through the Pocono Mountains on her Miami Sound Machine tour bus with her husband and son. A truck crashed into the bus, and the sudden impact caused Estefan to suffer a crushed vertebrae.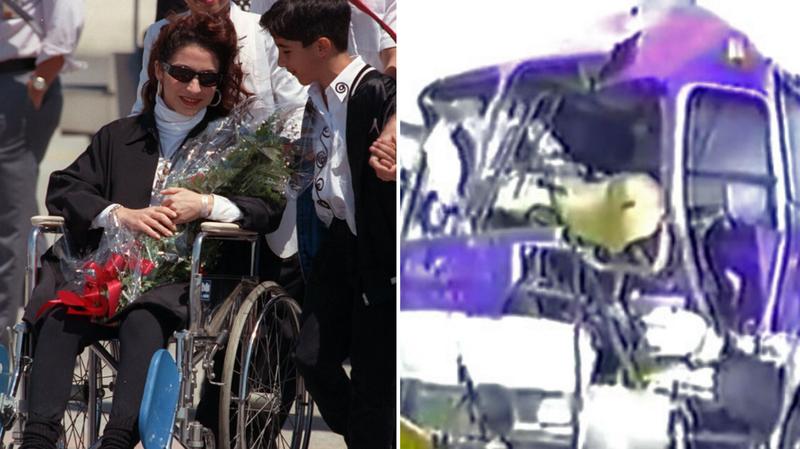 Had the spinal injury been any worse, she could have been paralyzed. Estefan has always expressed gratitude for her recovery and publicly supports The Miami Project to Cure Paralysis, a spinal cord research center in Florida.
Harrison Ford
One day in 2015, Harrison Ford was flying his small WWII-era aircraft — okay, it's not a car but still notable — over Santa Monica when he suddenly experienced engine failure. An experienced pilot, Ford didn't panic and tried to make an emergency landing at a conveniently placed golf course.
It was a bumpy landing, and he clipped a few trees on the way in. Later in the hospital, he was found to have a broken pelvis, a broken back, a dislocated ankle and a bump and gash on his head. Now you can see why this guy was perfect for Indiana Jones.
Princess Diana
Due to a series of events that are still hotly contested, Princess Diana passed away on August 31, 1997. Her death was a result of a car accident inside a road tunnel in Paris, France.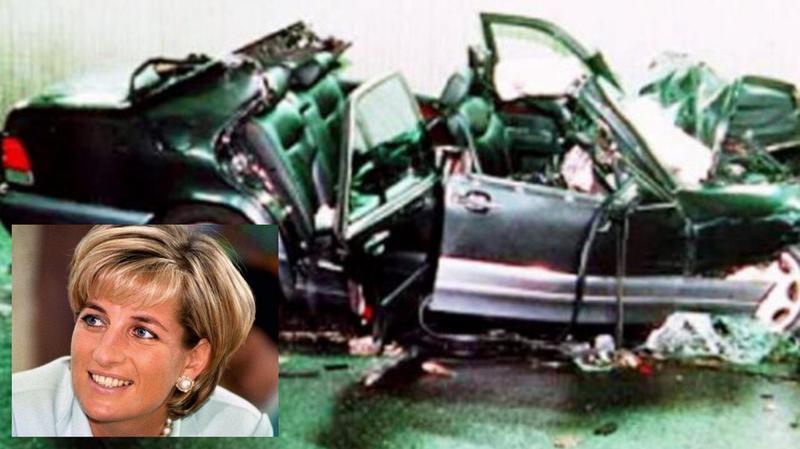 In one version of events, the paparazzi chasing her vehicle allegedly caused the crash. The results of a British investigation determined that it was the sole fault of the driver, who had been drinking and was on prescription medication. Additionally, none of the occupants had on seat belts — which could have saved them — at the time of the crash.
Stevie Wonder
Stevie Wonder had a close call back in 1973 in a near-fatal car accident. After finishing a concert in South Carolina, Wonder was sleeping, and his cousin was driving. His cousin hit the back of a flatbed truck, and Wonder struck his head very hard. The car veered out of control and rolled several times.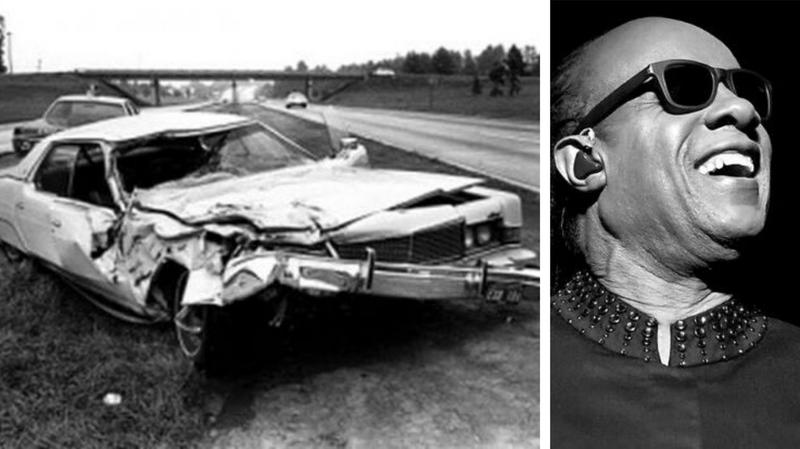 Wonder was unconscious for several days in the hospital and suffered a bruise on the brain. He recovered after two weeks, and although he temporarily lost his sense of smell, he had no permanent damage.
Grace Kelly
Princess Grace of Monaco died in France on September 23, 1982, after her car crashed through a retaining wall and flipped over a cliff. Her 17-year-old daughter, Stephanie, survived.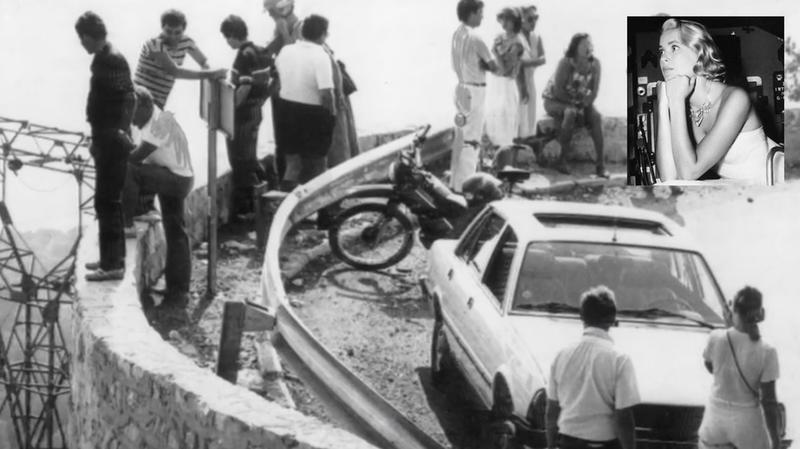 Although the chauffeur attempted to drive, Princess Grace decided to drive herself because there was only room for two people because of dresses she had laid out in the back seat. Later, Stephanie recalled that Princess Grace had a sudden headache and seemed to blackout moments before trying to slam on the brakes. Evidence suggests she may have hit the accelerator by mistake.
Mark Hamill
In 1976, after the filming of the original Star Wars but before it was released, Mark Hamill had a serious car accident. According to Hamill, he was driving too fast "out in the sticks" and lost control. The car rolled several times, and Hamill fractured his nose and his cheek.
His face was noticeably different when it was time to shoot the sequel, so George Lucas reportedly added a scene where Luke gets beat up by a snow monster to explain why his face looks slightly different than before.
Kevin Hart
Mega comedian Kevin Hart didn't find his car accident in Calabasas, California, to be anything to laugh about. In September 2019, Hart was a passenger in his 1970 Plymouth Barracuda, when his friend, Jared Black, lost control of the vehicle.
The car rolled down an embankment, causing Hart and Black to sustain injuries that required back surgery. He had surgery the same day, and according to an interview with his wife, he is "going to be just fine." No word on the condition of the car, which the star had just purchased in July.
Travis Tritt
Country singer Travis Tritt will probably never forget what he witnessed during a fatal multi-vehicle accident in Myrtle Beach in May of 2019. Riding in his tour bus, he saw a vehicle going the wrong way down Veteran's Highway. The vehicle in front of Tritt's tour bus hit the wrong-way car, which then sideswiped Tritt's tour bus.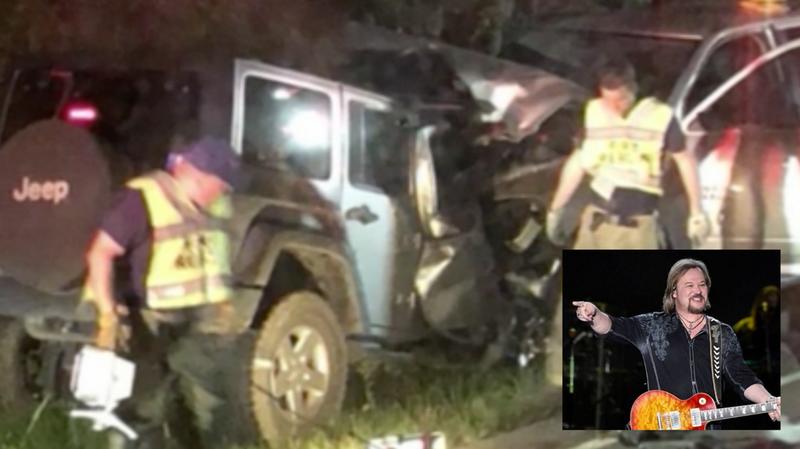 Although no one on the tour bus was hurt, two people in the other vehicles died. Tritt later said, "I beg everyone to please, please, please drive sober…I am saddened beyond belief."
Lisa "Left Eye" Lopes
Lisa Left Eye Lopes, one of the singers and stars in the hit all-girl group TLC, passed away in a car accident in Honduras in 2002. Traveling on a curvy and unfamiliar road, she attempted to pass a truck on the highway but had to swerve to avoid a vehicle coming the other way.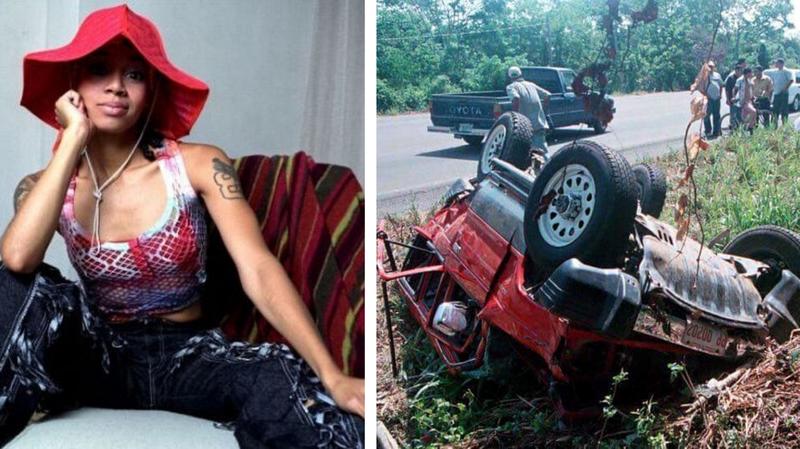 She lost control of the SUV and plunged into a ditch, rolling and hitting trees on the way down. Lopes died as a result of a broken neck and head trauma, but everyone else in the SUV survived.
Niki Taylor
Model Niki Taylor was involved in a traumatic car crash in May 2001 that impacted the rest of her life. Her boyfriend was driving, and he became distracted answering his phone and lost control of the vehicle, crashing into a utility pole.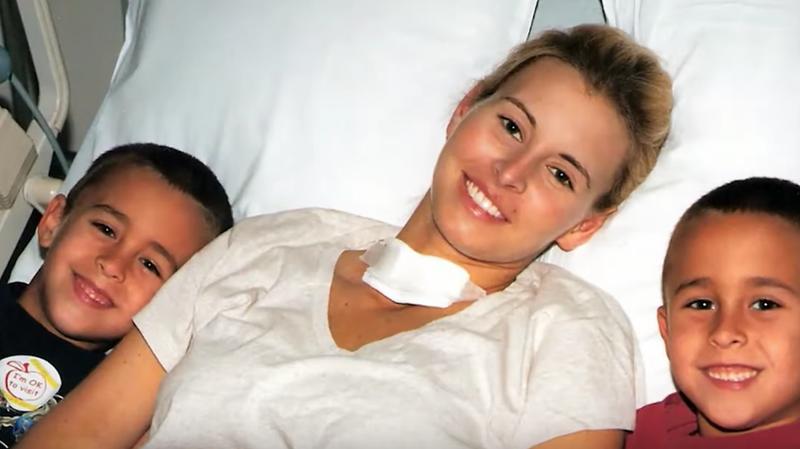 She fell into a coma as a result of her injuries, which included a lacerated liver, a collapsed lung and multiple internal injuries. Doctors operated on her 56 times and had to implant two steel rods to support her spine. Miraculously recovered, she gave up modeling and is now a TV presenter.
Rebecca Gayheart
Actress Rebecca Gayheart was involved in a fatal auto accident back in 2001, but she wasn't the fatality. Gayheart hit a 9-year-old boy when she was attempting to pass a vehicle. Some reported she was going too fast in a school zone. She remained with the boy until the ambulance came, but he later passed away.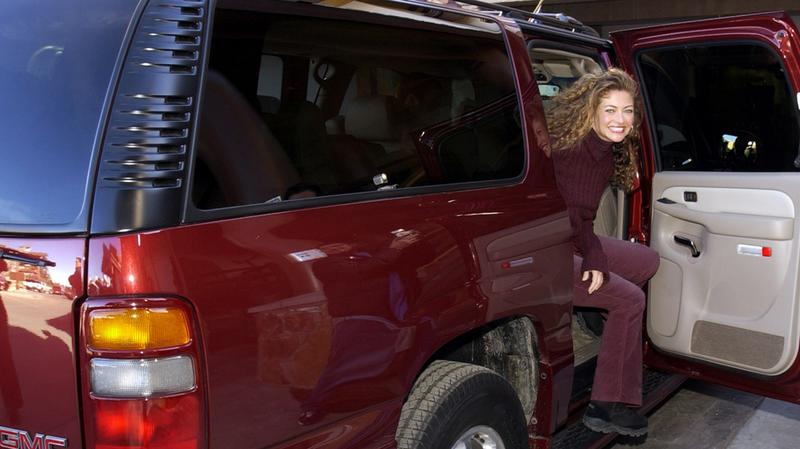 She later said, "The pain of this tragedy will live with me forever." She later pled "no contest" to a misdemeanor vehicular manslaughter charge and was sentenced to three years' probation and 750 hours of community service.
Vince Neil
Vince Neil, the lead vocalist for the hit '80's band Mötley Crüe, survived a tragic car accident that claimed the life of English musician Nicholas "Razzle" Dingley back in 1984. Neil and Dingley were on their way to a liquor store when they hit an oncoming car.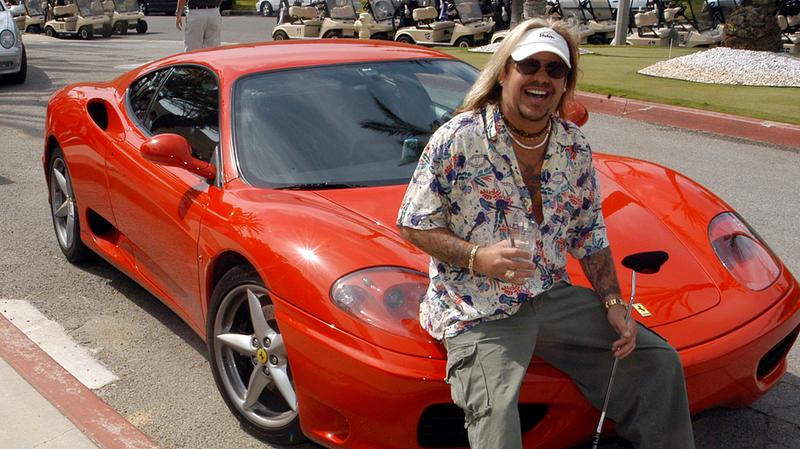 Neil was driving and had a blood alcohol level over the legal limit. Two people in the other car suffered brain damage. He was sentenced to 200 hours of community service, 30 days in jail and $2.6 million in restitution paid to the victims.
Ryan Dunn
Jackass star and stuntman Ryan Dunn died tragically in a car accident in 2011. Dunn and his friend were estimated to be speeding at 130 mph when his car smashed through a guardrail and exploded into flames in the woods. Both men died in the crash.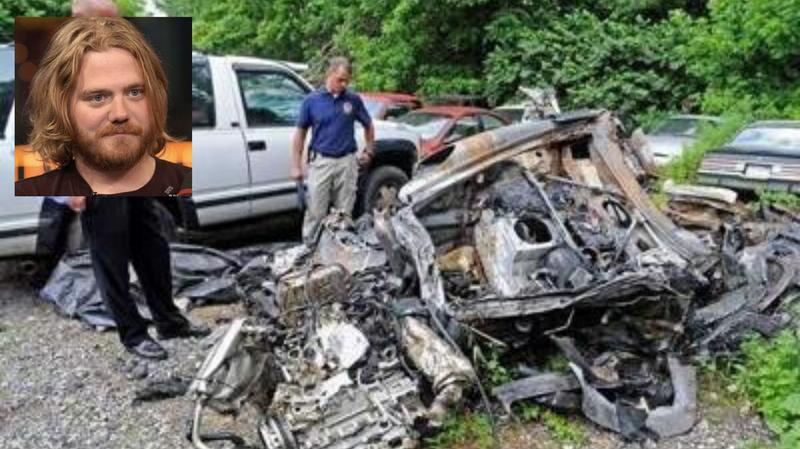 Authorities later revealed Dunn's blood alcohol limit to be at nearly twice Pennsylvania's legal limit. Police Chief Michael Carroll later said he had "never seen a car destroyed in an automobile accident the way this car was … even before it caught on fire."
Rachel Bilson
Rachel Bilson, former star of The O.C. and Hart of Dixie, is fortunate to be alive after being in a traumatic car accident when she was 16. Bilson revealed in an interview that the small car they were in was going way too fast on the Pacific Coast Highway and crashed head-on into an oncoming truck.
Rescuers had to cut the occupants out of the car, and one was paralyzed. Bilson spent two days in a coma and still suffers headaches and memory loss due to the incident.
Juliette Lewis
Actress and musician Juliette Lewis was the victim of a hit and run car accident back in 2010. She was headed home as a passenger after a day of working a promotional event for her latest film, Conviction. The other driver allegedly ran a red light and T-boned their Town Car in an intersection.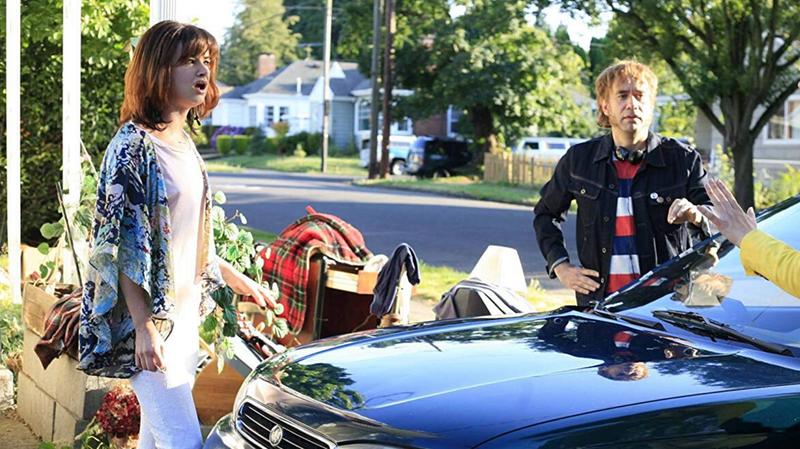 The other driver fled the scene, but he was later identified and his car was impounded. Although she was a bit sore, Lewis suffered no major injuries. The car she was riding in was completely totaled, so she can count herself lucky.
Luther Vandross
Back in 1986, singer, songwriter and music producer Luther Vandross was involved in a car accident that claimed the life of one of his passengers. According to reports, Vandross drifted into the oncoming lane, causing a collision with two other cars.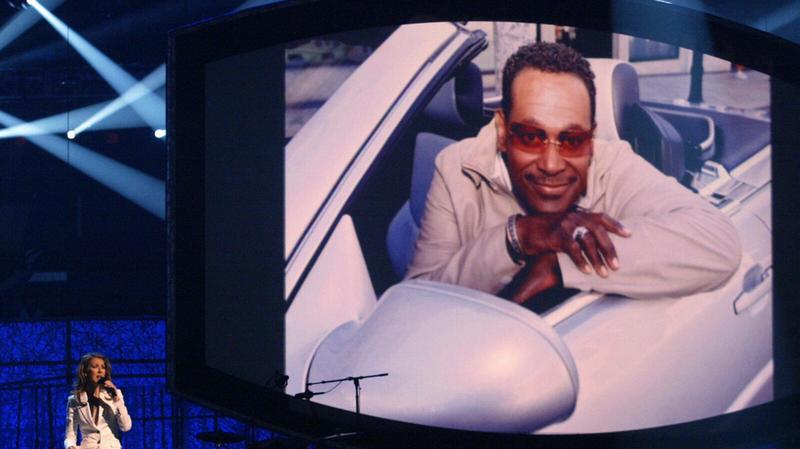 His passenger later died as a result of his injuries, and Vandross suffered a few broken ribs. Three of the occupants in the other vehicles had minor injuries. Vandross eventually pled no contest to reckless driving and settled out of court with the victim's family for approximately $600,000.
Halle Berry
In 2000, Halle Berry allegedly fled the scene of an accident after she ran a red light. Berry went directly home after the incident and later went to a hospital, where she was treated and received 22 stitches. The next morning, she filed a police report.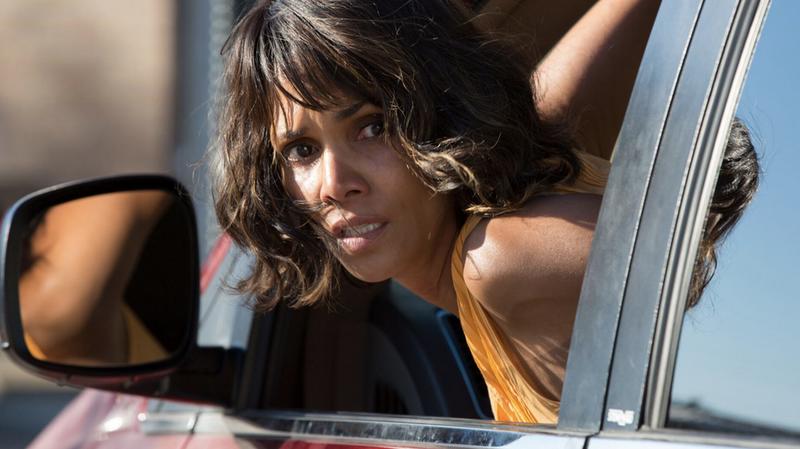 Lawyers later explained that Berry could not remember the events of the crash due to her head injury. She was sentenced to a fine and community service for leaving the scene, and she settled out of court in a civil suit with the other driver.
Sam Kinison
Famous comedian Sam Kinison, known for his manic and loud screaming, died as the result of a car accident in 1992. A 17-year-old drunk driver veered into his lane, causing a head-on collision that proved fatal for Kinison. His wife survived the accident.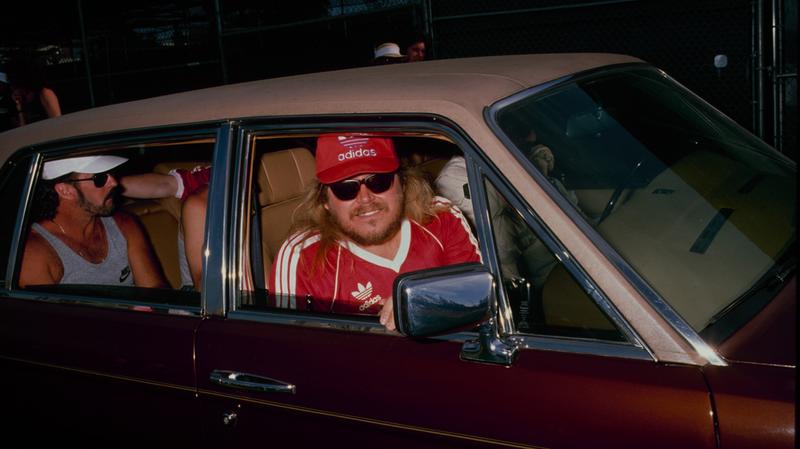 His cause of death was later determined to be a torn aorta and other internal injuries. His best friend was with him, who said he appeared to be talking to someone he loved in his head and seemed to be at peace when he passed away.
Padma Lakshmi
Padma Lakshmi, host of Top Chef, suffered a horrible accident in Malibu at the young age of 14. While traveling with her parents, their car went off the freeway and plummeted down about 40 feet.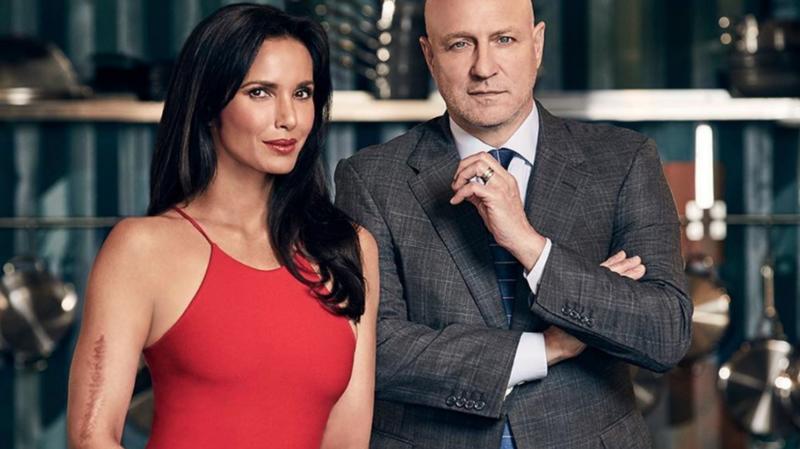 The resulting injuries left Lakshmi with a huge scar on her body, something she spent a long time trying to hide from public view. Now, she's proud of it, saying, "I love my scar. It is so much a part of me…The scar has singled me out and made me who I am."