From Grammarly to Hemingway: the Best Free Grammar Check Options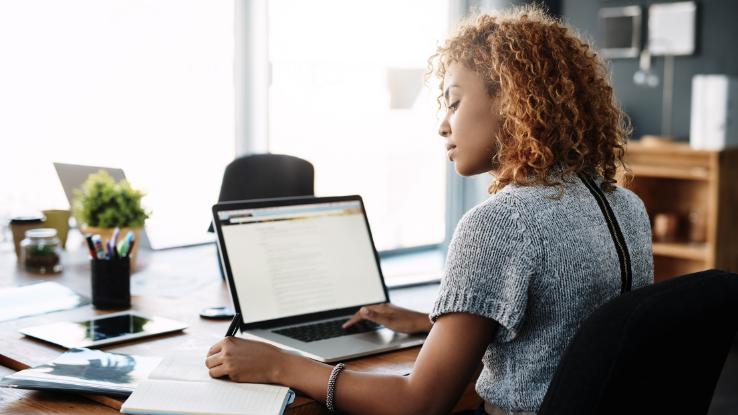 Whether it's sending emails, creating work documents, or completing research papers, we can all use a little help when we're sitting at a computer to write. Not that long ago, you had to hope that spellcheck would catch any grammatical mistakes as you were typing. Thankfully, there are much better options available these days, especially if writing is not your strong suit. With this in mind, we're taking a look at some of the best grammar checkers and writing aids out there — and, to make matters better, these resources are all free.
Grammarly
Grammarly is a popular grammar check software program that prides itself on being able "to improve lives by improving communication." It can be easily added to Google Chrome, Microsoft Office and macOS, allowing users to receive corrections while they write on Gmail, Outlook, Twitter and other popular sites and apps. Looking to check a full doc? You can also upload documents online through the Grammarly website. And, for folks who are glued to their phones, there's even a "Grammarly Keyboard."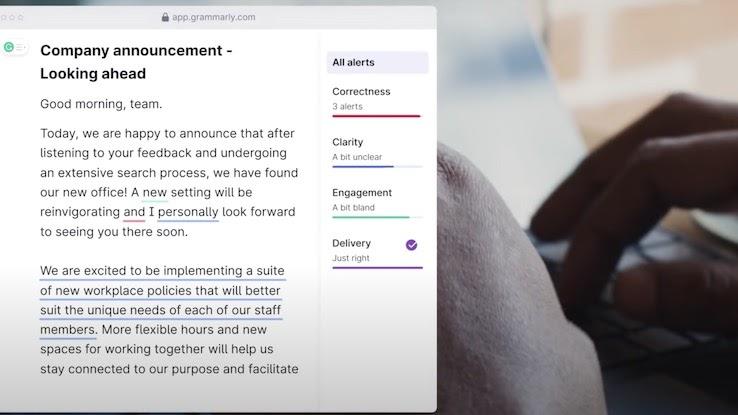 The free version of Grammarly offers basic help with spelling, grammar and punctuation. However, there are both premium and business plans available, both of which offer many more features. The premium plan starts at $12 per month. This leveled up plan includes everything the free version offers, but it also helps users rewrite sentences to provide more clarity; provides better word choice substitutions and tone adjustments; and detects potential plagiarism issues. Perfect for teams of up to 149 people, the business plan starts at $15 per month per user and helps employees communicate more effectively. In addition to boasting the premium features, the business plan also provides a company-specific style guide — and offers centralized billing and top-notch customer support. "Grammarly allows me to have confidence that I have two pairs of eyes on everything that I write," HR professional Sara Hetyonk shared on the software's website.
Reverso
Reverso is unique in that it serves as a translation service, allowing users to translate words, sentences and full documents from English to Spanish, Italian, Hebrew, Japanese, and many other languages. In addition, it's also a top-notch spell checker and grammar guide. If you're looking to try out writing in a second language, Reverso offers an easy-to-use dictionary as well as a conjugator. The company notes that the service is able to "significantly improve communication and collaboration among global teams, their clients and suppliers worldwide."
Reverso is available online and as an add-on for macOS, as well as a separate app through the Apple Store and Google Play. Users interested in the service can opt into a free trial, which allows them to translate or check around 2,500 words. After that limit is reached, they can buy a monthly subscription for $10.99 a month, or save 50% by subscribing for the whole year.
Linguix
Much like the other services on this list, Linguix uses artificial intelligence to check your writing for errors while you type. Additionally, it provides context-appropriate grammar, punctuation and style suggestions. Popular grammatical errors are explained in detail as well, which makes Linguix a great educational tool. What sets it apart from other services is its "Look Up in Linguix" feature, which allows readers to look up words and receive detailed definitions as well as a list of synonyms.
Another unique feature? Linguix's website allows you to access audience-specific statistics — and that allows you to create content that resonates most with your target audience, making it a useful feature for both journalists and bloggers. Finally, Linguix makes repetitive tasks less of a headache: By creating templates for common emails and messages, you can save a ton of time. Interested in the software? A free version can be added to Chrome, but Linguix also offers a free trial of its premium plan, which, after that free period, is available annually for about $15 a month (but half off if you subscribe for a year). "As a technical writer, having a tool like this is a dream come true in terms of finding spelling errors, grammar usage, and voice," writer Dan Dalal shared on the company's website.
Hemingway
The Hemingway Editor app is committed to helping writers cut down lengthy, complex sentences — and eliminate errors — with its color-coded system. Fo example, a sentence that's highlighted in yellow indicates that you should either shorten it or split it into multiple sentences. See a red highlight? That means the app finds the sentence either too dull or too complicated for readers. As an added bonus, Hemingway also helps you select more interesting, varied words so that your writing will really pop. The New Yorker notes that, "Hemingway is, like a good editor, attuned to the places where vanity seems to be getting the better of things."
The editor is available as an app for both Mac and PC users — all for a one-time cost of $19.99. Since it'll be installed on your computer, you can use Hemingway without an internet connection. Additionally, it boasts one-click integrations with Medium and WordPress, which allows writers to save drafts or publish posts right from the Hemingway Editor — well, after sprucing them up. Looking to jazz up the look of your work? Hemingway also offers various headings and formatting options, all of which can be exported as HTML for other content management systems (CMS). The latest version of the app even allows you to save a PDF of a written piece with the various highlights intact, which is perfect for writers who are looking to discuss revisions with their real-life editor or teacher.
After the Deadline
After the Deadline used to be a free server program that would spell check; detect misused words; and explain errors while you write. Recently the developers stopped hosting the service, but rather than shutting down entirely, they made the source code free and available for download, so that you can run your own AtD server if you wish!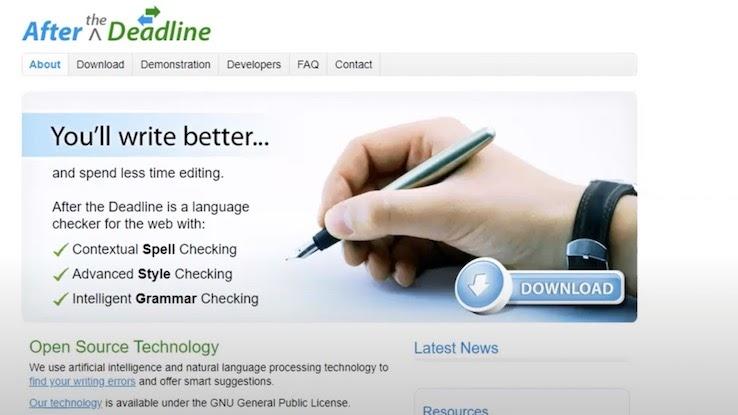 The program can help you refine your writing style, making suggestions that help with both clarity and precision. For example, it finds complex phrases and suggests ways to simplify them; points out redundant phrases; and roots out cliches and biased language. Best of all, After the Deadline will explain these errors and corrections, which will help you become a better writer in the long run.