How Do I Use a Free Invoice Receipt Template?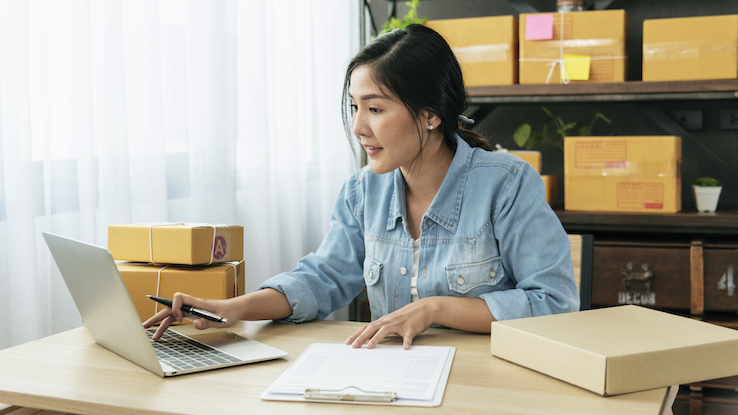 If you run a small business, your customers may have different payment preferences for compensating you for the products or services you provide. They may consider using checks, credit cards, debit cards or even cryptocurrency, depending on the methods you accept. But no matter how they prefer to pay, keeping a good record of all payments requested from and made to your company is essential for accounting purposes.
Customers may also request proof of cash payments for products and services. In these cases, an invoice receipt is important. But maintaining receipt books can get overwhelming to manage — not to mention time-consuming to draft up.
Instead, you can use an invoice receipt template to save time. A template is easy to use and easy to store digitally for your records. If you're looking to use a free invoice receipt template, here's what you need to know.
What Is a Free Invoice Receipt?
A free invoice receipt is a document that proves a customer's cash payment to a company. Invoice receipts are made to customers who want proof of the payment. These receipts show a company's compensation for the goods requested by a customer.
A free invoice receipt saves your time, unlike a manual receipt. Further, you can operate and store it online, reducing the paperwork in your business. A free invoice receipt uses a template that makes it easier to use and track.
What Is on a Free Invoice Receipt?
An invoice receipt is a document that a seller gives a buyer as proof of a transaction in which money from the buyer is exchanged for goods or services from the seller. A free invoice receipt includes an invoice number, date and contact information. The invoice number helps trace an invoice receipt belonging to a particular customer; it serves as a reference in case you need to easily access the invoice in the future.
The invoice date indicates when the transaction took place or when the goods or services were rendered. Contact information displays the name of your business and its physical address. Apart from your email address, telephone number and website, the invoice should also include:
Customer contact information
Products and services requested or provided
The price and quantity of each item
Any deposits or discounts applied
Where to Find Free Invoice Receipt Templates Online
It's easy to get a free invoice receipt template online. Shopify, Google and Microsoft are common free invoice receipt template sources. InvoicetoGo, Hub Spot and Freshbooks are also credible sources for free invoice receipt templates.
You can download templates, print them out and fill them out offline if you prefer to maintain physical copies or your customers want them for their files. With Google Docs, you can download a pre-made template or design a custom one. You can also use Microsoft Excel to get customizable and easy-to-use Microsoft-compatible templates.
Many free digital templates can also stay digital — meaning you can maintain them online via cloud storage and send them to customers via email. It can help to offer both online and offline access to these documents to suit customer needs.
How to Fill Out a Free Invoice Receipt
With the best templates, filling out a free invoice receipt is easy. After securing a template, come up with the details you want to fill in. Also, state that it's an invoice receipt to distinguish it from other receipts.
Use this checklist to ensure you have filled in the:
Business name
Invoice receipt number
Customer name and contact details, if available
Items and quantities of goods or a description of services provided
Date and address services or goods were provided
For an invoice receipt to be easy for your customers to understand, make sure you fill out accurate information. Once it's done, you can save the invoice receipt to the cloud, download it as a PDF and send it to customers.