How Can I Stop Unwanted Emails? 5 Tips for When Unsubscribe Doesn't Seem to Work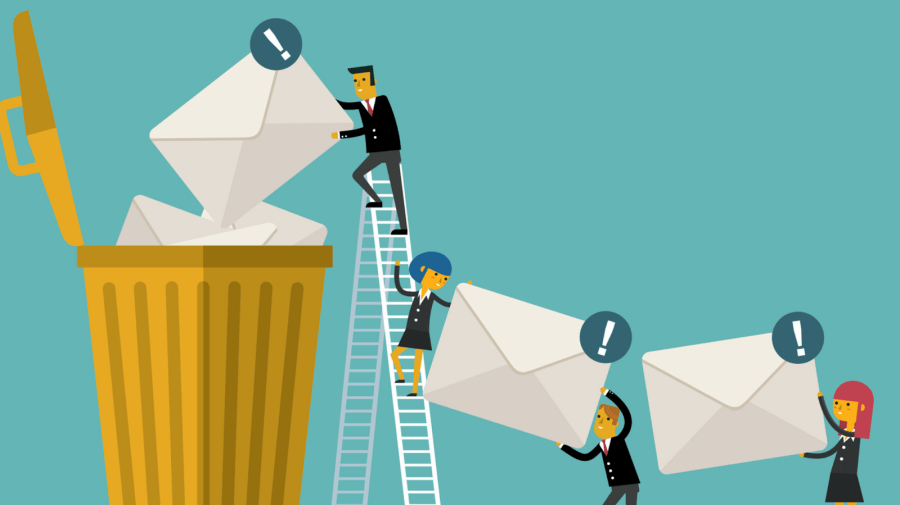 You've probably opened up your inbox and found yourself with far too many irrelevant emails. Apart from all of those marketing emails and e-newsletters you forgot you signed up for, you might also be inundated with spam. And that'll probably leave you wondering, "How can I stop unwanted emails for good?"
More likely than not, you've tried unsubscribing — but, sometimes, that only does the trick for a bit, if at all. Don't sweat it. We've rounded up some helpful tips and tricks for decluttering your inbox and keeping it that way.
What Are Junk Emails?
Junk mail, or what many call unwanted emails, are all the emails sent to your inbox that cover topics you're no longer interested in. (Sometimes, you might have never shown an interest in something, but you got on some subscription list anyway.) Often, these junk messages come in the form of promotional content, but they may also manifest in other more nefarious ways, including:
Spam emails: These are often sent out to many subscribers to promote products and services.
Phishing emails: These emails may appear like marketing messages at first glance, but have links to malicious software.
Ghost emails: Emails without a sender address and a subject, these can stem from a system glitch — and although they rarely expose your device to malware.
Personal unwanted emails: Sometimes you just get messages from people you no longer wish to hear from. We've all been there.
How to Stop Getting Spam Emails
Unwanted emails can be a real nuisance. Not only do they clutter your inbox, but they take up your valuable time. After all, how many of us have wasted a good chunk of time trying to get rid of unwanted emails? Decluttering is a real process. Fortunately, there are a few ways to make dealing with junk email a bit simpler.
1. Make Use of Your Spam Filter
When you see a junk email in your inbox, you're probably tempted to delete it immediately. The only problem? While that may declutter your inbox at the moment, it won't help prevent more unwanted emails from reaching you. A better alternative would be to use the existing junk emails to "train" your spam filter on what it should block going forward.
Most email service providers will have a built-in spam filter. For Gmail users, the filter option appears in the Create Filter box when you type the email address associated with the unwanted email on the search box. On MS Outlook, you can select an email and click the Junk icon on the navigation bar, and, on Mac, all you have to do is click the Junk button at the top of your window, select Preferences, choose Junk Mail, and Enable Junk Mail Filtering.
2. Block Unwanted Emails
Blocking emails also goes a long way in reducing the number of unwanted emails you get in your inbox. You can opt to block out unwanted senders or subscriptions you previously wanted, but no longer care for. Blocking junk emails is easy, though the process differs between email providers. Here are steps for some of the major email providers:
Blocking Junk Emails on Gmail
Open the unwanted message.
Click the three vertical lines at the corner on the right.
Select the Block [sender] option.
To undo the process, should you later want to, follow the first two steps above, but this time click on the Unblock button.
Blocking Junk Emails on Yahoo
Click the Gear icon and choose Settings.
Under Settings, select the Blocked Addresses option.
Type the email address of the unwanted email on the Add an Address field and select Block.
Blocking Junk Emails on MS Outlook
Select the message you intend to block.
Go to the menu bar, click on the message, and select Junk Mail.
Select the Block Sender option, and MS Outlook will filter out any messages from this sender in the future.
To reverse this, you will need to select Tools in the menu bar and click on Junk Email Preferences.
This will redirect you to a tab named Blocked Senders, where you can select the email address you want to unblock and click on Remove Selected Sender.
Don't worry about blocked senders finding out that you've axed them. In the case of all these email service providers, blocked senders don't get a notification that they've been blocked.
3. Review a Site's Privacy Policies
Understanding privacy policies comes in handy when you're dealing with unwanted emails. Before you subscribe to a mailing list or submit your email address to a website, it's important that you pay close attention to the terms and conditions.
Some websites make it clear that you've agreed to be contacted as frequently as the site wishes, all by submitting your email address. In short, such clauses help you determine whether getting spammed is worth providing your contact information.
4. Avoid Responding to Junk Email
Regardless of how tempting it gets, avoid sending emails back to accounts that are spamming you. You might assume that writing to let them know you no longer wish to be contacted will help, but it probably won't. If anything, responding to junk mail only confirms that your email address is still active, putting you at an even greater risk for receiving more junk.
This also applies to purchasing products that are advertised in spam emails. Some of these unwanted emails come with links, asking you to click and make a purchase — often at a discounted price. Although it may seem like a reasonable offer, shopping through a spam email increases your chances of getting future spam. In worst case scenarios, following these links, especially from untrusted senders, could expose you to malware.
5. Don't Click the Unsubscribe Button
It seems like a no-brainer: clicking unsubscribe should stop unwanted emails, right? Sure, it could be effective in some cases, but that often isn't the solution you hope it'll be. Unless you trust a company or site, avoid unsubscribing from a mailing list. Often, unsubscribe buttons are corrupted, meaning they'll either make you the target of more spam or, in an even worse turn, they'll link you to malicious software that'll self-install on your device and put your personal information at risk.