Celebrities Who Look Different After Cosmetic Transformations
In Hollywood, plastic surgery is somewhat of a norm. Stars of all ages rely on the skills of surgeons to help them enhance their best features, stave off the signs of aging and just generally look like the best versions of themselves. Unfortunately, some celebrities go too far in their pursuit of "perfection."
It's not clear why they think no one will notice a dramatic change when all eyes are on them. (One of life's great mysteries, perhaps?) Regardless, many celebrities finish their careers in Hollywood looking much different than when they started — sometimes becoming virtually unrecognizable. Let's take a look at some of the most extreme transformations that left fans stunned.
Cardi B
Since becoming prominent in the music scene a few years back, the rapper and songwriter has been open about her plastic surgery, of which she has a long history. Her first cosmetic enhancement came in the form of breast implants when she was only 20 years old. Since then, she has had several different cosmetic procedures performed, including dental work and even butt injections.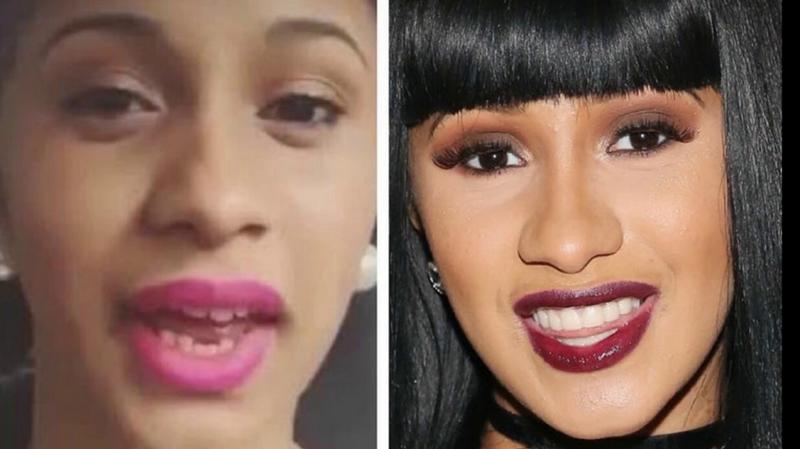 She's not ashamed of the enhancements she has chosen to make. In fact, she has even expressed a willingness and desire to have additional surgical procedures, especially after the birth of her daughter.
Iggy Azalea
Another prominent figure in the music industry, Iggy Azalea has gone under the knife for a number of different procedures. She has spoken about her breast augmentation — which she shows off proudly — and many speculate she has had other surgeries as well.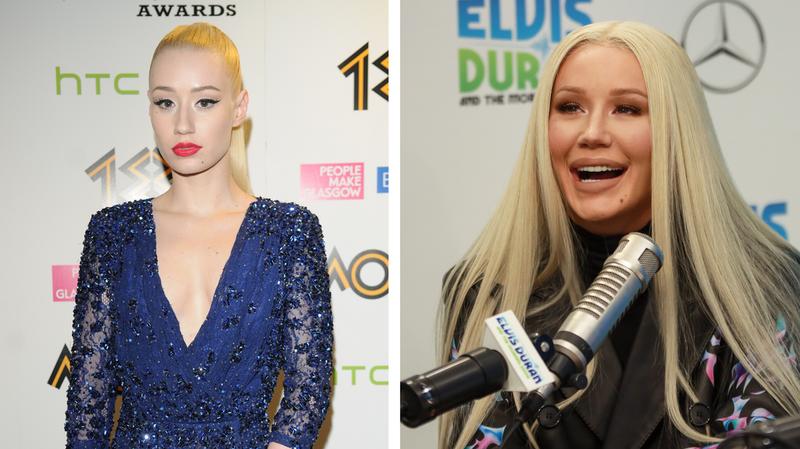 When it comes to her rear end, it has been hypothesized that she's had everything from a Brazilian butt lift to butt implants, two procedures that use entirely different techniques but produce very similar results. It has been speculated that the singer and rapper has had some facial work done as well, but she has not confirmed this.
Courteney Cox
The Friends star was notorious in Hollywood at one point for her "stiff" face, a far cry from her days as Monica Geller. Fortunately, times have changed for the actress, and she has decided to take a step back to a more natural look by removing all the fillers from her face.
Since making this decision, Cox has regained much of her original charm, something that likely has a lot to do with the new range of movement afforded to her face. She has said she is committed to remaining all-natural from now on.
Meg Ryan
Actress Meg Ryan is known for starring in many a rom-com, from Sleepless in Seattle to You've Got Mail. Even though her blond locks have remained recognizable, she's known for her changing appearance, namely plumper cheeks and fuller lips.
Ryan has never explicitly spoken about going under the knife for cosmetic surgery and finds the way folks focus on her looks a bit grating. "We get stuck in these conversations about looks and hair color," the When Harry Met Sally star said. "It's interesting and funny for five minutes. But it's not that interesting." 
Khloe Kardashian
The second Kardashian sister on this list and the third-oldest of the Kardashian clan, Khloe has also had plastic surgery. She has admitted to using facial fillers, although she has since had them dissolved. Many have also speculated that she had butt implants or a Brazilian butt lift, although she has not confirmed this.
She is adamant that she will not go back to the facial fillers, as they altered her appearance and her face in a way that she didn't like. Even after dissolving them, she feels they have left their mark and regrets that choice.
Kenny Rogers
When Kenny Rogers went in for an eyelid lift, he expected much different results. Instead of looking youthful and energized, he was left with eyelid skin stretched way too tight — and an almost unrecognizable look. The singer isn't happy about the results of his procedure, but he's had to learn to live with it.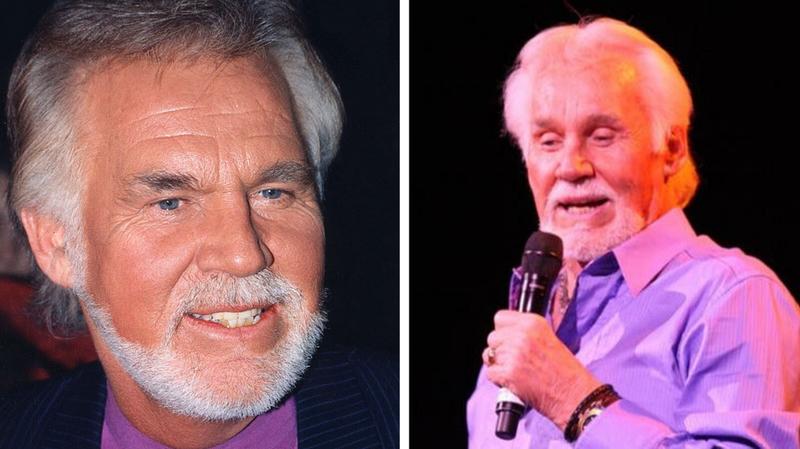 The procedure even led to the creation of new wrinkles that Rogers began to notice, something that can likely be attributed to the awkward pulling of the skin. He eventually came to terms with his surgery, which was performed more than a decade ago.
Donatella Versace
Donatella Versace has perhaps had some of the most extreme celebrity plastic surgery out there. She has had impressive lip fillers for years, but that's certainly not the only thing she's had done. In addition to her long-time fillers, she also had extensive work done with Botox.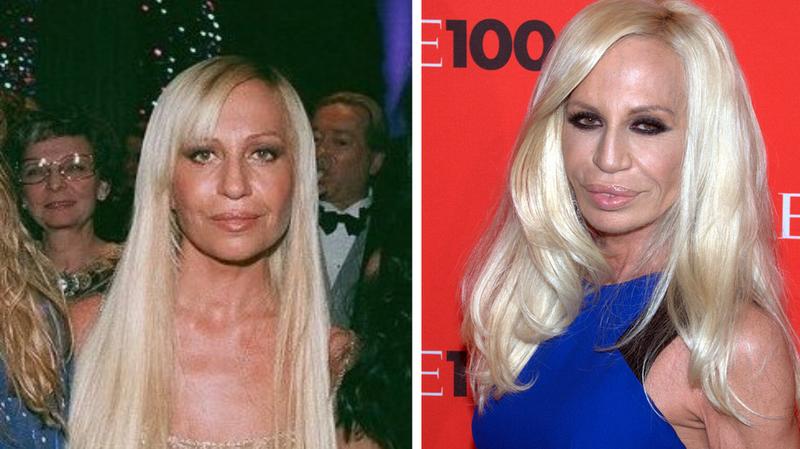 While Botox can certainly help prevent the fine lines and wrinkles that come with age, too much Botox — or Botox gone wrong — can cause the face to look mostly immovable. Versace has also had a nose job, although it was to repair existing issues, rather than for cosmetic purposes.
Heidi Montag
Once a fresh-faced beauty, Heidi Montag's look has changed dramatically since her debut on the reality show Laguna Beach. After Montag underwent a number of cosmetic surgical procedures all at once, her appearance altered irrevocably.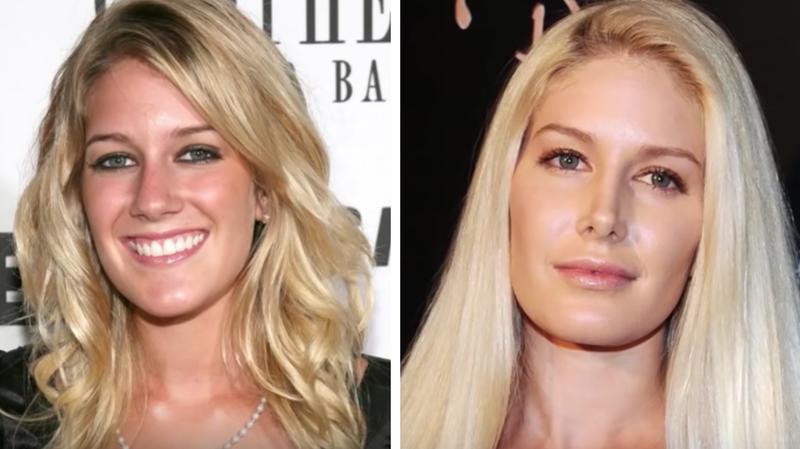 The procedures included breast augmentation, a mini brow lift and Botox placed in her forehead, as well as a touch up of a pre-existing nose job. So focused was Montag on perfectly sculpting her face that she even opted for procedures like pinning back her ears and neck liposuction. A butt augmentation was also performed, as well as liposuction to the waist.
Joan Rivers
When it comes to over-the-top plastic surgery, there was no one less apologetic about it than Joan Rivers. She owned her plastic surgery, which included a facelift as well as a neck lift. She even had eyelid surgery done to improve her overall appearance.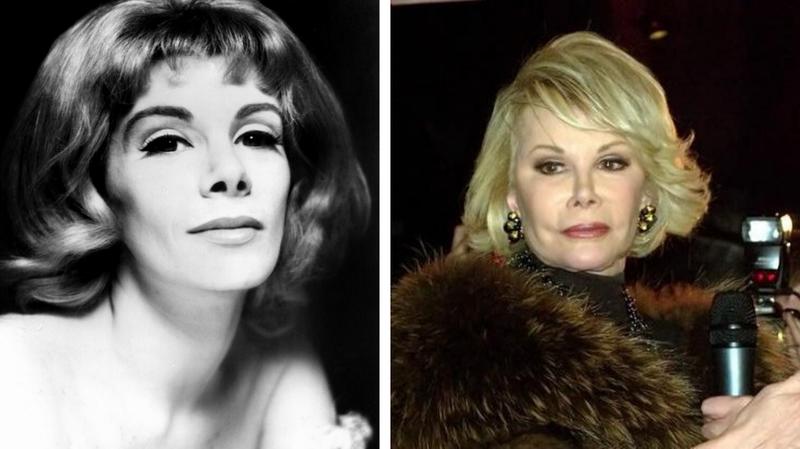 Although Rivers didn't look particularly natural, she had cultivated a look for herself that she was quite proud of. After all, she had a long history of surgery, having had her first cosmetic procedure when she was still a college student. (It was a nose thinning.)
Michael Jackson
Michael Jackson was another celebrity known, not just for his extensive body of work, but also his notorious appearance. As his career progressed, so did his involvement with plastic surgery. Jackson's nose was definitely subjected to the most surgeries, but his nose jobs weren't his only cosmetic procedures.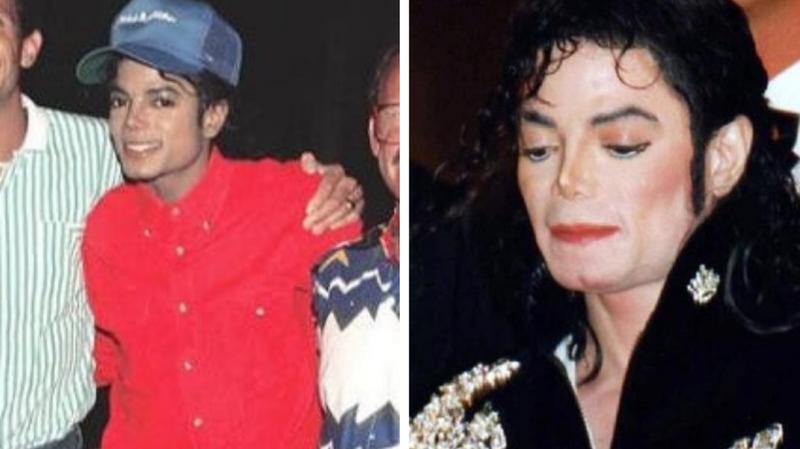 Jackson also opted for a chin implant to create a dimple that wasn't previously there. A lip augmentation was also performed and contributed to transforming his overall appearance.
Carrot Top
Carrot Top, known for his iconic orange hair, is now distinctive in several other ways. Once all-natural, Carrot Top has undergone a transformation these days. Many believe he probably had chemical facial peels that left him with an unnatural quality to his skin. In addition to the peels, it's likely that laser treatments played a role in his overall appearance.
It has been speculated that he has had other work done based on the appearance of his brow. Still, Carrot Top denies any rumors of plastic surgery, claiming that his altered appearance is the result of gym time.
Janice Dickinson
A classic beauty, former supermodel Janice Dickinson tried to stave off aging with numerous cosmetic procedures. Sadly, she wasn't even all that old — just 33! — when she first went under the knife in an attempt to preserve her youth.
In the time that has passed since that first procedure, she has only added to her list of plastic surgeries. From brow lifts to fillers to injections, Dickinson has really done it all. In fact, she even admitted to having a tummy tuck, probably to help her maintain her supermodel figure.
Priscilla Presley
The former wife of Elvis Presley is no stranger to bad plastic surgery. In fact, has admitted to the poor quality of the procedure she underwent. The silicone treatments to her face, which rendered it wrinkle-free but also uncanny and mask-like, were performed by Daniel Serrano.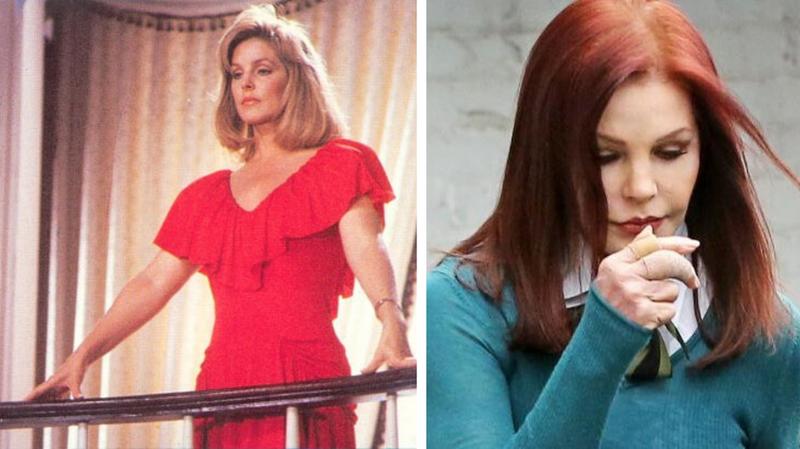 Unfortunately, back in 2008, he was operating via questionable methods — like pretending to be a doctor! He was found to be unlicensed at the time he performed Presley's procedure, but that wasn't all. The quality of the silicone he used was far from acceptable for the purposes of plastic surgery.
Tori Spelling
Actress Tori Spelling has admitted to having several procedures done. She is perhaps most vocal, however, about the breast augmentation she got in her youth. Unfortunately, Spelling regrets that choice, as it impacted her ability to breastfeed her children successfully.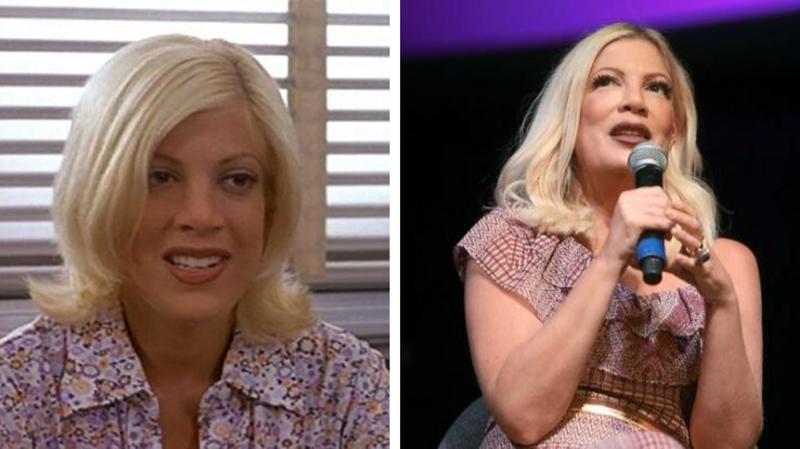 She has said that if she had known the repercussions she would face later in her adult life (and as a mother), she never would have undergone the procedure. In addition to her breast augmentation and a nose job, Spelling is rumored to have had other work done as well.
Sharon Osbourne
The famous wife of Ozzy Osbourne has never been shy about plastic surgery or opening up about it. Although she currently says she is done getting cosmetic surgery, especially after going through necessary surgical procedures to battle colon cancer, the star has still managed to assemble a long list of cosmetic surgical procedures.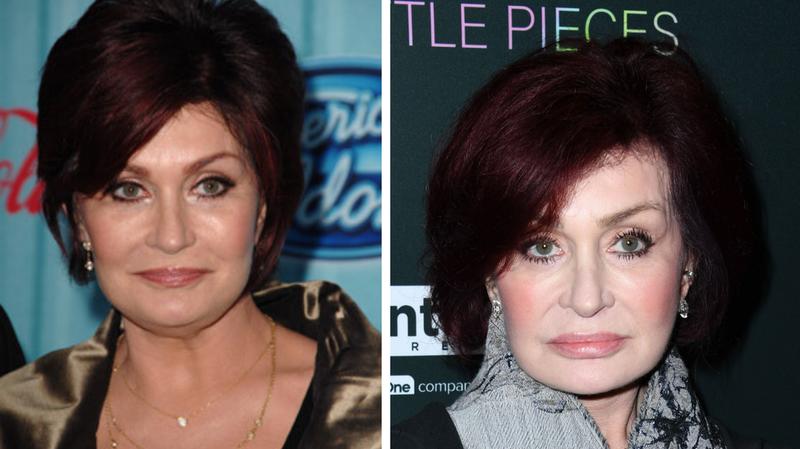 For instance, a relatively recent facelift was performed to tighten up her face, shaping everything from jowls to neck. The star has also had fillers and breast implants, although she had the latter removed when they began to impact her range of movement.
Tara Reid
If there was ever an infamous pair of breast implants, they belong to Tara Reid. Obviously, breast augmentation procedures are intended to result in very natural looking breasts, but that was not the case for Reid when she went under the knife back in 2004.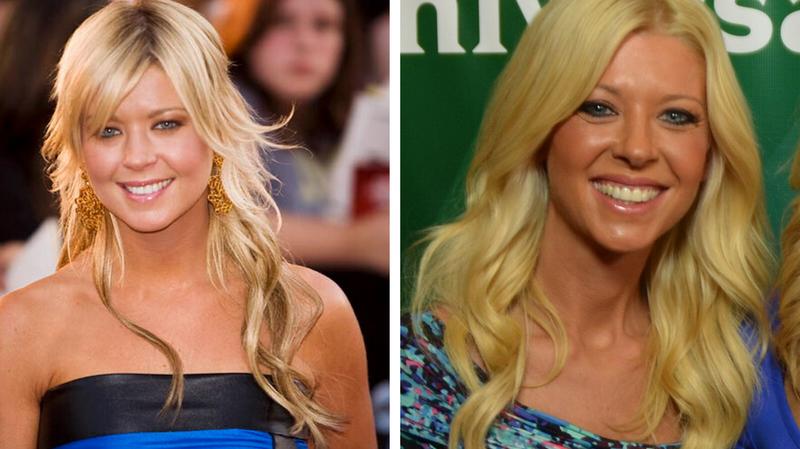 Unfortunately, a botched boob job left her breasts with a texture that looked rippled and poor nipple placement. And it wasn't just the breast augmentation. During the same procedure, Reid also opted for body contouring, which significantly altered the look of her stomach — in a less than ideal way.
Nicki Minaj
It has long been speculated that the music superstar has had some work done. After all, it's doubtful that such extreme curves could occur naturally. Minaj has never officially confirmed or denied altering her body, but she refuses to admit to changing her face and staunchly denies such claims when they are made.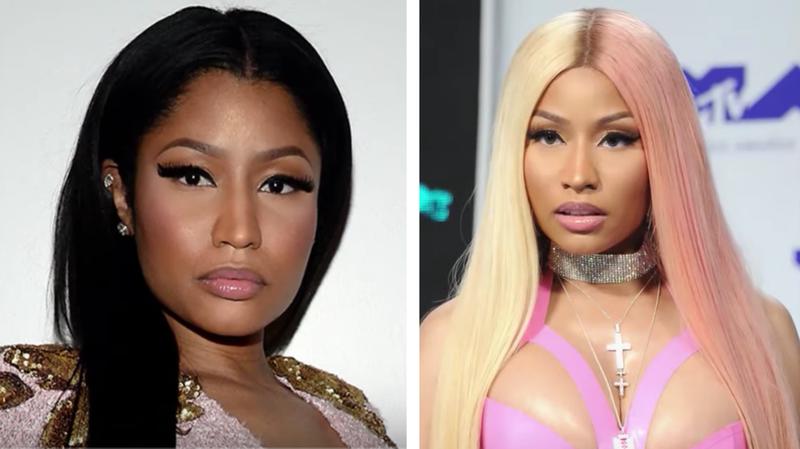 She claims that simple make-up artistry — particularly contouring — does the work for her, and she has no plans to change any facial features permanently. It's unlikely Minaj is completely natural, but it's clear she has some limits in place.
Nicole Kidman
We might not look at Nicole Kidman and immediately think of plastic surgery, but the star has been open about her struggles with cosmetic procedures. Although she never went too far, Kidman revealed that she did not enjoy her Botox.
She said it made her face difficult to move, and her appearance was too stiff. Fortunately, she stopped using Botox, preventing any further damage from being done. In addition, the effects of the initial round of Botox began to fade with time.
Farrah Abraham
Farrah Abraham of Teen Mom fame has most certainly had a good deal of work done since the show first began. Her list includes breast augmentations, a nose job and lip fillers. She even had a chin implant at one point, although it was reversed because she wasn't happy with the outcome of the procedure.
She's also had other changes to her body, such as butt injections for a fuller-looking rear end. Abraham looks far different than just a few years ago, but the reality star has said that she is slowing down on the cosmetic surgical procedures.
Kylie Jenner
The Kardashian sisters have long been known for their extremely curvaceous bodies — and their speculated bouts of plastic surgery. From Kim's butt to Kourtney's breast implants, Kardashian body parts tend to get a lot of attention. Perhaps none of the rumors are more dramatic than those surrounding the youngest sister, Kylie Jenner.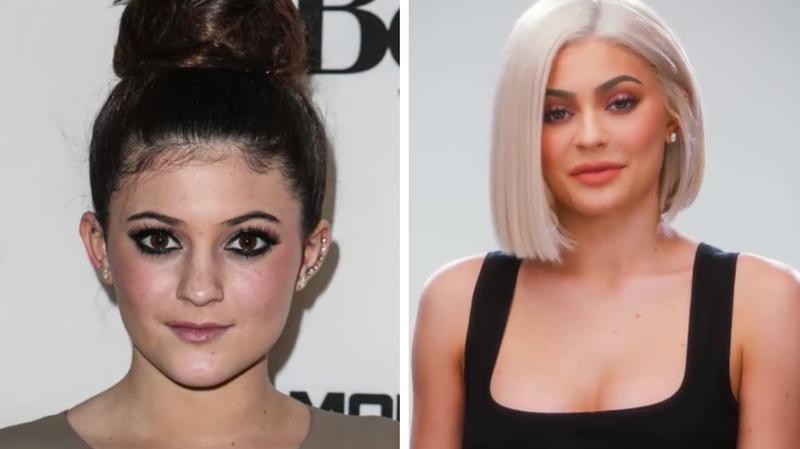 The reality star and business mogul has never outright admitted to having plastic surgery, but it's clear how drastically her appearance has changed in recent years. From a different body shape to fuller lips, Jenner has evolved to look more and more like her big sisters with each passing year.
Kailyn Lowry
Another Teen Mom reality star and podcast host, Kailyn Lowry has had her fair share of plastic surgery. In fact, she underwent a full-body makeover back in 2016. The makeover included everything from a tummy tuck to a Brazilian butt lift and breast augmentation — all performed at the same time. Ouch!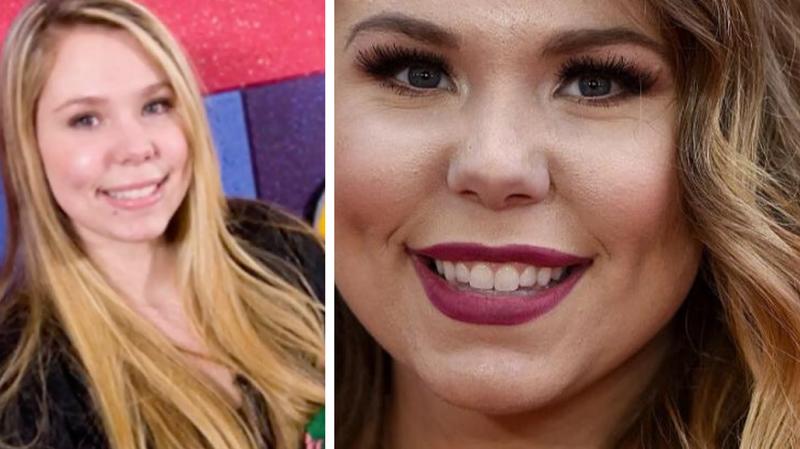 This extreme surgery wasn't even Lowry's first foray into the world of plastic surgery, but it was certainly her most dramatic. In the past, she has had lip fillers as well, but she wasn't overly happy with the quality of the job.
Lindsay Lohan
In addition to debuting a new accent, Lindsay Lohan is known as much for her iconic roles in Parent Trap and Freaky Friday as she is for changing her appearance. She's clearly taken a note from her Mean Girls character: she wants to join The Plastics — though, in this case, plastics means surgery not a popular clique.
Although plastic surgeon Dr. Anthony Youn hasn't treated Lohan, he told reporters at New Idea his thoughts on the actress' drastic change. "Her lips look like they've been injected with a stiffer filler, like Restylane Lyft. Her cheeks also look plumped up, possibly due to filler like Voluma." Whatever Lohan is using, it's clear she can't stop modifying her looks. 
Lisa Rinna
Lisa Rinna has likely had a number of surgical procedures over the years. Botox injections seem likely, and it has even been speculated that she had a full facelift. However, these aren't the most noticeable changes Rinna has made. Her lips always take center stage and have been prominently altered with silicone fillers.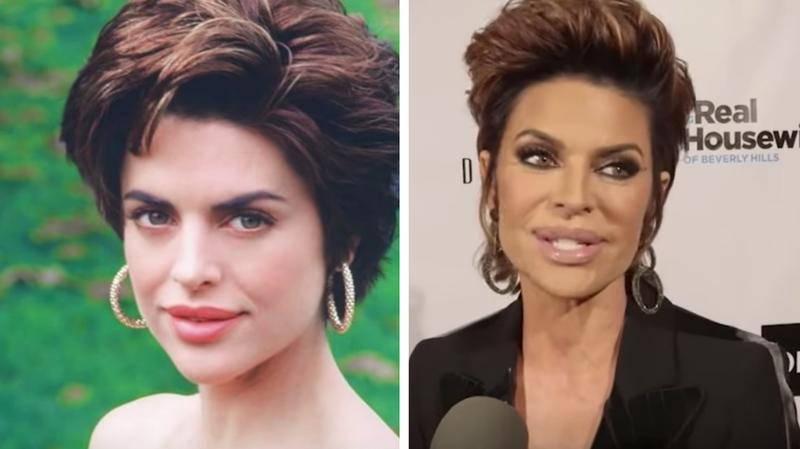 Ironically, Rinna has stated that she regrets her lip fillers, as she got them more than two decades ago when she was only 24. The Restylane implants have left her with a permanently full pout that also limits movement and sensation in the area.
Kathy Griffin
Kathy Griffin has been open about her surgical procedures, including when she had serious complications after a liposuction procedure on her stomach, thighs and knees. This procedure took place in 1999 and left her unable to urinate after waking from the surgery.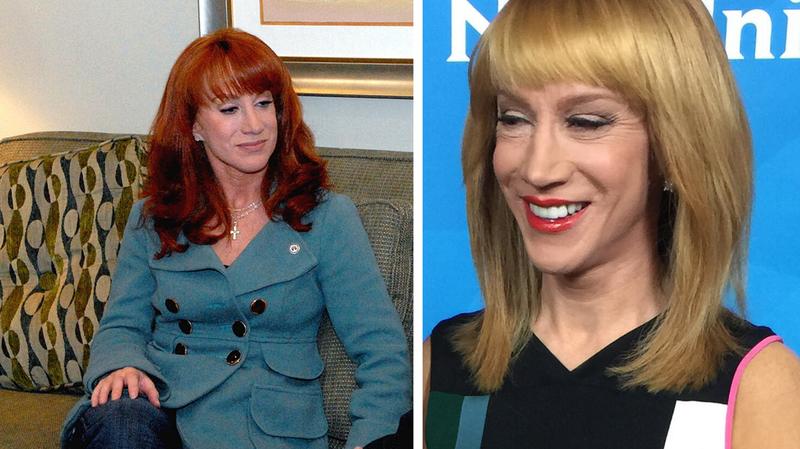 Unfortunately, this put her life at risk and forced her to remain catheterized in the hospital. To top it all off, the surgical results weren't what Griffin had anticipated. Since then, she has had more successful surgical procedures of a cosmetic nature, including a brow lift and a nose job.
Denise Richards
While Denise Richards is undeniably beautiful, she has struggled with self-image over the years. When she was 19, she first decided to get implants in her breasts. Unfortunately, the surgery left her feeling more self-conscious than ever, as the surgeon gave her implants larger than what they had discussed — and much larger than what she had wanted.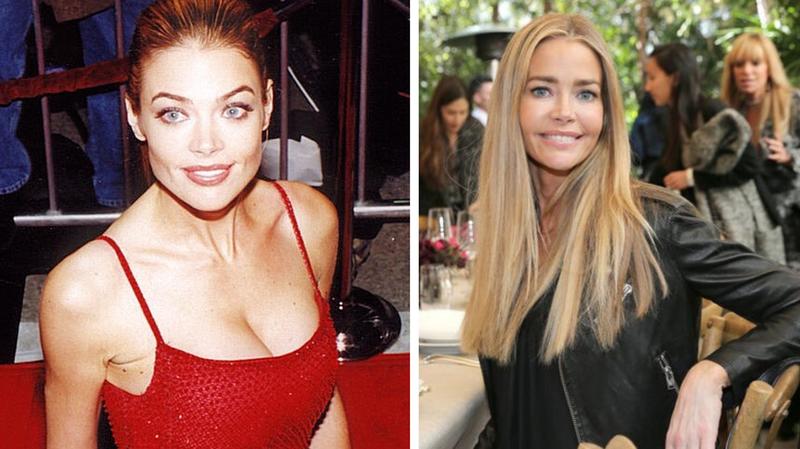 When she underwent a second breast surgery to correct the problem, she somehow ended up with even larger breasts than when she started. Fortunately, a third breast surgery did the trick, and Richards is now satisfied with the size of her chest but appears to be intent on altering her face.
Dolly Parton
Country music legend Dolly Parton has never been shy when it comes to discussing her looks. She's been on the end of some sexist remarks about her appearance, but has also reclaimed and owned the discussion around her various cosmetic surgeries.
From breast augmentation and implants to brow lifts, nose jobs and eyelid surgery, Parton has undergone a variety of processes. "It is true that I look artificial, but I believe that I'm totally real," Parton told CBS Sunday Morning. "My look is really based on a country girl's idea of glam… I make the most of anything I've got." 
Blac Chyna
Blac Chyna is perhaps most known for her interactions and connections with the Kardashian family. In addition, she has her own long history with plastic surgery, much like many members of the famous family. Although nothing has been confirmed, before and after pictures show a shocking difference between Blac Chyna then and Blac Chyna now.
In fact, the difference is so pronounced that it's clear to see that butt implants are likely. It has also been suggested that she went under the knife for breast augmentation as well.
Lara Flynn Boyle
Lara Flynn Boyle of Twin Peaks fame now looks much different than she did when playing a fresh-faced teenage girl. Some of this can undoubtedly be attributed to natural aging. Still, much of her drastic shift in appearance can be linked to the plastic surgery and cosmetic procedures that she has undergone.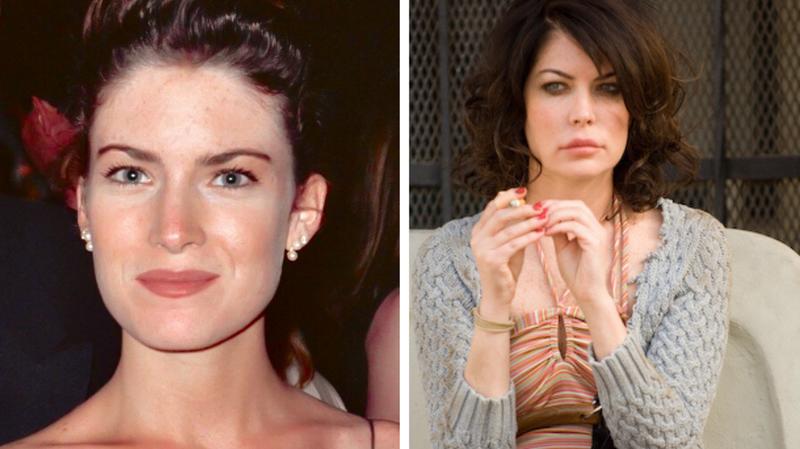 Boyle has stated that she felt like she was running out of time to get roles in Hollywood, a problem that many stars face as they grow older. That was likely the impetus for Boyle's cosmetic changes made throughout the years.
Kim Kardashian
Like her sisters and stepparent, Kim K. has likely undergone some work. After all, her curves are so extreme that it's probably physically impossible for them to be natural.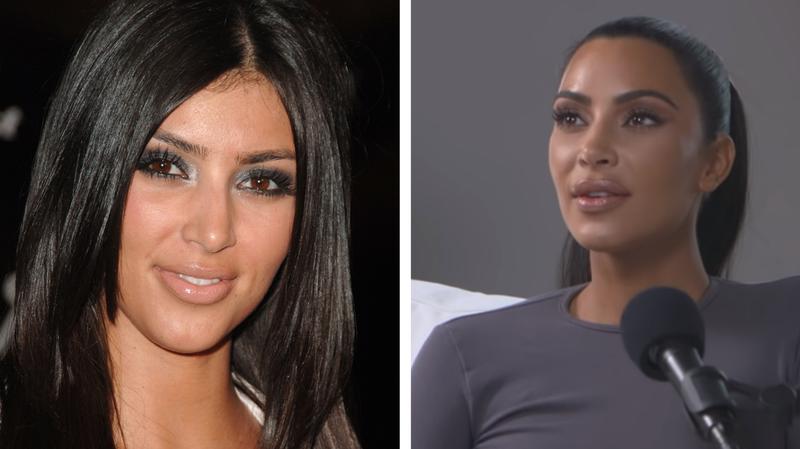 Although she famously had an x-ray taken of her butt on a Keeping Up with the Kardashians episode, the results of said x-ray have largely been debunked. That means the status of Kardashian's butt is again debatable. She has remained quiet on the subject and has yet to admit to having butt implants or injections.
Jamie Lee Curtis
Jamie Lee Curtis has dabbled in plastic surgery throughout her life, at first thinking that going under the knife and having various surgical procedures would benefit her career. Her procedures include Botox and liposuction. Curtis has also stated that no matter what plastic surgery you might get, it's ultimately not going to work.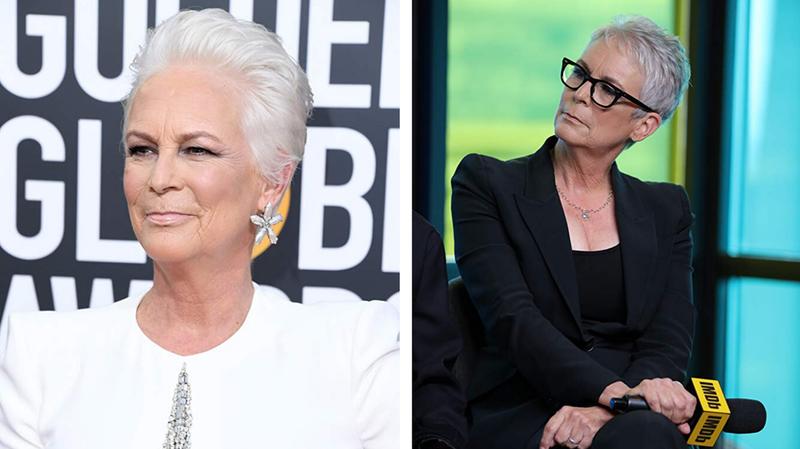 She now proudly refuses to consider plastic surgery and cosmetic procedures. Her turnaround helped her kick the painkiller addiction that she developed after one cosmetic procedure performed in the past.