What Is a Summary of the Book "Peter Pan"?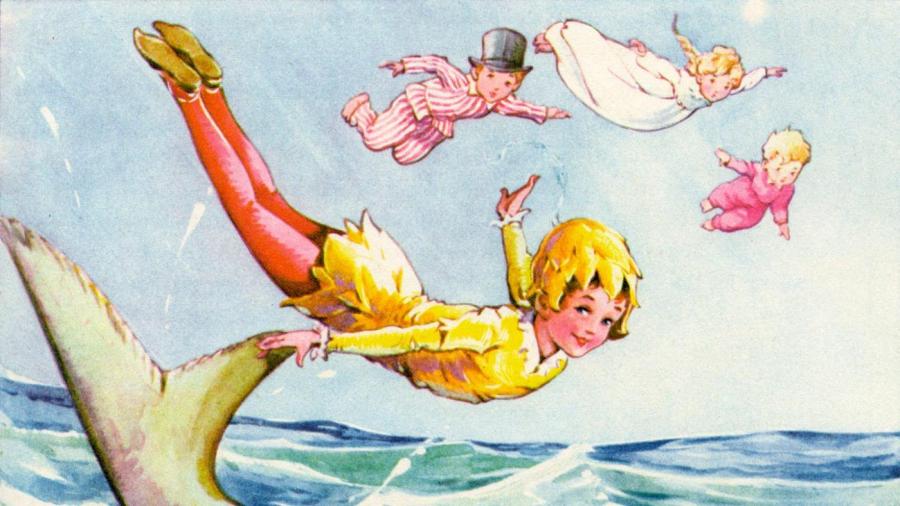 Peter Pan by J.M. Barrie is about a boy who never grows up and can fly. Peter meets the Darling children in London and brings them to Neverland, a magical island, where they have a series of adventures.
One night Peter flies into the nursery of the Darling children while looking for his shadow. There, he meets Wendy, John and Michael and tells them about Neverland. As Peter explains to Wendy, he ran away to Neverland because "I want always to be a little boy and to have fun." The Darlings decide to go with him to Neverland so Wendy can be a mother to the Lost Boys, a gang of boys who live with Peter. Tinker Bell, Peter's best friend and a fairy, sprinkles them with pixie dust so they can fly to Neverland.
Throughout the story, it is clear that Peter is very full of himself and fearless. As he says, "To die would be an awfully big adventure." He has many adventures with the Darling children, including a trip to the Mermaids' Lagoon, where he rescues Tiger Lily, the Indian princess. However, most of the plot centers around Peter's nemesis Captain Hook, a pirate who lost his hand in a duel with Peter, who then fed it to a crocodile.
Captain Hook seeks revenge on Peter and the Lost Boys. At first he tries to poison them by leaving a rich, damp cake, outside of their underground home, but Wendy stops the boys from eating it. Captain Hook then kidnaps Wendy and the boys while poisoning Peter's medicine. Tinker Bell drinks it instead to save Peter, who then saves Tinker Bell by clapping.
Peter sneaks aboard the Jolly Roger, Captain Hook's ship, and rescues Wendy and the boys. He and Captain Hook engage in another battle that Peter wins. Peter kicks Captain Hook off the ship and he falls into the jaws of the crocodile that ate his hand. Wendy then remembers her parents at home and decides she and the boys need to return to London. Peter sails the ship back to the Darling's house and Mrs. Darling tries to adopt him, but he refuses. Peter promises Wendy he will return to visit her every spring, and then flies back to Neverland.