What Is Proper Attire for an Early Evening Wedding?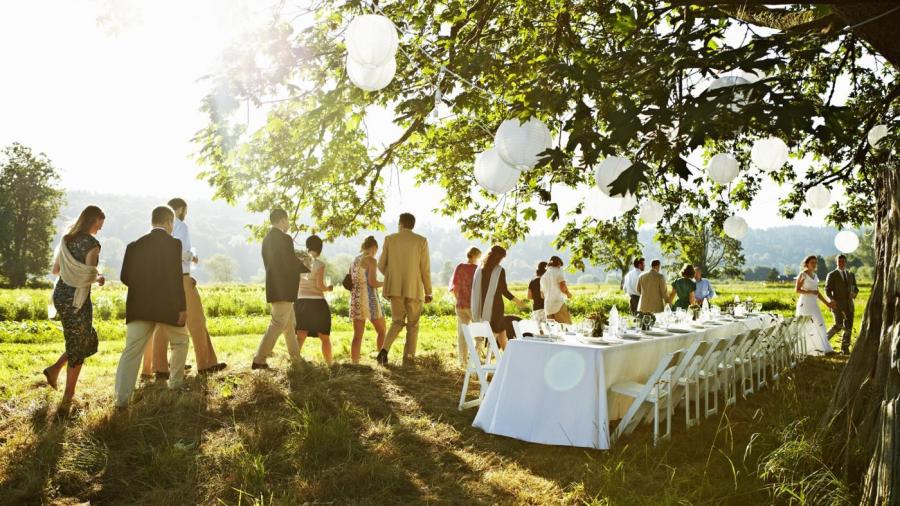 Guests attending an early evening wedding should opt for semiformal attire, according to The Wedding Channel. If the ceremony starts in the early afternoon but celebrations will continue into the evening, attire should be suited for an after-five event. Weddings are typically formal events unless otherwise stated. The Wedding Channel says that dressing appropriately is a sign of respect for the bride and groom on their wedding day.
Semiformal attire usually entails a cocktail dress for women and a suit and tie for men. For a beach or outdoor wedding, flat shoes for women and a button-down shirt for men are appropriate. An ultra-formal event, or white-tie affair, calls for tuxedos and ball gowns. During a black-tie-optional or creative-black-tie wedding, men should still wear tuxedos, but they can swap their black bow tie for a colored one or even wear a patterned vest, according to The Wedding Channel. More festive patterns and colors are also appropriate for women at a black-tie-optional or creative-black-tie event. Other style guidelines to keep in mind include not wearing white or the same colors as the wedding party. If there is a serious concern with what the proper attire entails, contact the bride or wedding planner to get more details.