How Do You Make Rhubarb Pie Using Frozen Rhubarb?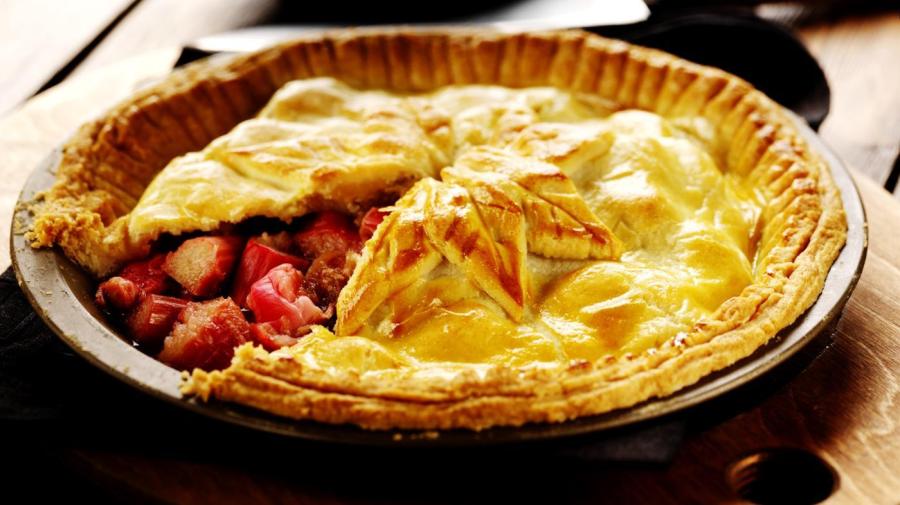 Make rhubarb pie with frozen rhubarb by stirring flour, sugar, cinnamon and eggs into the frozen rhubarb before pouring it into a pastry filling. You can also partially thaw the rhubarb before using it.
Make double-crust rhubarb pie by making a sugar mixture consisting of 1 cup sugar, 1/2 teaspoon ground cinnamon and 3 tablespoons all-purpose flour. Whisk in 2 eggs, and fold in 4 cups of frozen rhubarb. Place a 9-inch pie crust in the bottom of a pie plate, and pour the filling over it. Cut 1 tablespoon of butter, and place the pieces on top of the rhubarb filling. Top with another pastry crust, fluting the edges together. Cut slits in the top pastry, and bake at 400 degrees for 45 to 50 minutes.
Make strawberry-rhubarb pie by using both frozen strawberries and frozen rhubarb, partially thawed. As the strawberries thaw, save the juice in a bowl, and add 1 cup granulated sugar and 2 tablespoons cornstarch. Fold in 2 cups of the strawberries and 3 cups chopped rhubarb. Pour the filling into a pie plate lined with a pastry shell. Cut a second pastry into strips for the lattice top. Brush the lattice pastry top with an egg yolk and water mixture, and sprinkle with coarse sugars.