How Do You Make Ambrosia Salad Using Cool Whip?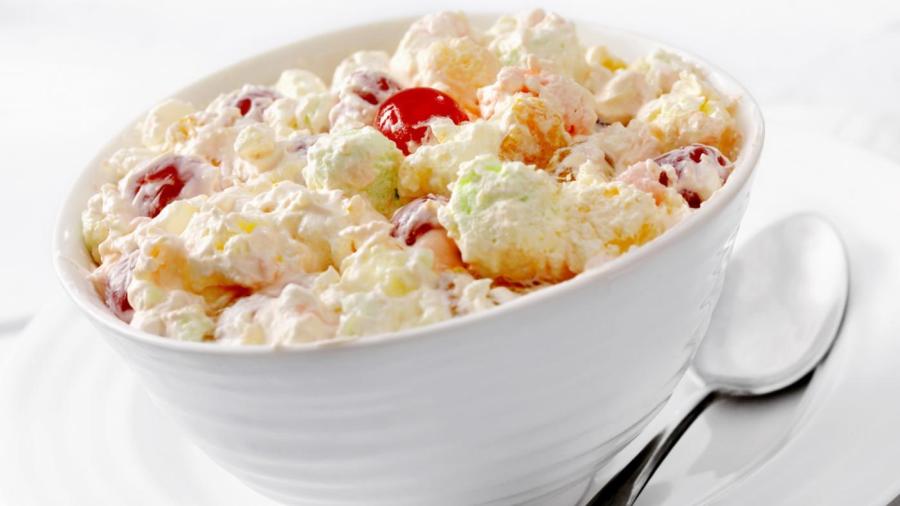 To make ambrosia salad using Cool Whip whipped topping, combine the whipped topping with ingredients such as shredded coconut, walnuts, fruit cocktail and miniature marshmallows. AllRecipes.com offers an ambrosia fruit salad recipe that serves 12 people and is easy to prepare. Kitchen Nostalgia offers a similar recipe with fewer ingredients that serves four people.
To prepare ambrosia salad using whipped topping, combine an 8-ounce container of thawed frozen whipped topping with 2 1/2 cups shredded coconut, 1/2 cup chopped walnuts and an 8-ounce can of drained fruit cocktail in a large bowl. Add an 8-ounce can of drained pineapple chunks and an 11-ounce can of drained mandarin oranges. Stir in 3 cups of miniature marshmallows and 1 teaspoon each ground nutmeg and cinnamon. Finish it off by adding a 10-ounce jar of drained maraschino cherries if desired.
Mix the ingredients well, and cover the bowl before placing it in the refrigerator. Chill the ambrosia salad for 30 to 45 minutes prior to serving.
To make Kitchen Nostalgia's ambrosia salad, combine 19 ounces of drained canned fruit such as pineapple or mandarin oranges with 1 cup of miniature marshmallows and 1 cup shredded coconut. Fold in 3 1/2 cups whipped topping, tossing the mixture to combine the ingredients. Cover the salad, and chill it for several hours prior to serving.