What Are the Health Benefits of Apple Cider Vinegar?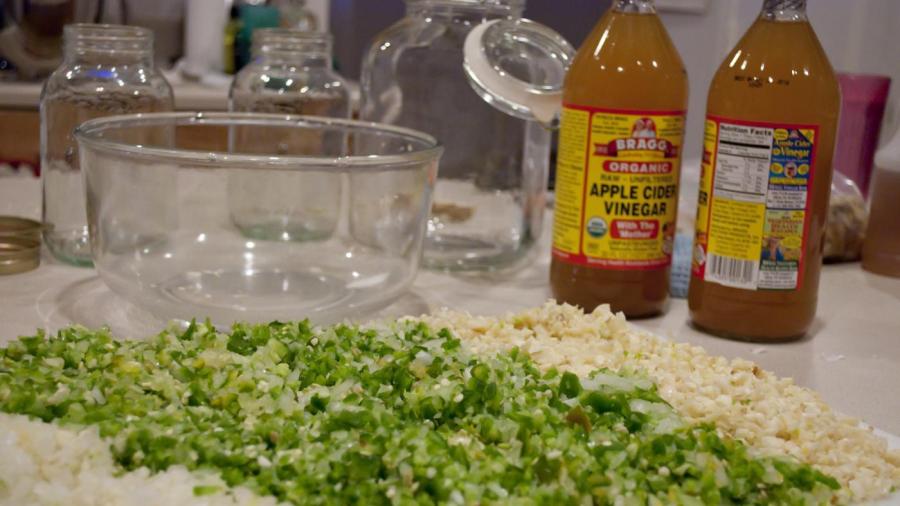 Apple cider vinegar is believed to help control diabetes, assist in weight loss, relieve acid reflux and even get rid of hiccups and a host of other maladies. Apple cider vinegar has similar effects on blood glucose levels as those of certain prescription medications, according to studies completed by Carol Johnston, the director of Arizona State University's nutrition program, cited by WebMD.
Apple cider vinegar may help with weight loss; however, only one study completed in Japan proved this theory to be true. According to WebMD, the study showed results of small weight loss for individuals who were obese but otherwise healthy subjects. When the study concluded, the individuals gained the weight back.
Many people use apple cider vinegar for treating acid reflux, indigestion, itchy skin, hiccups and bad breath. It is said to strengthen hair, remove blemishes, soothe a sore throat and help with diseases such as cancer and heart disease, according to Mother Nature Network. However, while some of these health benefits have been scientifically proven, others are merely based on consumer reviews.
According to Mayo Clinic, taking large amounts of apple cider leads to lower bone density and lower potassium levels and causes damage to the teeth. Apple cider vinegar is highly acidic, and many people mix it with a small amount of water before drinking it.
Reader's Digest backs up this claim by citing a person who says that apple cider vinegar interrupts a signal that causes hiccuping, but the magazine doesn't provide any additional information. Apple cider vinegar contains acetic acid, which can help kill or contain bacteria. For this purpose, people often use it as a disinfectant and a food preservative. Apple cider vinegar also contains many nutrients, including vitamins B1, B2, and B6 pectin and vitamin C. It also contains small amounts of sodium, phosphorous, potassium, calcium, iron, and magnesium. WebMD reports that apple cider vinegar is used to help treat osteoperosis, sore throats, sinus problems and arthritis, as well as for soothing uses like treating sunburn, insect bites, and as a skin toner.
Those who are interested in learning more about apple cider vinegar's potential health benefits may want to look for scientific studies that can provide objective confirmation of any potential effects.