How Do You Cook a Standing Rib Roast?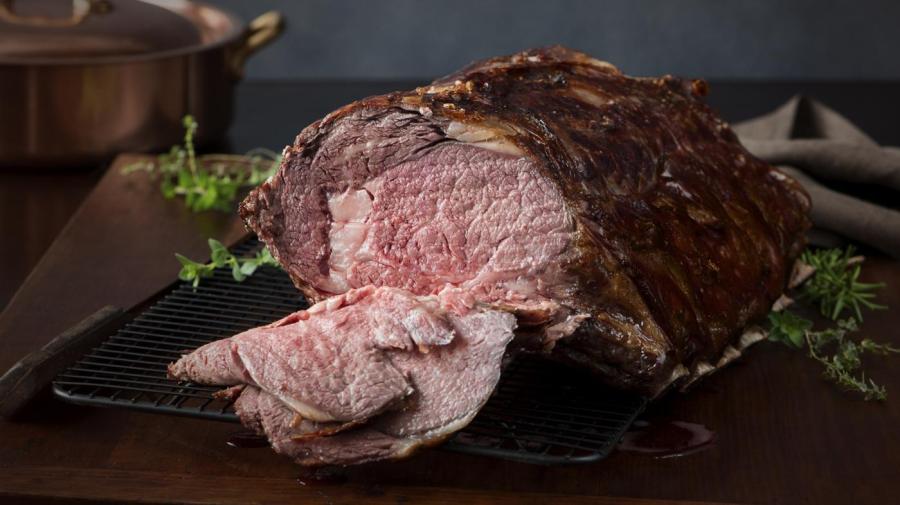 Cook a standing rib roast by seasoning a roast with fresh garlic, salt, pepper, rosemary and thyme, and roasting for about 18 to 22 minutes per pound, depending on desired level of doneness. Emeril Lagasse's method for cooking a standing rib roast is available on FoodNetwork.com.
Preheat the oven to 450 degrees Fahrenheit. Separate the cloves of two heads of roasted garlic and squeeze the cloves out of their peels. Mash the garlic in a small bowl, and mix in 1 teaspoon of salt, 1/2 teaspoon of pepper, 1 tablespoon of chopped fresh rosemary leaves and 1 tablespoon of chopped fresh thyme leaves. Trim a strip of fat from the top of the rib roast, spread the garlic mixture evenly over the top and sides of the rib roast, and return the trimmed strip of fat to the top of the roast. Tie in place with kitchen string.
Season the outside of the roast with 2 1/2 teaspoons of salt and 1 teaspoon of pepper. Set the roast into a pan with 1 1/2 cups of red wine and 1/2 cup of beef stock. Roast for 20 minutes, then reduce the heat to 350 degrees Fahrenheit. Continue to cook for 18 to 22 minutes per pound, 18 minutes for rare and 22 minutes for medium. Allow the roast to rest for at least five minutes before carving. Skim the fat from the pan juice, and serve alongside the beef.