What Does an Anointing Oil Recipe Contain?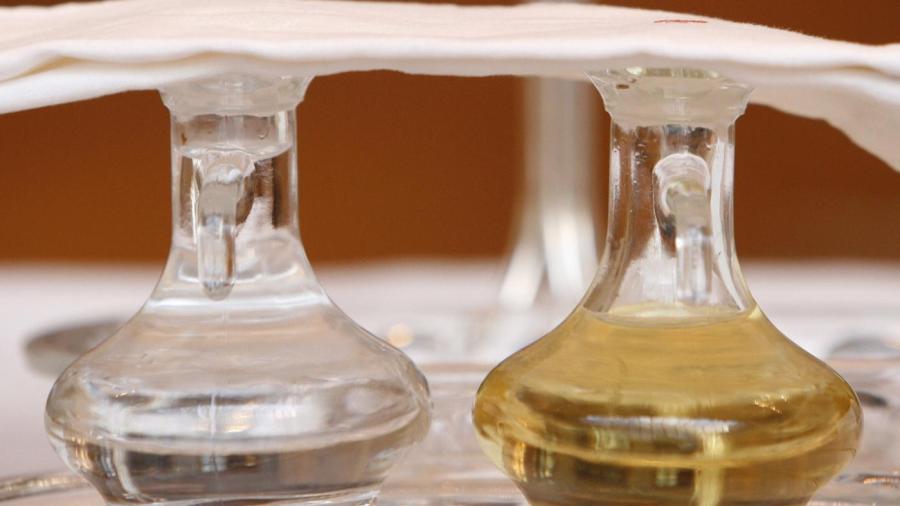 One recipe for anointing oil combines ingredients referenced in Exodus of the Bible and includes quantities of olive oil, sugar, salt, allspice seeds, cloves and cinnamon sticks. An optional mixture combines frankincense, myrrh and pine oils of balsam. A citrus-based spiritually uplifting anointing oil is made from combining the oils of lemon, lime, sweet orange, dark myrrh and frankincense.
Another anointing oil recipe that induces a sense of cheerfulness is made from essential oils including sweet orange, sweet basil, cedar, lavender, lemon, cyprus, marjoram and rosemary. Some anointing oils are used as a massage oil. A homemade recipe for a soothing massage oil combines ingredients such as eucalyptus, frankincense, lemongrass, Siberian fir, either olive or almond oil and fragrant Ylang Ylang. This formula is rubbed on sore or aching muscles for relief. A fragrantly robust anointing oil called "More Than Conquerors" blends together the essential oils of coriander, galbanum, cinnamon bark, Rose of Sharon, cedar, honey absolute and frankincense.
Carrier oils are an important ingredient in anointing oil recipes. Popular carrier oils include olive oil, almond oil, coconut oil and jojoba oil. Oil balm base is an alternative carrier oil. It is unscented and ideal for using with scented essential oils. Oil balm base contains a mixture of carrier oils and beeswax.