Theodore Roosevelt: The Life and Legacy of the 26th U.S. President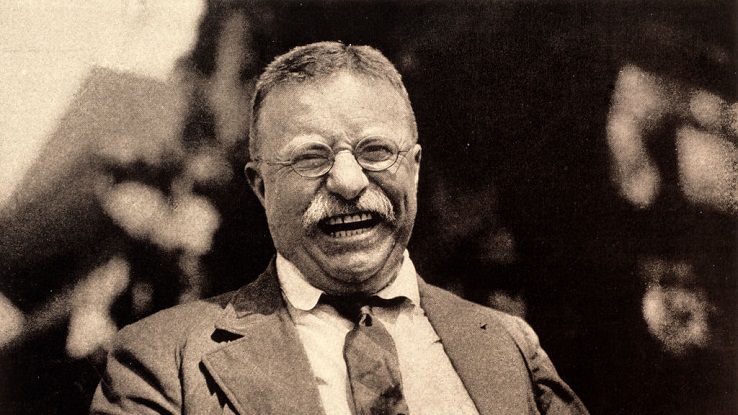 Theodore Roosevelt cemented his place in American history when he became the 26th President of the United States. Serving from 1901–1909, he became the youngest president in American history at the time, taking the Oath of Office at just shy of 43 years old in the wake of the assassination of President William McKinley.
Often referred to as TR or Teddy, Roosevelt was fifth cousins of the nation's 32nd president, Franklin D. Roosevelt. While FDR might be the more well-known of the two presidents, it was Teddy who put the Roosevelt family on the political map. Here, let's take a look at Theodore Roosevelt's career in politics as well as his lasting legacy.
Teddy Roosevelt's Early Life and Career
Theodore Roosevelt Jr. was born on October 27, 1858, in New York City's Manhattan. His father, Theodore Roosevelt Sr., was a businessman and philanthropist, while his mother, Martha Stewart "Mittie" Bulloch, was a socialite. Teddy was the second child in a family of four children — two brothers and two sisters. Elliot, his younger brother, fathered Anna Eleanor Roosevelt. More commonly, of course, she went by Eleanor Roosevelt, and would become America's longest-serving First Lady when her husband, FDR, later served president for four terms. (So, yes: Franklin and Eleanor were distantly related. Teddy even walked Eleanor down the aisle in his brother's stead.)
As a child, Teddy lived with asthma — but, despite those suffocating asthmatic attacks, he remained inquisitive and adventurous. Soon enough, his curiosity led him to develop an interest in zoology. At eight years old, he created the Roosevelt Museum of Natural History in his bedroom with the help of his cousins. Homeschooled at first, Teddy later attended Harvard University where he studied an array of subjects, including zoology, German, composition, natural history and forensics.
Theodore Roosevelt's Personal Life
Teddy was influenced quite a bit by his father. In his recollections, the would-be president stated that his dad was the best father he ever knew. Sadly, Roosevelt Sr. lost a hard-fought battle with a gastrointestinal tumor, dying on February 9, 1878 at age 46 — just hours before Teddy returned home from Cambridge, Massachusetts for a visit.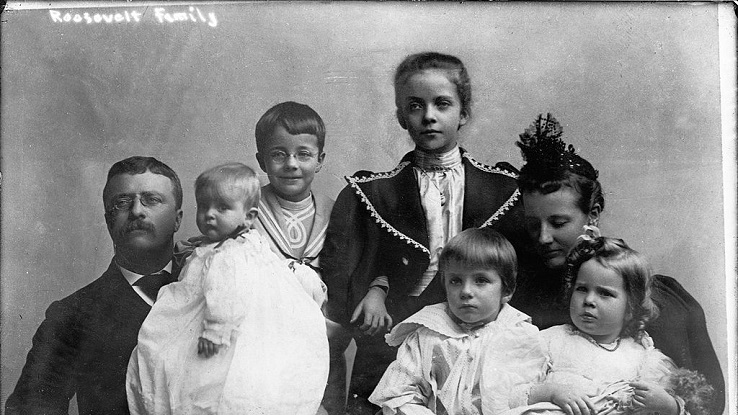 Although the loss of his father shaped him profoundly, Theodore Roosevelt found love not long after when he married socialite Alice Hathaway Lee in 1880. Four years later, they had a daughter, Alice Lee Roosevelt, on February 12, 1884. Unfortunately, disaster struck just two days later. If the recent loss of his father wasn't enough, Teddy lost both his wife and mother within an 11-hour period. On February 14, 1884, Theodore's mother, Mittie, succumbed to typhoid fever, while his wife, Alice, died of Bright's disease — a life-threatening kidney issue undetected during pregnancy, a few hours later.
Needless to say, Theodore was immensely devastated. Overcome with grief, he gave his sister, Bamie, custody of his daughter until she turned three. During his period of mourning, Theodore moved to the Dakotas where he worked as a sheriff. Instead of raising his daughter, Teddy raised cattle on his ranch.
Just two years after his wife's traumatic death, Theodore Roosevelt married Edith Kermit Carow. Theodore's younger sister, Corinne, had been Edith's childhood playmate; the two, of course, became more than just family friends, with Edith later serving as First Lady when Teddy was elected president.
TR's Politics, Presidency and Death
Theodore quit politics after his first wife's death but was forced back after serving in the military with distinction. In fact, President William McKinley appointed him to serve as the Assistant Secretary of the Navy in 1897. Roosevelt served until 1898, when he resigned to form the Rough Riders, a volunteer regiment that fought in the Spanish American War. His victories on the battlefield propelled him further into politics — and Imperialism.
Nonetheless, when he returned to the U.S. from Cuba he was celebrated as a war hero. And that made securing the Republican gubernatorial nomination easy. In 1899, he was sworn into office as the 33rd governor of New York.
So, how did Roosevelt make from New York politics to the Oval Office? President McKinley was seeking reelection in 1900 and needed a new running mate after his former vice president, Garret Hobart, died in 1899. At the Republican Convention Theodore Roosevelt was nominated as McKinley's running mate, and went on to help McKinley secure a second term in a landslide victory against William Jennings Bryan.
After McKinley was assassinated early on in his second term, Theodore Roosevelt, as his VP, assumed the presidency. In the 1904 elections, Teddy secured a second term alongside his VP, Charles Fairbanks. When TR left the white house in 1909, he took a vacation from politics and hunted animals in various African nations, including Sudan and the Belgian Congo (now, the Democratic Republic of the Congo).
Later, he returned to politics, running for president in 1912 on a progressive ticket. Of course, he didn't end up winning a third term. Just a few years later, Teddy died unexpectedly at 60 years old on January 6, 1919.
Theodore Roosevelt's Notable Achievements
While serving as New York's governor, Theodore Roosevelt worked on a variety of social reforms, aiming to improve everything from taxes, banking and insurance to labor laws. Perhaps most memorably, he advanced the state's forestry and parks programs. Despite being the then-youngest president in the United States' history, he was instrumental in building the Panama Canal, a project that lasted until 1914. In fact, Roosevelt considered the Panama Canal his greatest achievement as president.
Not all would agree with Roosevelt's self-assessment. After all, he promoted conservation by advocating for the efficient use of natural resources, and helped solidify the importance of the country's National Parks by signing into law legislation like the Antiquities Act of 1906. Moreover, TR supported labor unions, enforcing legislation like the Sherman Antitrust Act and introducing the "Square Deal" to help negotiate labor and business interests.
President Theodore Roosevelt was also responsible for creating a faction of folks within the Republican Party who called themselves "the progressives". These supporters backed Roosevelt's style of doing business and admired his environmental considerations, thus resulting in the formation of the Progressive Party, also known as the Bull Moose Party.
While in office, he received the Nobel Peace Prize in 1906 for helping to end a war between Japan and Russia. In fact, his diplomatic approach to foreign policy — as seen in the Roosevelt Corollary, an addition to the Monroe Doctrine — was influential, shaping the nation's relations with foreign powers for years to come. Theodore Roosevelt's approach to foreign policy — and many aspects of life — can be summed up in one of his most well-known quotes: "Speak softly and carry a big stick; you will go far."