Can You Find an Area Code Map Online?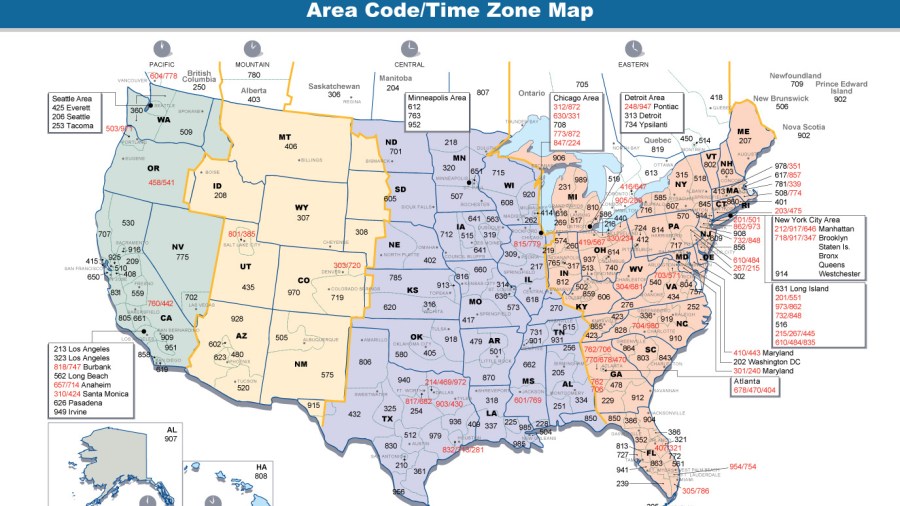 Where would the country be without area codes? Well, you may not enjoy punching in all those numbers when you make a call, but cities and states would quickly run out of phone number combinations if area codes didn't exist. As areas grow in population, these special combinations of digits help keep phone systems around the country organized. 
Initially used in the 1940s to process the growing amount of telephone numbers in the U.S. and Canada, area codes have continued to expand over the years. Over time, more numerical combinations have been added as population shifts in some areas have led to the need for new area codes.
History of Area Codes
The concept of area codes began as the North American Numbering Plan (NANP). It was put together during World War II by Bell Labs and AT&T for both Canada and the U.S. Area codes were launched in 1947 with 86 original codes launched in different zones in states around the country.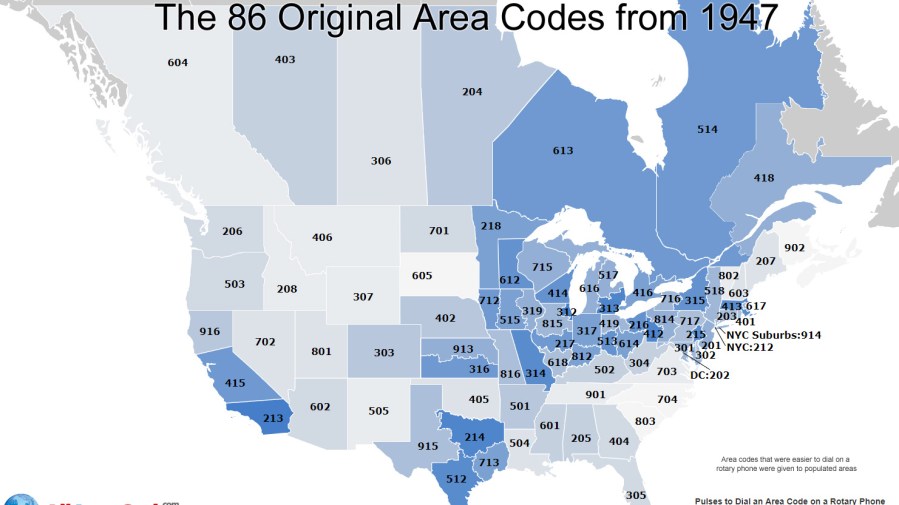 The original codes consisted of three-digit codes in the system. In this setup, the number 0 was used as the middle digits in states and Canadian provinces that only had one area code. An example of this was Connecticut, which had a single area code of 203 in 1947. For states and Canadian provinces with more than one area code, 1 was used as the middle digit. 
The most populated cities received lower first numbers. New York, for example, got 212 as its main area code, Los Angeles got 213 and Chicago got 312. The reason for giving more populated cities lower starting numbers was to limit the finger work (or dial clicks) required to dial on a rotary dial. Because there were more people calling the more populated cities, it seemed logical that they should have shorter "pull" work to do with their finger on a rotary dial phone.
Most and Fewest Area Codes
Do you know which states have the most area codes currently in use? You would be right if you guessed California — the country's most populous state — was one of them. The Golden State has 36 area codes. Texas comes next with 27 area codes, while New York has 19, and Florida has 18. 
On the lower end, a surprising 12 states still have only one area code based on the population. Among them are Alaska, Hawaii, Montana, North Dakota and Rhode Island.
Finding an Area Code
To find just one area code for a particular town, city or state, you can typically rely on Google or another search engine to easily find the area code you need. If you need multiple area codes, it may be easier to simply pull up a full area code map of the U.S. and/or Canada. Maps are also useful when you are unsure of the geographic location of a particular area code or you need to know how codes are distributed within a particular  state.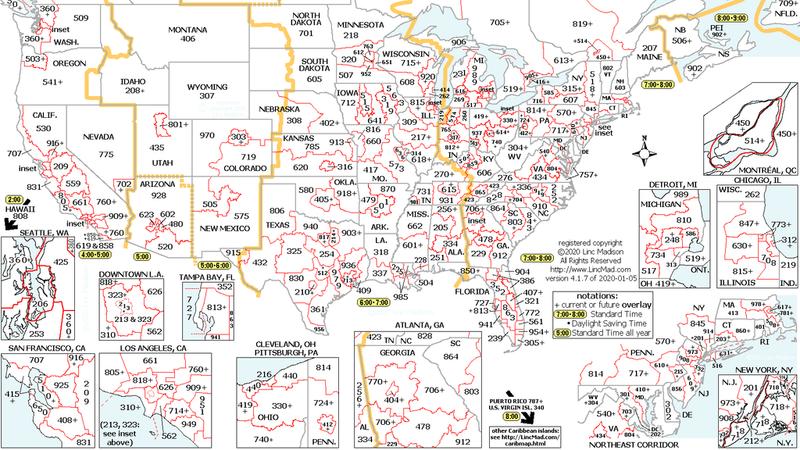 All Area Codes
All Area Codes offers web visitors access to maps of the U.S and Canada to search for a certain area code. Clicking on the map of the U.S. takes you to a page with an interactive map. From there, you can focus on the particular state where you're searching for an area code. For example, zooming in on Colorado shows you there are two area codes for the city of Denver — 303 and 720 — and the remainder of the state is split into two other area codes — 719 and 970.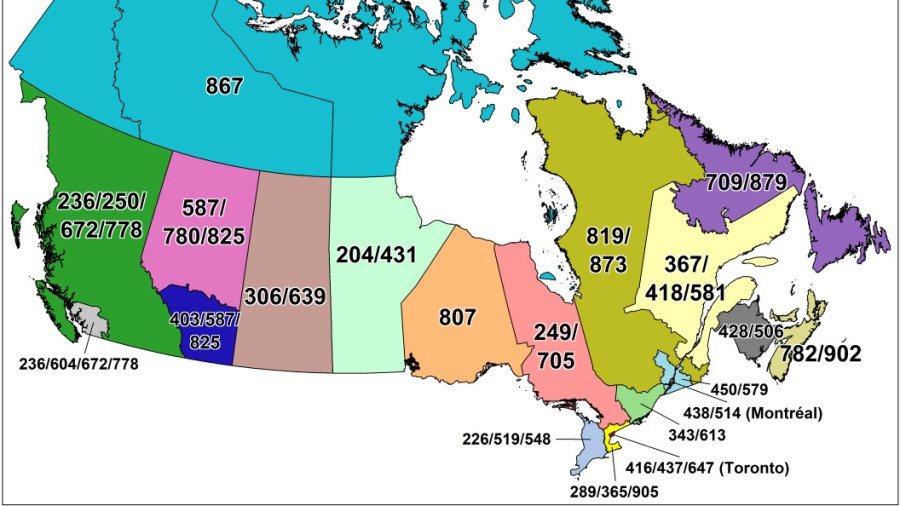 The site is useful, efficient and well-organized. If you're seeking an area code in any of the major states or Canadian provinces, All Area Codes is the right site to visit.
NANPA
Another excellent site for finding area codes is the North American Numbering Plan Administrator (NANPA) website. Click on the interactive map to navigate to a particular U.S. state where you want to find an area code. This is a helpful map with zoom features to help users search very precise areas. It also offers block-style insets for a closer look at major metropolitan areas with multiple area codes. NANPA is the organization that oversees area codes and phone numbers in the United States, Canada, the Caribbean and other U.S. territories.
Area Code Help
Another multifaceted site that is useful for finding an area code map online is Area Code Help. You can search for area codes in the U.S., Canada and Mexico on the site. The front page lists states in alphabetical order, with the current area codes listed alongside the state name. Clicking on a particular area code takes the users to the history of that area code as well as its geographic location on a map.